Bear Saved From 20 Years Of 'Dancing' Gets His Very First Toy
He can't believe how lucky he is 😍🐻❤
Rangila has been through some extraordinarily rough times — but things have finally turned around for the sloth bear in the best possible way.
Rangila's troubles started when he was just a cub. People snatched him away from his mom and sold him into the entertainment industry in Nepal. The trainer who bought Rangila pierced the cub's nose with a hot needle and threaded rope through it. Then he used this rope to force Rangila to "dance" in public so the trainer could make money. Sadly, this was Rangila's life for 20 long years.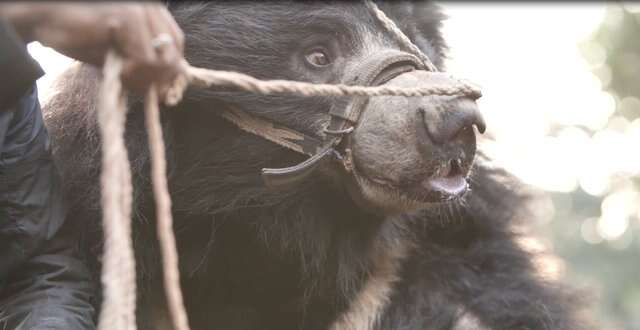 In December 2017, help finally came for Rangila and another sloth bear named Sridevi, who were known to be the last two dancing bears in Nepal. It's actually been illegal to use bears for entertainment purposes in Nepal since 1973, so team members from the Jane Goodall Institute Nepal were able to rescue the bears and organize for them to be moved to a sanctuary run by Wildlife SOS in India.
Or so they thought.
Instead of transferring the bears to the sanctuary, local authorities decided to move them to Central Zoo in Jawalakhel, Nepal, the country's only zoo, and one that's notorious for its lack of animal welfare standards. Rangila and Sridevi were locked up in tiny cages and put on display for the public — and this took a huge toll on them.
Sridevi ended up dying at the zoo, and Rangila became sick and distressed.
"The footage that I've seen confirms our worst fears," Neil D'Cruze, wildlife technical expert for World Animal Protection (WAP), told The Dodo in March. "He's being kept in a small enclosure with no enrichment, and he's showing really telltale stereotypic behaviors — mewling, paw sucking, swaying, pacing up and down."
D'Cruze and other animal welfare advocates worked for months to free Rangila from the zoo, and they finally got permission to move him to the sanctuary in June.
Rangila was understandably traumatized when he first got to the sanctuary — but the Wildlife SOS team helped him get healthy and happy again.
"Rangila is growing accustomed to his new home," Kartick Satyanarayan, CEO and cofounder of Wildlife SOS, told The Dodo. "During the initial weeks, even the slightest sound or movement would trigger his stereotypic behavior. This is usually characterized by head bobbing and pacing, a common behavior displayed by animals that are under immense stress or subjected to harsh captive conditions."
But Rangila got better with every day he spent at the sanctuary.
"This [stereotypic behavior] has reduced significantly, and we hope that with time, he will be able to overcome it completely," Satyanarayan said. "He is on a healthy, nutritious diet and our veterinarians are happy to inform us that Rangila has gained almost 10 kilos [22 pounds] since his arrival."
Rangila is also enjoying the enrichment activities that the team provides for him.
"His favorite so far has been the enrichment ball, which is filled with peanuts and dates," Satyanarayan said. "He also likes honey-smeared logs, digging up mud pits and is simply learning to be a bear again!"
"This is really the first time that he has been able to explore the outdoors without being led around on the end of a rope, and seeing him react so positively to his new surroundings is reassuring for us," Satyanarayan added.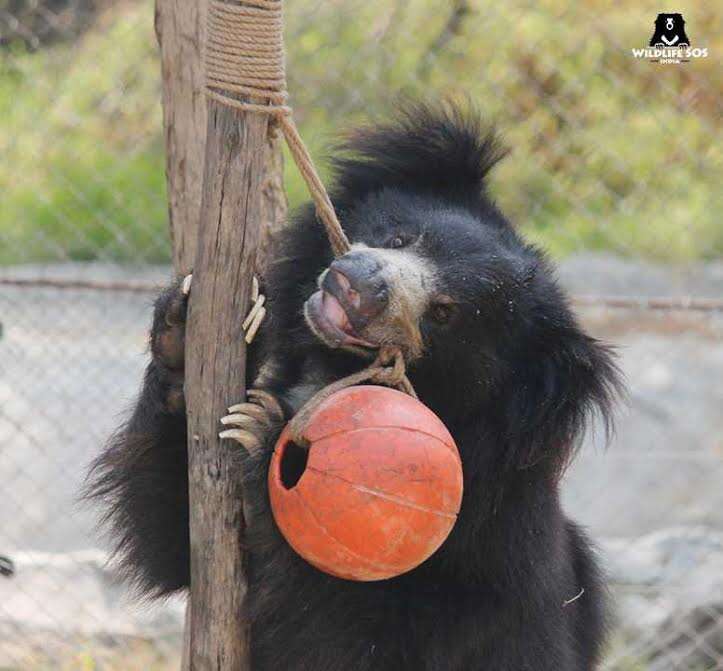 Rangila has now been at the sanctuary for three months, and the team expects him to keep improving physically and mentally. Now, for the first time, Rangila has a future to look forward to.
"We're so glad to see how well he is recovering, now that he's being well cared for in a proper sanctuary, free of ropes and chains," D'Cruze told The Dodo this week. "We're grateful to everyone who worked tirelessly with us to deliver a better life for Rangila during all stages of his rescue and rehabilitation. He deserves to live the rest of his life in peace and safety."