The rabbit who became the unexpected star of a viral rescue video during the California wildfires is making a slow, but steady, recovery.
The rescue was all caught on camera earlier this month when a man, unidentified at the time, jumped out of his car on the highway, surrounded by fire, to capture the frantic wild rabbit, who was trying to escape her forest home as it went up in flames all around her.
The man quickly dodged the intense blaze and was able to scoop up the rabbit just in time. He brought her to California Wildlife Center (CWC) in Malibu, where she continues to recover from the near-death experience.
The 7-month-old rabbit has burn injuries which may require surgery to heal correctly. Luckily, Dr. Duane Tom, director of animal care at CWC, says her prognosis is fair — and if she continues to improve, she can likely be returned back to the wild within the next two weeks.
"The back and tip of one of her ears as well as one of her front pinky toes were severely burnt, so that tissue has died off," Tom told The Dodo. "We're putting her under anesthesia this Friday or Saturday to get a closer look at those areas, and if those damaged areas are something we think will continue to give her problems, we'll remove them."
Tom's main concern is how much of the rabbit's ear will be left if some of it needs removed. Wild rabbits constantly move their ears around to focus in on different sounds, and if she's unable to do so, it may put her at risk of predators.
"If she loses a lot of her ear, we may not be able to release her," Tom added. "I'm very hopeful that the ear will be ok, but we'll know more once we can get a closer look."
One good sign is that her appetite's increasing — since her rescue, the center has needed to increase her meal sizes three times. To keep her from being too stressed out by human interaction, they have only interacted with her during feedings and for necessary treatments.
"She is eating a lot, gaining weight and is very active," Tom added. "We also have her in a separate room and incubator to keep her from getting stressed out, since cottontails are naturally very afraid of people."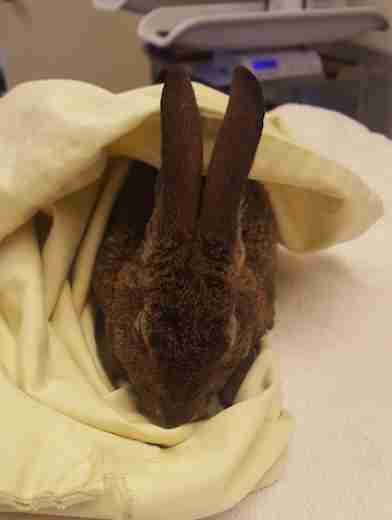 While he originally wanted to remain anonymous, the rabbit's hero has come forward as 21-year-old Caleb Wadman. He recently reunited with the her at the wildlife center to check in on her progress.
"In the video that everybody sees, I was going crazy because she [the rabbit] was screaming," he told Inside Edition. "I had faith … and that's when the bunny ran back toward the flames. And I was like, 'No, baby bunny, I'm here — I'm going to take care of you.'"
Tom was there to see their second meeting for himself — and said the rabbit's rescuer was "very fulfilled" to know his tiny friend was getting better.
"He risked his life going into the fire for that rabbit — he definitely wasn't thinking of himself," Tom said. "He's very glad the rabbit is with us and doing well. If everything goes well and her ears aren't too bad, we will probably start acclimating her to the outdoors sometime early next week."