The US Government Is About To Kill Thousands Of These Little Animals
Entire families could disappear.
Prairie dogs are tiny creatures known for their devotion to family — but the U.S. government recently decided to kill thousands of these lovable animals.
The prairie dog's natural sources of food are short grasses and flowering plants that grow in the grasslands, and this is what gets them in trouble — ranchers want to use this same grass to feed their cattle.
Shutterstock
As a result, the U.S. Forest Service (USFS) announced that it would poison as many as 100 black-tailed prairie dog colonies across 1,828 acres of the Little Missouri Grasslands in North Dakota, where prairie dogs have lived for centuries, so ranchers can use the land for cattle grazing. This plan could affect hundreds, if not thousands, of prairie dogs.
While ranchers argue that prairie dogs are causing "destruction" to native grasslands, Lindsey Krank, an environmental scientist and director of the Prairie Dog Coalition, which is part of the Humane Society of the United States (HSUS), sees things differently. Drought is often what's responsible for grass depletion, Krank explained, and prairie dogs actually help maintain the grasslands.
"They aerate and churn the soil," Krank told The Dodo. "They are native grazers to the North American grassland. Yes, they eat grass too, but they also play their role in keeping the grassland healthy."
Krank also explained that more than 200 other animal species, including songbirds, owls, foxes and badgers, depend on the prairie dogs for survival in the grasslands. "Many of them either depend on their populations for a food source or live in their burrows for shelter," Krank said.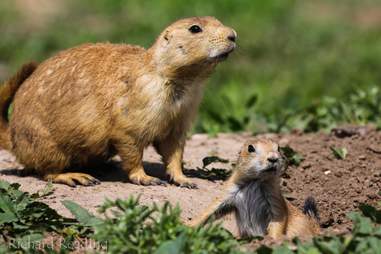 Richard Reading
At the moment, prairie dogs only occupy a tiny 1 percent of U.S. grasslands, according to Krank, and they've already lost at least 95 percent of their population in the past few centuries. Yet ranchers are determined to eradicate prairie dogs from their land, as well as the public lands that border their ranches — and they have the backing of USFS, the governmental agency meant to protect national forests and grasslands.
"The primary purpose of this project is to implement the Land and Resource Management Plan (LRMP), as well as direction that can be found in many federal laws concerning the Forest Service's commitment to wildlife and species diversity," a spokesperson for the U.S. Forest Service told The Dodo.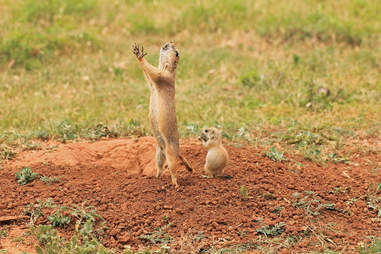 A mother black-tailed prairie dog sounding an alarm call as her baby watches her

| Shutterstock
The spokesperson also explained that the department needed to "be responsive to public concern for encroachment of prairie dogs onto non-National Forest Service managed lands, thereby complying with the good neighbor policy," and that prairie dogs needed to be removed for reasons of "public health, agricultural production, land values and facilities on private and other non-NFS lands."
To remove prairie dogs, government officials will use rodenticide, a poisonous substance that kills prairie dogs in a slow and painful way.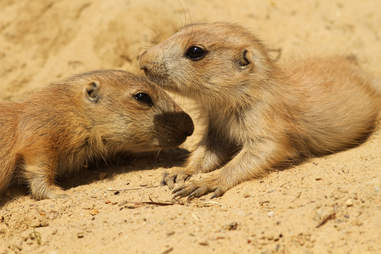 A group of baby prairie dogs

| Shutterstock
"It can take … days for a prairie dog to die from poison, slowly bleeding out," Krank said. "This practice is cruel and inhumane and has been outlawed for use on dogs and cats for decades."
Sadly, this isn't the first time the U.S. government has killed prairie dogs. In 2016 alone, the U.S. government killed more than 14,654 prairie dogs and destroyed over 68,000 prairie dog burrows.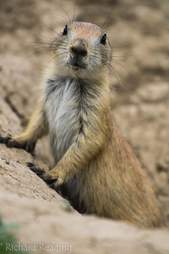 Richard Reading
These mass exterminations would have devastating effects on black-tailed prairie dogs, who are already suffering. Besides habitat destruction and population control tactics like poisoning, prairie dogs are susceptible to the sylvatic plague, a deadly disease that has wiped out thousands of these animals.
Instead of poisoning prairie dogs, Krank advocates for more ethical ways to remove animals from the land on and around cattle ranches.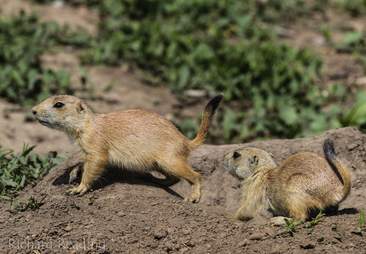 Richard Reading
"The Little Missouri has enough habitat to actually translocate the animals off the boundaries and into the interior where they can expand a prairie dog area of 10 to 15,000 acres," Krank said. "On top of that, we'd implore the Forest Service to make arrangements with the local ranchers permitted on those specific allotments to provide additional forage off that site or create swing pastures the locals can rotate in and out of."
Shutterstock
Krank also supports the USFS's use of vegetative barriers to prevent prairie dogs from migrating into cattle ranches and other private lands. "That's a solid tool that has worked in the past," Krank said. "It's a win-win because it will reduce poisoning on public lands with our taxpayer dollars, prevent animals from suffering and create a longer-term solution to these wildlife in conflict."
"I think we can all agree that preserving wildlife and our natural heritage is important to Americans," Krank added. "The prairie dog has a special place in the hearts of many, as well as a special place in nature as a key species."