Little Animal With Sweet Tooth Gets Head Stuck In Nutella Jar
"You know you have a problem when you end up in a situation like that."
Sometimes, having a sweet tooth can get you into trouble.
That was the problem for one little possum in Loganholme, Australia, last week when he stumbled upon an open jar of Nutella that someone had thrown away.
Hoping to get a taste of what was left in the jar, he stuck his head inside — and then couldn't get it back out.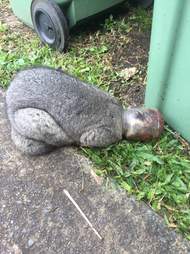 RSPCA Queensland
A man walking his dog saw the struggling critter, and knew right away he needed help. Brushtail possums typically eat sweet eucalyptus, flowers and fruits — so it was no surprise he wanted to snack on the sweet hazelnut spread.
The man called the local RSPCA and wildlife officer Chantel Sibilla was on the scene to help the troubled animal within minutes.
"I wanted to call him Nutty the moment I saw him there," she told The Jimboomba Times. "You know you have a problem when you end up in a situation like that."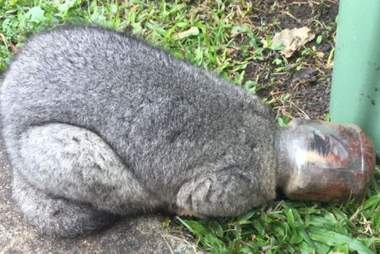 RSPCA Queensland
Sibilla put some grease around the neck of the jar and gently twisted it off from around the possum's head. There's no way of knowing how long the little guy had been stuck — but if it had been much longer, he likely wouldn't have made it.
"The most amazing thing was the way he tried to help me out, grabbing the jar with his little paws so he helped me lever it off," Sibilla said. "Possums can scream and carry on, but not this little guy. He seemed perfectly happy where he was."
Sibilla wrapped the possum in a towel and brought him to the animal hospital for a checkup. They had to make sure he wasn't injured or dehydrated from his sticky run-in before releasing him back to the wild.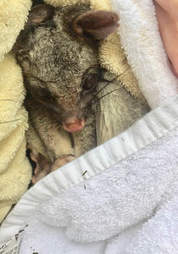 RSPCA Queensland
Many animals who get trapped in litter aren't nearly as fortunate. Luckily, this possum was found at just the right moment.
He's now back in his forest home after the ordeal — and hopefully, he'll stick to his regular snacks from now on.