Anyone who moves into a retirement home is likely seeking some peace and quiet — so it was rather surprising the other evening when one resident discovered not one but three very wild home intruders.
The woman, who lives at Woodcrest Retirement Village in Decatur, Indiana, found three deer inside her apartment after they had apparently leapt through a window.
When officers from the Decatur Police Department arrived, they discovered the resident in a pretty bizarre situation.
"Upon arrival officers quickly discovered the resident still sitting on her couch with one of the deer jumping back and forth across her and around the living room," the department wrote.
The other two deer, meanwhile, were in the bathroom.
Thankfully, these police officers knew just how to handle the situation so everyone came out of it unharmed. "Deputy Kukelhan entered the apartment and laid across the elderly occupant, shielding her ... until Corporal Patrick Piper and Officer Reid Arnold were able to assist the resident out of the apartment," the department wrote. "The deer were then removed one at a time."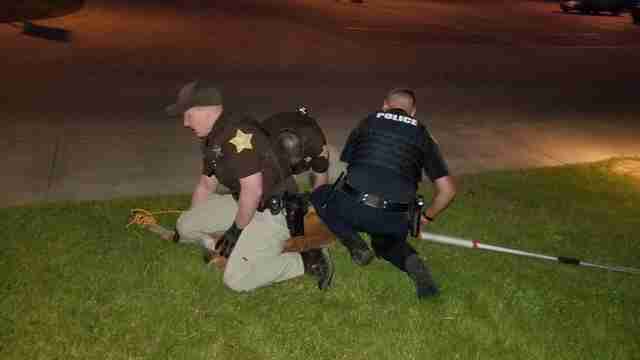 Two of the deer required some tranquilizers to be moved out of the apartment, but soon enough, everyone was where they needed to be — the three wild intruders back in the great outdoors and the resident safely back in her home.
Many people reached out to the police department to express gratitude for doing such a great job and keeping everyone safe. "Thanks for keeping the lady safe," one commenter wrote, "and thank you for keeping the deer safe also."
"Love the picture of them in the bathroom," she added.