Police Officer Finds Eagle In Trouble — And Gives Her A Ride To Help
"This particular eagle was quite strong and was not pleased at all."
Anyone who looked into the backseat of a cop car in Oregon last week might have gotten quite a surprise.
But if protecting lives is what police work is really meant to be about, then a bald eagle riding in the back of Sergeant First Class (SFC) Randall Hand's official police vehicle was just part of the job.
SFC Hand responded to a call for help from a ranch in Beatty, Oregon, where a man had seen a bald eagle struggling in a field of alfalfa.
When SFC Hand arrived, he spotted the eagle trying to rest in a patch of shade. Something was obviously preventing her from being able to fly. Luckily, SFC Hand has a unique background that made him perfect for this particular call.
"I served approximately five years as a wildlife biologist prior to my work with the Oregon State Police," SFC Hand told The Dodo. "While working as a biologist, I was trained on the safe capture and handling of all types of wildlife native to Oregon, some of the training was for the safe handling of raptors."
SFC Hand pulled a coat out of his car and started to approach the bird. "Flightless raptors are actually fairly easily caught with the use of only a blanket or coat," he said.
It is typical for eagles to try to defend themselves by rolling onto their backs and swiping at threats with their sharp talons. "Once on the back, I toss or drop a blanket or coat on the talons and the bird will grab hold," SFC Hand said. "I then carefully maneuver the bird upright and gain control of both wings with one hand while carefully gaining control of the legs (above the talons) with the other hand ... In this case, the eagle did as was expected and took hold of a coat."
So far, so good — except the wild bald eagle continued to resist SFC Hand's efforts to help her.
"This particular eagle was quite strong and was not pleased at all," SFC Hand said. "I needed to keep the bird at arm's length until returning to my patrol vehicle."
Then the officer needed to figure out the best way to bring the bird to get the specialized help she needed. "Unfortunately, my car is built to handle human occupants," SFC Hand said. "I was concerned this bird may damage herself by attempting to get out."
But SFC Hand kept a close watch on the bird, whom he placed in the backseat. "She did try [to get out] for about three to five seconds before settling onto the seat belts as a perch," he said. "That is where she rode all the way to the rehabilitator."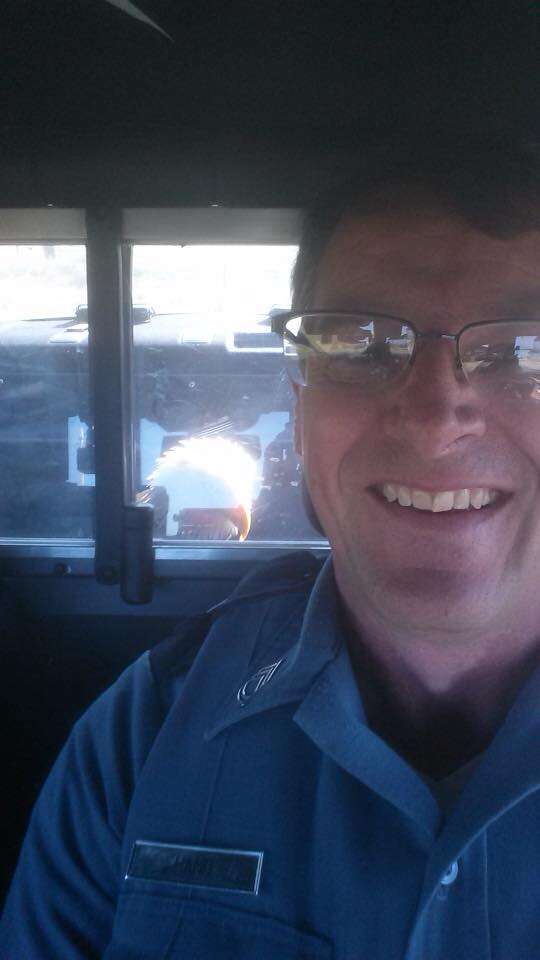 At Badger Run Wildlife Rehab (BRWR) in Klamath Falls, Oregon, the eagle was given an examination and it was discovered that something was wrong with her wing: She had tissue damage to one shoulder, which will require physical therapy. She was prescribed a lot of rest and relaxation, as well as some medication to help her get stronger.
"She is doing well, eating voraciously," Liz Burton, animal care coordinator for BRWR, told The Dodo. "She has extensive soft tissue damage and that takes a lot of time to heal." Because of this, it's uncertain whether she'll be strong enough to return to the wild. "We won't know for several weeks, possibly months."
If the eagle remains too injured to return safely to the wild, she may be adopted by a native tribe for an eagle aviary or she will stay at BRWR, joining the center's three other wildlife ambassador eagles.
While the future may be uncertain for this eagle, there is no doubt that SFC Hand certainly saved a life that day.
You can help this bald eagle and all the other rescued animals at Badger Run Wildlife Rehab by
making a donation
.