Police Find Saddest Surprise Inside Pieces Of Luggage
The labels said they contained "stones."
At first glance, the luggage seemed pretty ordinary — the kind of bags people would take on vacation. But when officials unzipped the luggage, they found something very unusual — 330 live tortoises.
The luggage had actually been packed into five cardboard cartons, and the shipping note said that they contained "stones." But luckily for the tortoises, Malaysian customs officials didn't buy this explanation, and they decided to see what the luggage actually contained.
It appears the tortoises were packed into the suitcase with white fabric, which was likely used to keep them still so they wouldn't make noise.
"I don't know precise details of this case, but it's not uncommon for tortoises literally to have their limbs taped with masking tape or similar to prevent them moving about and thus drawing attention to themselves while in transit," Richard Thomas, global communications coordinator for TRAFFIC, an international wildlife monitoring network, told The Dodo.
If the tortoises had successfully entered Malaysia, they probably would have been sold into the pet trade.
Unfortunately, there's a massive demand for turtles and tortoises as pets, and wild populations are feeling the pressure. They're also killed for use in food or traditional medicine. In Asia alone, 75 percent of all freshwater turtle and tortoise species are listed as threatened, according to National Geographic.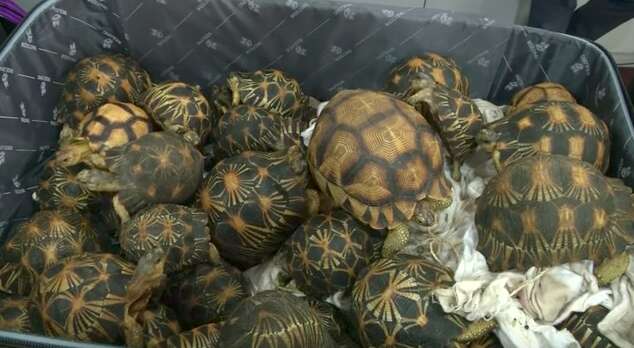 And it's not only turtles and tortoises who are in danger — this bust comes just a few weeks after Malaysian officials discovered 18 rhino horns packed inside a crate labelled as "artwork," and a separate shipment of 900 pounds of pangolin scales. Both shipments would have been destined for use in traditional medicine.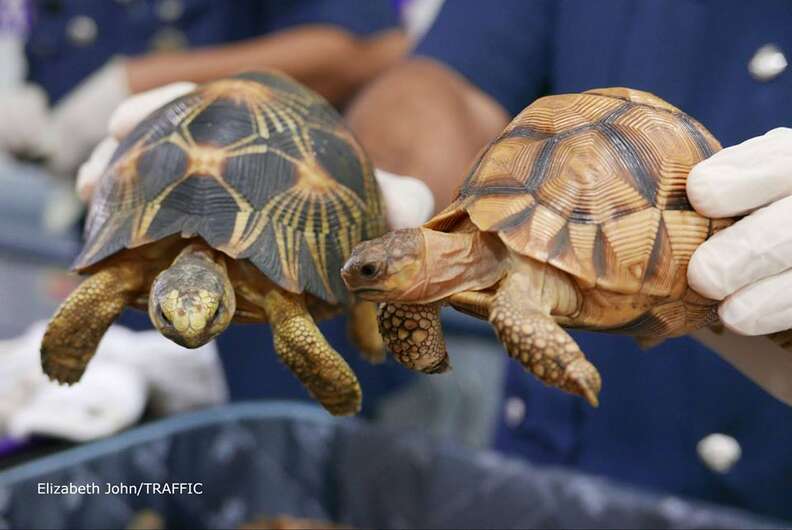 In another part of the world, Peruvian officials recently discovered 29 baby Galapagos tortoises on a bus driving to Lima — the tortoises had been wrapped in plastic and hidden inside a cardboard box. They were likely headed to the pet trade.
The good news is that Malaysian officials managed to stop these 330 tortoises from being smuggled into Southeast Asia, and most of the animals appear to have survived their unusual journey. Yet members of TRAFFIC have expressed concern about the screening processes in other countries.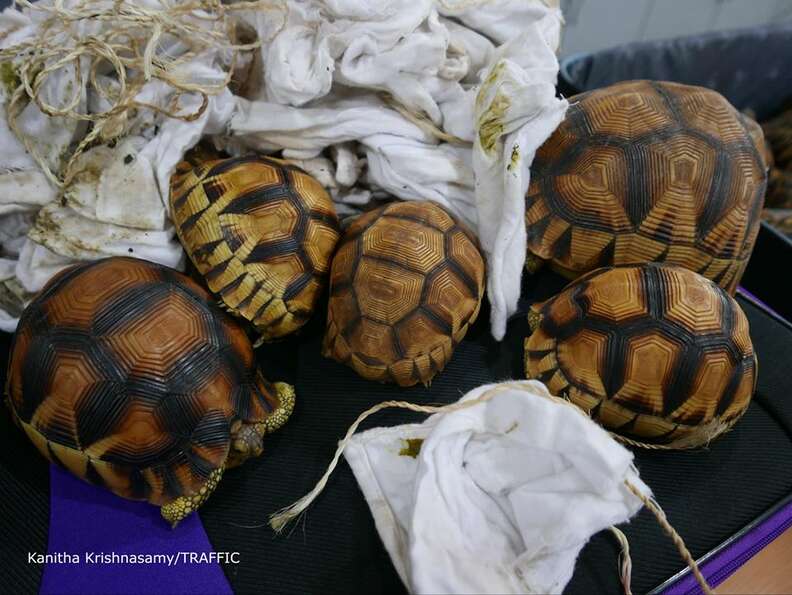 "The string of seizures certainly shows that Malaysian customs means business and TRAFFIC is glad to see this action against organized criminal wildlife trafficking," Kanitha Krishnasamy, senior program manager for TRAFFIC in Southeast Asia, said in a statement. "However, it's worrying that shipments headed for Southeast Asia from Africa via the Middle East are only detected in the [delivery] region — it clearly points towards the need for greater scrutiny at airports both at points of origin and at transit points such as Doha [Qatar], Dubai [United Arab Emirates] and Abu Dhabi [United Arab Emirates]."
It is TRAFFIC's hope that the tortoises are promptly returned to the wild in Madagascar. Until that happens, the tortoises are being cared for at a secure rescue center, according to Thomas.
"It is vital that highly threatened seized tortoises, especially ploughshare tortoises, are repatriated to Madagascar and reintroduced following the appropriate protocols to augment the wild population there," Dr. Chris R. Shepherd, regional director for TRAFFIC in Southeast Asia, said in a statement. "The thoughtless greed of those buying these animals is driving ploughshare tortoises to extinction, and we encourage the authorities to go after not just the traffickers but also those buying them."
To support TRAFFIC's efforts to help tortoise and other trafficked animals around the world, you can
make a donation
.