This 'Sanctuary' Is Actually A Nightmare For Elephants
"The so-called caretaker would pierce them with these long sharp and pointy spear/rods … it made the elephants scream."
Tourists show up to the Pinnawala Elephant Orphanage because they love elephants and want to see them happy.
But what they find is that they're anything but.
"This was a heartbreaking visit," one commenter wrote on Facebook. "Was saddened to see the elephants be beaten with bullhooks and unnecessarily chained as 'dangerous' throughout the day ... The handlers seemed thrilled [to] hit and to invoke fear in these giants."
Commenters on TripAdvisor echoed those sentiments.
"We realized that some of the elephants were chained up and forced to spray water from their trunks or were being forced to lie down," a reviewer wrote. "If they tried getting up, the so-called caretaker would pierce them with these long sharp and pointy spear/rods … it made the elephants scream loud (could be heard at a distance) in pain and the caretaker seemed to enjoy it. I really felt bad and we all decided to leave immediately."
Located in Rambukkana, Sri Lanka, the Pinnawala Elephant Orphanage claims to be a refuge for rescued elephants who can no longer survive in the wild, as well as a baby elephant nursery. Visitors can interact with the animals by bathing them in the river, feeding them fruit and even giving baby elephants bottles of milk.
Yet animal welfare advocates — just like the scores of tourists who have visited — have serious welfare concerns about Pinnawala, which they believe is neither an orphanage nor a sanctuary.
"I think on its face, it's attractive to the public because it's elephants, and people love to see elephants," Prashant Khetan, chief executive officer and general counsel for Born Free USA, told The Dodo. "The orphanage tells this story about how it rescues animals, and that's very appealing to folks, but I think you need to dig a lot deeper, and ... there are a lot of concerns. A big concern is how they're keeping the elephants."
"Their claim is that, 'We chain them because when male elephants are at the peak of their sexual activity, they can be very aggressive and so we have to do that,'" Khetan said. "But there's a couple of problems with that. A, that's not what happens in the wild. And B, the real reason they have to do that is because they're open to the public, and the concern here is that the elephants are going to be aggressive toward humans. But for that, you wouldn't have been chained for months at a time, and that's … not the kind of thing that a place that's truly in the business of rescue and care should be doing."
Toni Frohoff, an elephant biologist with In Defense of Animals (IDA), has similar concerns.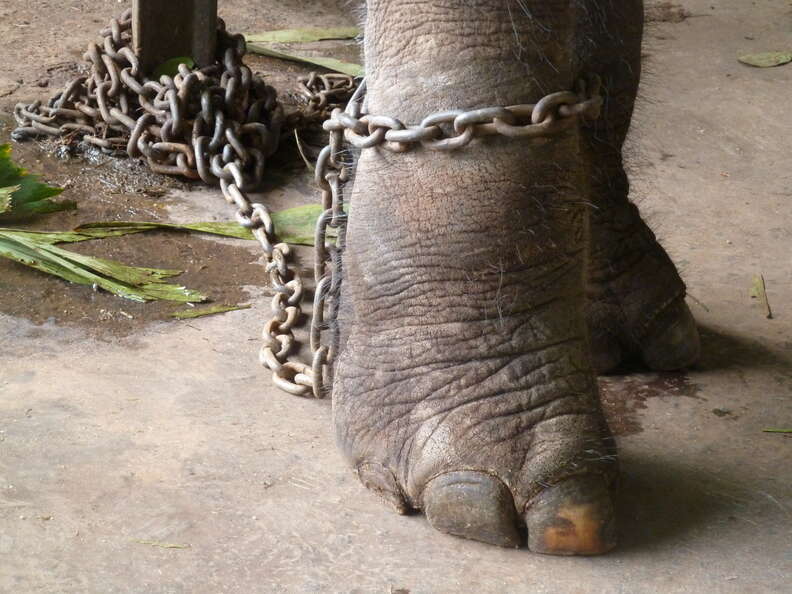 "Elephants are not only chained at Pinnawala ... they are chained in some of the most barbaric and cruelest of ways," Frohoff told The Dodo. "Lack of appropriate shelter and completely unsuitable standing surfaces, combined with chains around multiple legs, creates a psychological and physical nightmare for elephants who can barely move, let alone even walk away from their own feces for days, weeks, or perhaps longer, on end."
Based on visitor photos on TripAdvisor and Facebook, it appears that both adult elephants and baby elephants are chained up.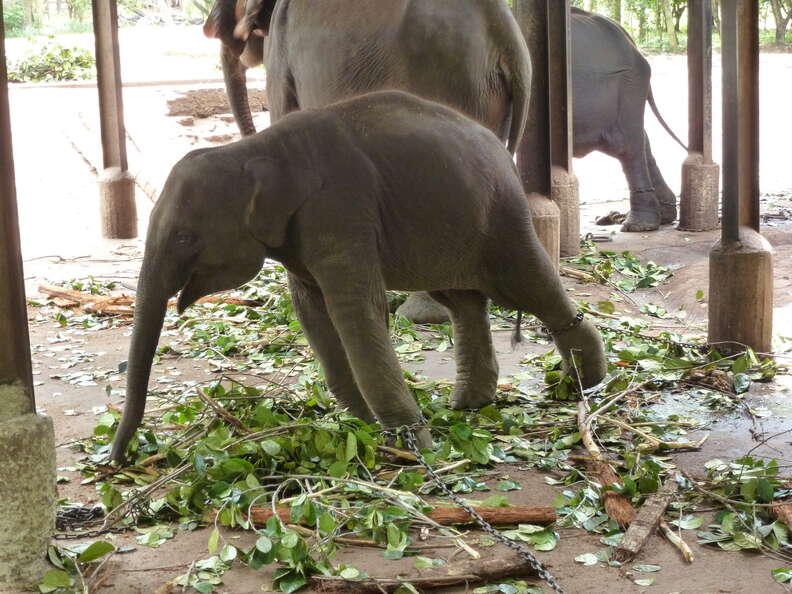 "I am very horrified by the archaic ways in which these elephants are treated in what is so innocuously self-labeled an 'orphanage,'" Frohoff said. "This is no elephant sanctuary by any means and its name is a discredit to real orphanages that actually serve welfare and conservation needs — think Sheldrick Wildlife Trust."
The mahouts, or caretakers, at Pinnawala Elephant Orphanage also use bullhooks — long instruments with sharp, pointed edges — to force the elephants to behave in a certain way. Sadly, bullhooks are commonplace in circuses, zoos and other facilities that use elephants for entertainment — but an orphanage or sanctuary should know better than that, according to Khetan.
"There are rampant reports of how the handlers are very aggressive with the elephants, and they use a lot of aggressive techniques to 'train them from being aggressive,' which is unnatural," Khetan said.
Elephants Used For Selfies And Entertainment
To gain entry into Pinnawala Elephant Orphanage, visitors need to pay 2,500 Sri Lankan rupees (about $16 USD) for an adult ticket and 1,250 rupees (about $8 USD) for a child. Yet the facility makes extra money by charging visitors to pose with elephants for selfies, according to Khetan.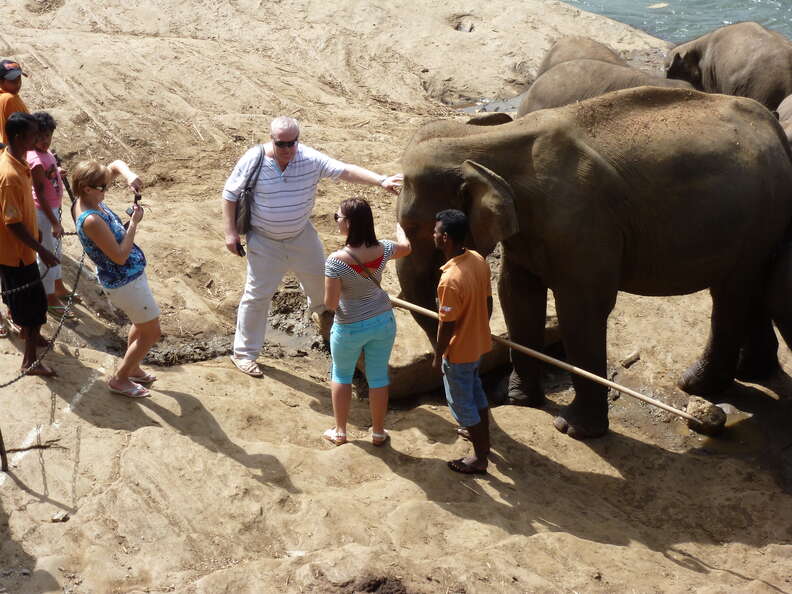 "We understand that it costs money to [run a sanctuary] and you have to come up with creative ways to drive income, but once you've moved to the point where you're not only charging people to come in, but you're actually charging people extra to interact with the elephants, you've moved well beyond the rescue and care of an elephant, and you're really now moving into the world of your business that's intending to make money," Khetan said.
Carla Pisarro, U.S. communications manager for World Animal Protection (WAP), an international animal welfare group, also believes many facilities offering selfie opportunities aren't placing animal welfare at the forefront.
"Most tourists simply aren't aware of the suffering and confined conditions that wild animals endure behind the scenes to provide that once-in-a-lifetime photo," Pisarro told The Dodo. "We urge tourists to remember that if you can hold, hug or have a selfie with a wild animal, chances are that its well-being is compromised."
In fact, WAP's research showed a 292 percent increase in the number of wildlife selfies posted on Instagram from 2014 to 2017. Over 40 percent of these were deemed "bad" wildlife selfies — photos that showed someone holding, hugging or inappropriately interacting with a wild animal.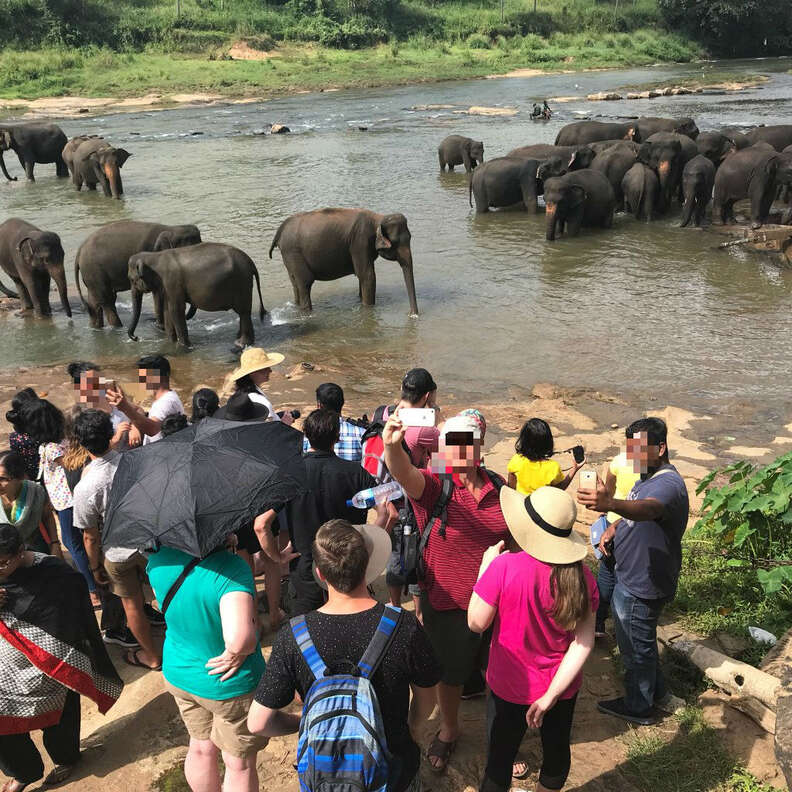 "This explosion in the popularity of selfies with captive wild animals like elephants normalizes behavior that puts wildlife in jeopardy," she said.
Based on tourist reviews, it also seems that the mahouts allow people to ride on the backs of elephants at an extra cost — and this is something that also worries Khetan. Elephants who give rides have been through something called a training crush — mahouts will shove the baby elephants into cages, starve them and beat them into submission. Once an elephant's spirit has been broken, the animal will obey the mahout's commands.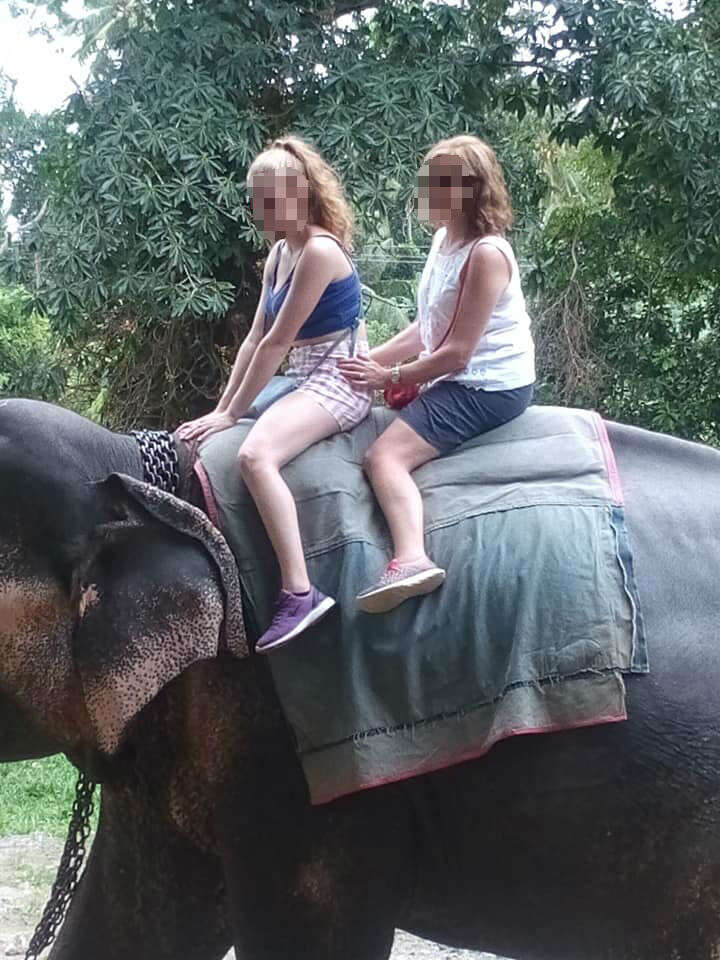 "Again, we have moved well beyond being a sanctuary," Khetan said. "That really indicates that they're moving into the space of an interactive experience. It's not just the ability to see these elephants in this environment — it's the selfies and all these other things that are unnatural, and will have long-term repercussions for the elephant. But in the meantime, it's generating income for this company."
Elephants Being Captively Bred
Pinnawala Elephant Orphanage is also breeding its captive elephants, and selling the babies to zoos in Europe and other parts of the world, according to Khetan.
"This is a problem," Khetan said. "Now we've completely moved away from the concept of rescue and care."
Captive breeding programs are also rarely successful, according to Frohoff.
"Captive breeding programs for elephants do not contribute to conservation, which can only really occur in the wild," Frohoff said. "Elephants have been dying in captivity faster than they can be successfully born because of environmentally and physically absurdly unnatural conditions. Elephant culture and society has involved mothers learning maternal skills from their related elders, but this is typically lost in captivity where unrelated individuals are artificially forced to be housed together."
"It's not a sanctuary," Khetan said. "It's sort of an orphanage in that they bring in elephants that perhaps have been abandoned, but everything from that point on is not what we would consider to be in the best interests of the animal."
The Pinnawala Elephant Orphanage did not respond to The Dodo's request for comment on any of these issues.
Helping Elephants At Pinnawala Elephant Orphanage

Despite the negative reviews that continue to pop up about Pinnawala Elephant Orphanage, the facility has continued to operate and receive visitors — but Khetan believes the public can play an important role in fostering change.
"The general public can help by not going," he said. "The more money that people put into places like this, then they're able to operate, and it's a perpetual cycle."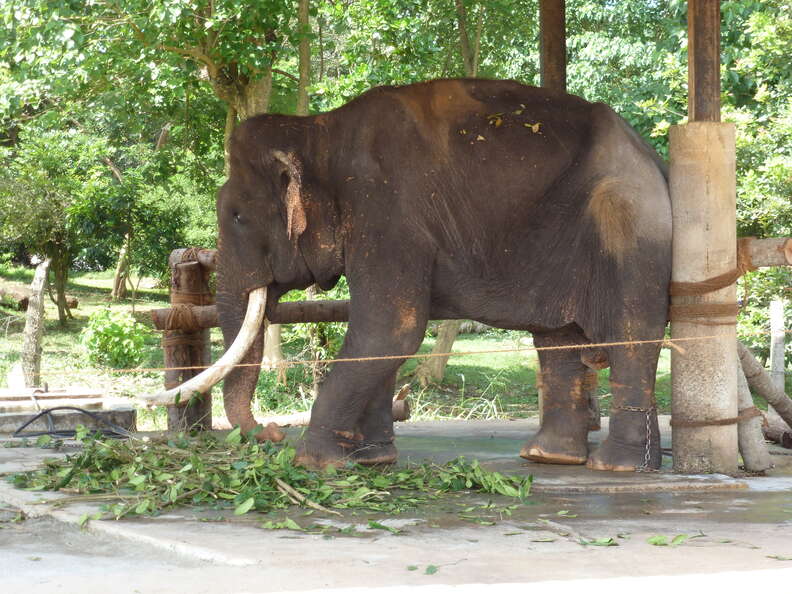 Khetan also hopes people will continue to speak up about Pinnawala Elephant Orphanage and other facilities where animals are being mistreated or exploited.
"If you go to a place like this, and you see things like chains and handlers using bullhooks, let people know about that, because that's the best way for us as society to know that this is going on, and why we shouldn't go to a place like that," Khetan said.