Pigeon Had So Much Dirt Stuck To Her Feet It Looked Like She Was Wearing Shoes
She was rescued by a 7-year-old girl ❤️
After Pat the pigeon fell from her nest, she was unable to fly back up to it, and struggled along on the ground. Thick balls of dirt collected on her feet, and the poor pigeon seemed completely disoriented when a 7-year-old girl finally spotted her and knew she had to help.
Daisy was playing outside when she spotted Pat, and knew immediately that something wasn't right. She could tell something was wrong with Pat's feet, and rushed to her grandparents, who contacted the RSPCA so that Pat could get the help she clearly needed.
"Pat the pigeon was very lucky she was spotted by such a kind member of the public," Kristina Raine, an inspector with the RSPCA, said in a press release. "The little girl that spotted her thought it was most peculiar that there was a pigeon wearing shoes!"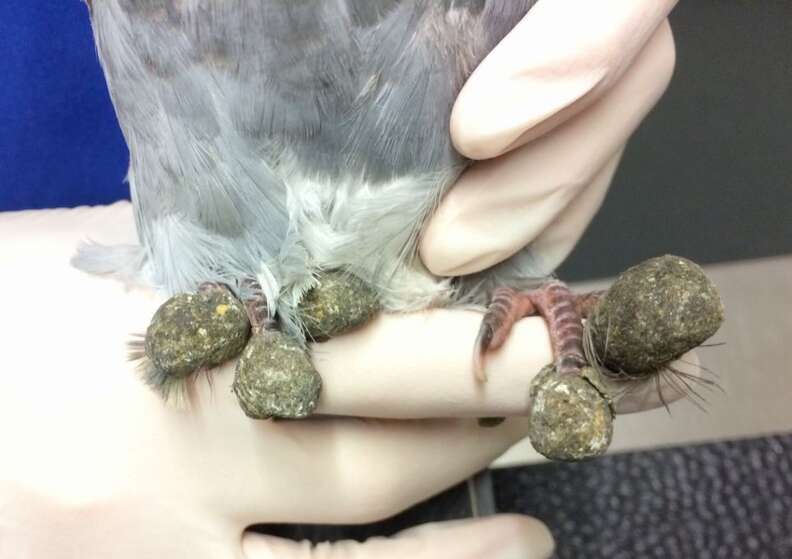 After thanking the little girl for her kind actions, Raine took poor Pat to the vet, who cleaned off her feet completely, enabling her to walk properly again. The vet also determined that Pat was rather overweight for her age, which was probably why she was struggling to fly. Doctors decided to keep her for a while until she's completely healthy again and can be successfully released back into the wild.
"It looks like the poor pigeon had fallen from her nest in a lot of muck and frost which had formed into balls on her feet," Raine said. "We don't often see young pigeons like this at this time of year and in these colder conditions. It's very unlikely she would have survived on her own. She is now being looked after at the vet until she can lose her Christmas weight and learn to fly."
Pat is very lucky that she was spotted when she was, and that she now has a warm place to recover. Hopefully she will be released back into the wild soon — and will steer clear of leaning too far over the edge of a nest again in the future.
"We are so grateful for kind members of the public who see an animal in need and decide to act," Raine said. "We receive a call to our cruelty line every 27 seconds alerting us to animals in distress and without this we wouldn't be able to continue to rescue, rehabilitate and rehome all the animals that we do."