These People Just Got To Witness A Beautiful Thing
Hundreds of tiny animals were so happy to scurry back home again ❤️
Soon after some large, flat shipping crates arrived at the Hong Kong International Airport back in January, customs officials discovered something unexpected inside.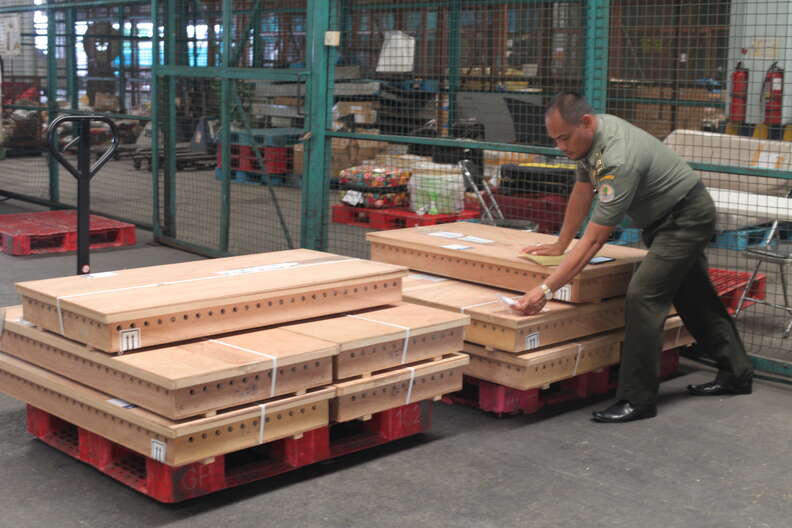 IAR
The crates contained smaller plastic boxes; inside of those there were hundreds of wild animals packed tightly — and they were still alive.
IAR
The nearly 600 rare pig-nosed turtles were saved from illegal wildlife traffickers just in time — but to get them back where they belong, thousands of miles away, would take months of tremendous effort.
IAR
The finding was surprising — but, sadly, not very unusual. This was far from the first time this type of turtle has been plucked from traffickers at the last moment.
Even though the species is considered vulnerable, over 35,000 pig-nosed turtles have been confiscated in Hong Kong and Indonesia (where their natural habitats are) since 2010.
In January alone, at the Hong Kong International Airport, three separate seizures occurred and over 2,000 of these turtles were confiscated from traffickers.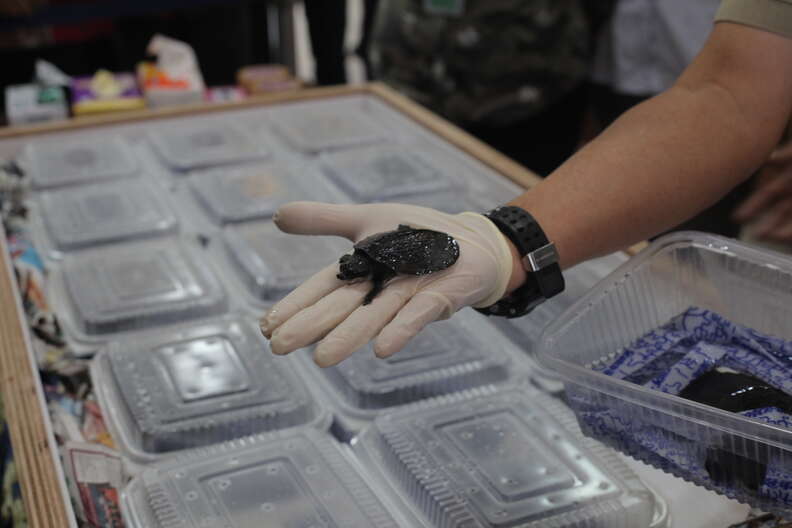 IAR
Because people want to use the turtles for myriad reasons — sometimes they are in demand for use in traditional Eastern medicine, others want to eat them as a delicacy and still others want to keep them in captivity as pets — pig-nosed turtle eggs are taken from the wild in Papua New Guinea and then incubated until they hatch, according to International Animal Rescue (IAR), one of the organizations that helps save these animals.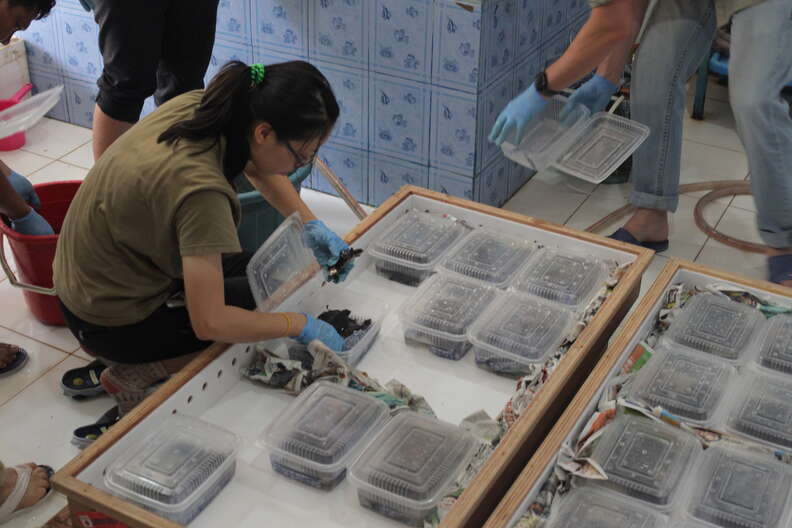 IAR
"The hatchlings are sold to traders who can export them to major cities in Java," IAR wrote in a press release. "A small proportion are sold domestically for the pet trade and the rest are shipped internationally via sea or air to satisfy increasing foreign demand."
IAR
It's chilling to even think of how many of these trafficked animals pass through international customs undetected — but people are determined to do what's right for those they find in time.
"The wildlife trade is responsible for decimating hundreds of animal species, some of them on the brink of extinction, but it's also responsible for the suffering and death of thousands of animals that are taken from their natural habitat," Karmele Llano Sanchez, program director of IAR Indonesia, said. "This is just a tiny portion of the rampant illegal wildlife trade that goes on across the globe each year."
But this month, 599 of the turtles seized in January were able to return home.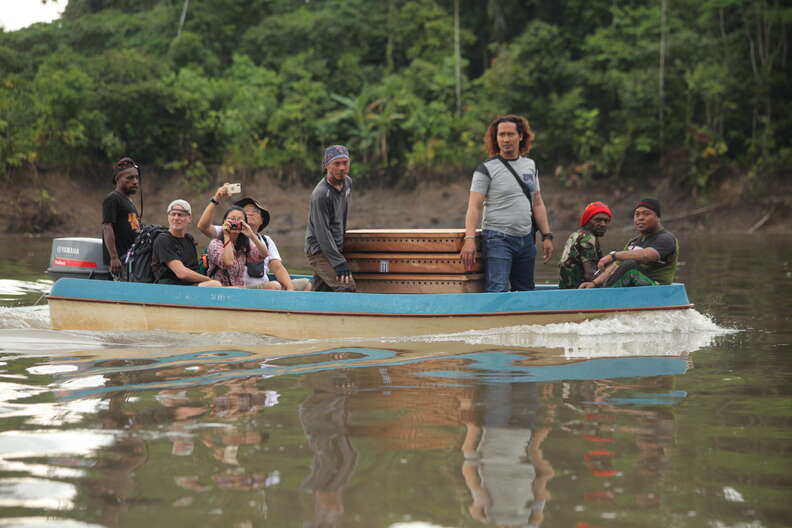 IAR
This three-day trip back home involved the cooperation of so many people — the government officials in Indonesia and Hong Kong, people at Kadoorie Farm and Botanic Garden in Hong Kong (KFBG) and team members from IAR Indonesia and World Wildlife Fund (WWF) Indonesia.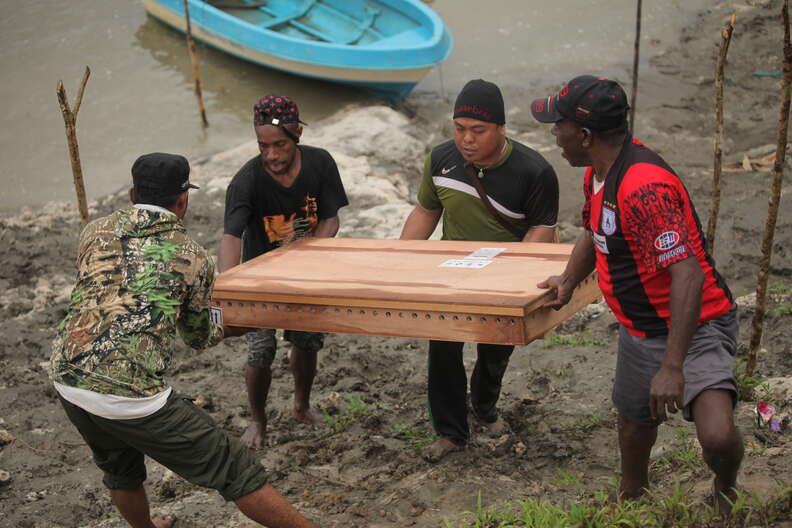 IAR
The turtles took a five-hour flight from Hong Kong to Jakarta, Indonesia, then a nine-hour flight from there to Papua New Guinea. They were then driven for 10 hours and then brought into a boat to finally arrive at the release site.
Every single turtle survived the trip.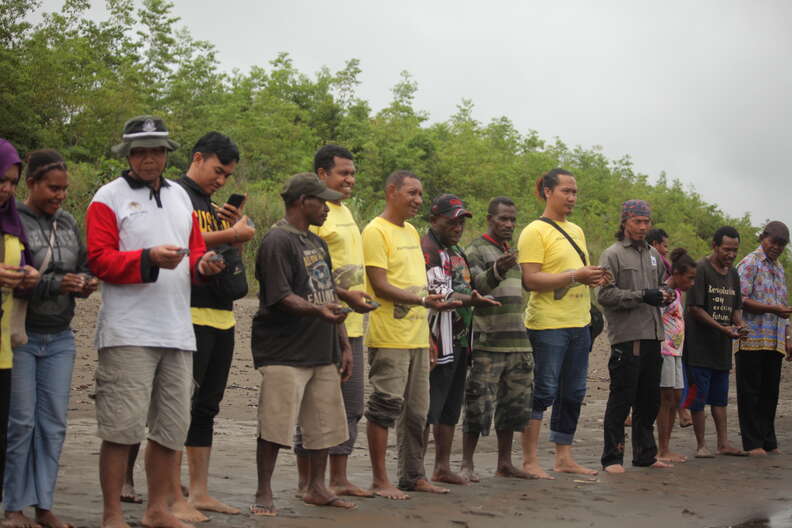 IAR
There was an air of celebration during the release this week. Local community members got to participate in helping the turtles go back home.
IAR
Smiles broke out as people cradled the rescued turtles in their palms and lined up along the Kao River in southern Papua New Guinea, ready to release them.
IAR
They watched as the animals scurried back to the familiar waters.
"The people here are very appreciative and enthusiastic about the release of the turtles," Wempi Hutubessy, a local government official who watched the turtles go back home, said. "The pig-nosed turtles are an asset to our district so, together with the local community, we are ready to help maintain and conserve them."