Woman Sees Baby Wombat Running Across the Street And Knows She Has To Help Her
"If she was not captured, she would die."
The baby wombat tore across the road in Victoria, Australia, hiding among some dried grass and brush plants — and she refused to come out.
Moments before, a local woman had found the baby wombat curled up with her mom's body — sadly, the mom had died after being hit by a car. But when the woman tried approaching the baby wombat to help her, the little animal had run away.
The baby wombat running across the road

| Macedon Ranges Wildlife Network
Thankfully, the woman had captured a short video of the wombat, which she sent to Macedon Ranges Wildlife Network, and one of the rescue workers, Leanne Middling, immediately went out to search for the animal.
"Leanne knew the joey was dependent on her mother for survival, and if she was not captured, she would die," Mel Fraser, social media manager and wildlife rescuer for Macedon Ranges Wildlife Network, told The Dodo. "Leanne spent Monday searching — the mother was most likely killed the night before."
Macedon Ranges Wildlife Network
"The joey was incredibly exhausted, and quite weak," Fraser said. "She was immediately warmed up and given lectade. Then she was left to sleep, which is something she hadn't done for at least 24 hours."
It didn't take long for Ruby, who is between 6 and 12 months old, to relax in the care of her rescuers.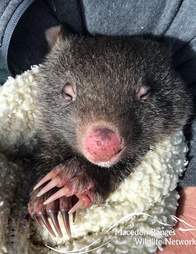 Macedon Ranges Wildlife Network
"She is very sweet," Fraser said. "She loves to be cuddled and held tightly and is enjoying drinking her bottles."
Ruby will remain at the shelter for the next 18 months to 2 years — and during that time, the team will be preparing for her release back into the wild.
Macedon Ranges Wildlife Network
"She has another wombat joey in the wildlife shelter the same size as her, so they will eventually be released back to the wild together," Fraser said. "For the wildlife shelter, the uplifting part is welcoming a new joey into care, knowing you're giving her that second chance at life."