Woman Walks Into Her Kitchen And Notices Something Strange In The Corner
"I see you ... Not moving doesn't make me not see you."
Even on stressful days, some individuals know how to break the tension perfectly.
That's what Kail Marie, of Lecompton, Kansas, was reminded of this week on Election Day. Aside from going out to vote, Kail Marie, stayed mostly around her house on Tuesday. She was largely preoccupied, as results of elections across the country were being counted.
But all thoughts of the national agenda dropped away when she went into her kitchen and saw something that — for anyone else, at least — would be incredibly strange.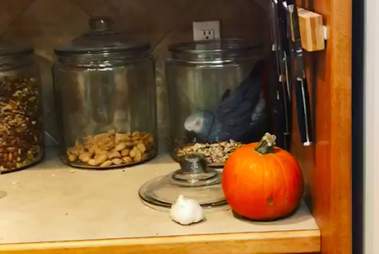 Kail Marie
On her kitchen counter, beside a decorative pumpkin, inside a transparent glass jar, was an African grey parrot.
And she was standing very still.
Kail Marie
The parrot was no stranger, however. The bird was 17-year-old CocoBaby and she's been living with Marie for almost a year, ever since her owner got too sick to take care of a parrot and had to give her away.
Marie actually cares for dozens of rescued parrots — she founded Tallgrass Parrot Sanctuary exactly for that purpose.
"What are you doing?" Marie asked CocoBaby. "I left the lid off of the cockatiel food, didn't I?"
CocoBaby remained frozen, as if realizing she had been caught.
"I see you. I do see you," Marie informed CocoBaby. "Not moving doesn't make me not see you."
Then CocoBaby, realizing she wasn't really in that much trouble, continued to fish around in the jar for her favorite morsels.
Kail Marie
"She has a huge personality!" Marie told The Dodo. "She is always getting into 'trouble' when I am not looking, but this is the first time she did this."
Kail Marie
Even though CocoBaby is showered with snacks (and love), she seems to especially enjoy the drama of sneaking around.
Kail Marie
And CocoBaby always gets away with it — it's just too much fun for everyone else to see what she'll think of next.
"She and one of our Amazons, Pepe, are best friends. She wants nothing to do with the other greys," Marie laughed.
You can make sure the rescued birds at Tallgrass Parrot Sanctuary get all the snacks they could ever want by
making a donation
.