Wildlife vet Lam Kim Hai was on well-deserved vacation when he saw something on TV that got his mind back to work — 15 critically endangered pangolins had been confiscated in the Huong Hoa District in Vietnam, which is near the border of Laos.
"The army that patrols the border between Laos and Vietnam saw four people with backpacks crossing the border into Vietnam," a spokesperson for Save Vietnam's Wildlife (SVW), a group that rescues and rehabilitates wild animals, told The Dodo. "When the traffickers noticed that they were spotted, they left the bags behind and ran deep into the forest to hide. Unfortunately, the authorities were not able to track [down] and ... arrest the traffickers."
Hai, who works for SVW, knew he had to do something. He got in touch with Vietnam's Forest Protection Department (FPD) and helped make arrangements for the SVW team to take over the pangolins' care.
The wildlife traffickers had put the pangolins into tiny bags, and they were still in there when SVW got them. The FPD officials had also put the bagged pangolins into mesh cages to transport them, but the animals would have been really uncomfortable like this.
Inside the bags, the pangolins were curled up in tiny, tight balls.
"Pangolins curl up in a ball when they feel threatened," the SVW spokesperson said. "This makes it very easy for poachers to place them in a bag and transport them, without the animal escaping."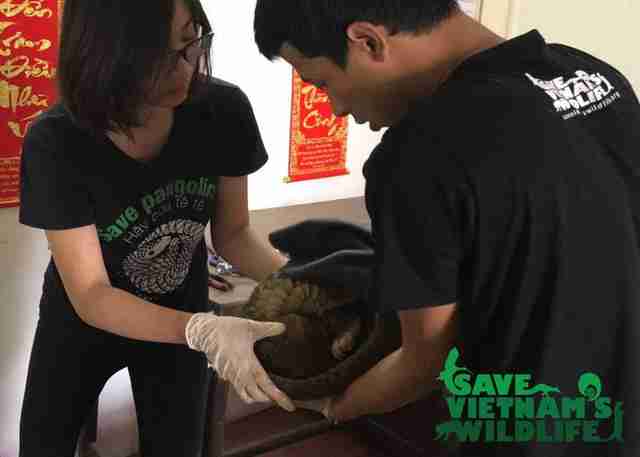 Back at the rescue center, the SVW team immediately freed the pangolins from the bags and checked them over for injuries and other health issues.
"The pangolins were covered in their own feces, dehydrated and very hungry," the SVW spokesperson said. "Luckily, they did not have injuries [from] snare traps, as we usually see. And they also were not force-fed to increase their weight, as we usually see. Overall, these pangolins looked relatively healthy, which probably means they were captured in Laos."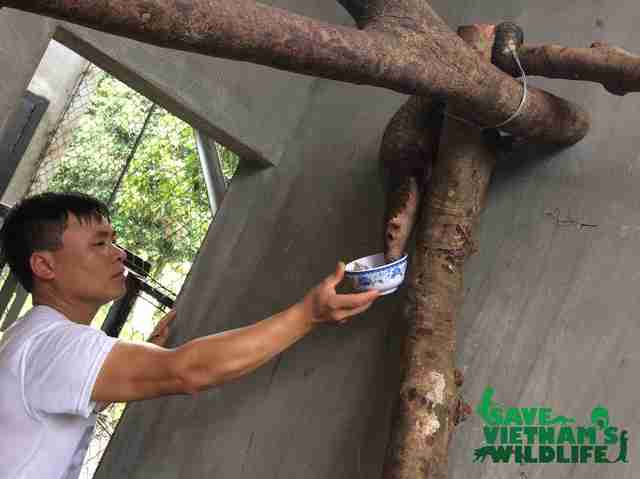 It's also lucky that the pangolins were still alive. In many cases, traffickers don't take the entire animal, but only get their scales, which are highly valued in Chinese medicine. A couple weeks ago, customs officials confiscated 7.1 tons of pangolin scales in Ho Chi Minh, Vietnam, in the largest seizure of pangolin scales in Vietnamese history.
The SVW team did everything it could to help the pangolins feel better — workers put them in individual quarantine enclosures, and gave them plenty of food and water. Eventually, the pangolins started to relax, explore their enclosures and nibble on food.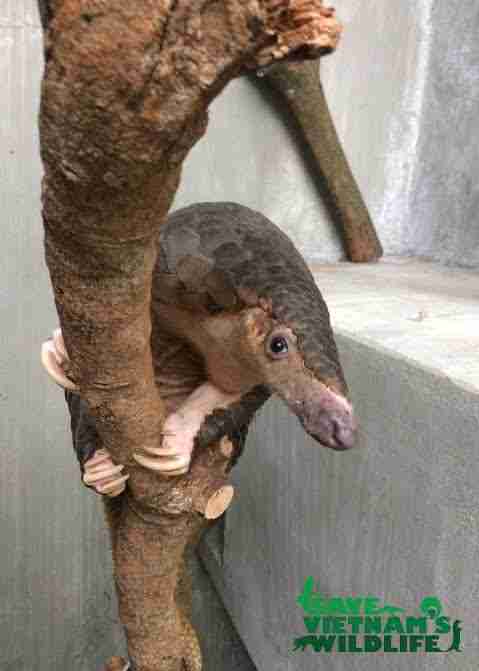 The 15 pangolins will stay in quarantine for 30 days while the SVW team assesses their health. At the moment, the team is confident that they'll fully recover and get back to the forest. "Hopefully, they will be able to get a second chance of a life back in the wild," the SVW spokesperson said.