Orphaned Porcupine Was So Tiny He Didn't Even Have Quills Yet
Now he's getting his first quills — and makes the CUTEST happy noises!
A man in Canada was walking around his property this week when he found a tiny fluff-ball all alone.
Closer inspection revealed it was a tiny newborn porcupine — and his mom was nowhere to be seen.
Deb Lehman/Save The Creatures Photography
But he had to wait to help the little guy, since mother animals often stash their young in hiding places while they go and look for food.
So the man waited, monitoring the baby over a 24-hour period. By the time the time was up, the baby, who was just a few days old, was getting desperate.
Wildlife Haven Waterloo
"Sadly mama did not return at any point during this time, which left this helpless little guy hungry and crying out for help," Joy Huggins, founder of Wildlife Haven Waterloo (WHW), wrote. 
Wildlife Haven Waterloo
The orphaned baby porcupine was brought to WHW and named Jake, after the man who found and helped him.
And Huggins has never heard a porcupine quite as talkative as Jake, even though he only weighs about 400 grams. "This little guy is very vocal, much more so than the adults I have had in," Huggins told The Dodo.
Jake is getting fed a special mix of formula mixed with applesauce every three hours. And after just a few days at the rescue center, he's already getting stronger. He's even started gnawing on some tree bark.
"Since being in our care, Jake is doing incredibly well and quite the sweetheart," Huggins said. "He is getting stronger now and starting to climb around more."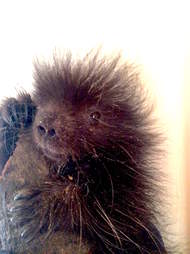 Wildlife Haven Waterloo
Porcupines only have children once per year, and within a few hours after being born, the quills on newborn porcupines start to harden. So already Jake's little body is getting ready to be in the wild — but he has to grow up a bit more first.
"We hope to give this little one a fighting chance at growing into a gorgeous porcupine," Huggins said.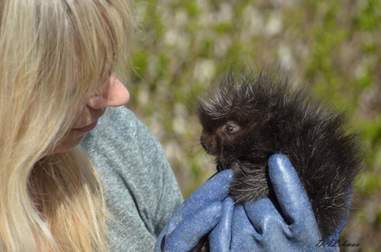 Deb Lehman/Save The Creatures Photography