Tiny Chimp Saved From Trafficker Can't Stop Smiling At Her Rescuer
"She is attached to me 24/7."
In the wild, mother chimpanzees make eye contact with their babies over 20 times in a single hour and usually go about their days with their babies clinging to them.
Only the most serious disruptions could ever separate them — but sadly, mother and baby chimps become torn apart quite often. 
This is what happened to a baby chimp now named Gaia.
LCRP
The baby chimp was being sold by a man in Liberia when a tourist, trying to do the right thing, decided to buy her.
In all likelihood her mother had been killed for bushmeat. Unfortunately, buying baby chimps to rescue them only perpetuates the bushmeat trade and encourages people to create more orphans who are sold into the illegal pet trade. 
LCRP
Luckily, people are trying to do something to stop this cycle of violence and exploitation that impacts countless chimp families. Jenny and Jimmy Desmond founded Liberia Chimpanzee Rescue & Protection (LCRP) to give chimps orphaned by the bushmeat trade in Liberia a safe place to grow up and to raise awareness about the threats to these amazing animals.
LCRP
"While we are happy she was saved, money was exchanged, an expat ended up with her, and no report was made to authorities so her seller (and possibly mother's killer) not only got away but may try to sell more chimps in this area," LCRP wrote on Facebook. "Gaia is a perfect example of why we ask people to please respect the laws and never buy illegal wildlife or take animals without making a full report to authorities."
LCRP
Gaia was just under two months old when she arrived at LCRP just before Mother's Day, and on a day that had particular meaning for Jenny: the anniversary of the day she lost her own mother, whose name was Gaia.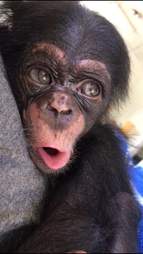 LCRP
So Jenny named this new resident at LCRP, the youngest to ever be admitted, after her late mother. And Jenny started to give Gaia the mothering she so needed, like a comfortable place to sleep.
And Gaia almost immediately started making that important eye contact with Jenny.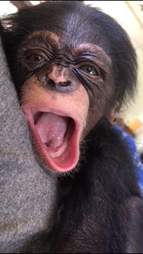 LCRP
"She is attached to me 24/7," Jenny told The Dodo.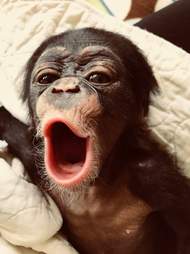 LCRP
"Chimpanzees Gaia's age don't cry — they have no need," she explained on Facebook. "They're embraced by Mom who meets their every need 24 hours a day. We try our best to replicate this at LCRP's sanctuary."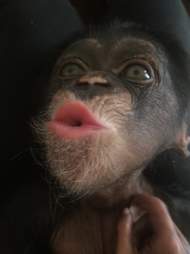 LCRP
After just a few days at the sanctuary, getting constant love and comfort, Gaia already appeared to be in much brighter spirits.
LCRP
Once Gaia is strong enough, she'll start interacting with other rescued chimps who can understand what she's been through.
LCRP
On Mother's Day, Gaia even gave Jenny something like a little gift.
"We celebrated Mother's Day with Gaia's first big and full smile," Jenny wrote.
LCRP
"Gaia is named after my Mom as she arrived on the date in May I lost her," she said. "To have the gift of her progress on an otherwise sad day yesterday was a blessing from above."