Rescuers Open Wooden Box To Find Terrified Orangutan Inside
"No one could fail to be moved by the sight of little Isin looking so bewildered and frightened as the planks of wood were levered off the crate in which she was imprisoned."
Only a few weeks ago, the young orangutan had been living in the forest with her mother, climbing trees and foraging for food. But now, she was boarded up in a tiny wooden box in a village in West Borneo, Indonesia.
A local man said he'd found the 3-year-old orangutan on his farmland, not far from a palm oil plantation. He'd put her into a makeshift box that he built from pieces of wood. He also gave her a name — Isin.
The man didn't say anything about Isin's mother. She was probably dead, killed by villagers who deemed her a threat, Lis Key, PR and communications manager for International Animal Rescue (IAR), told The Dodo.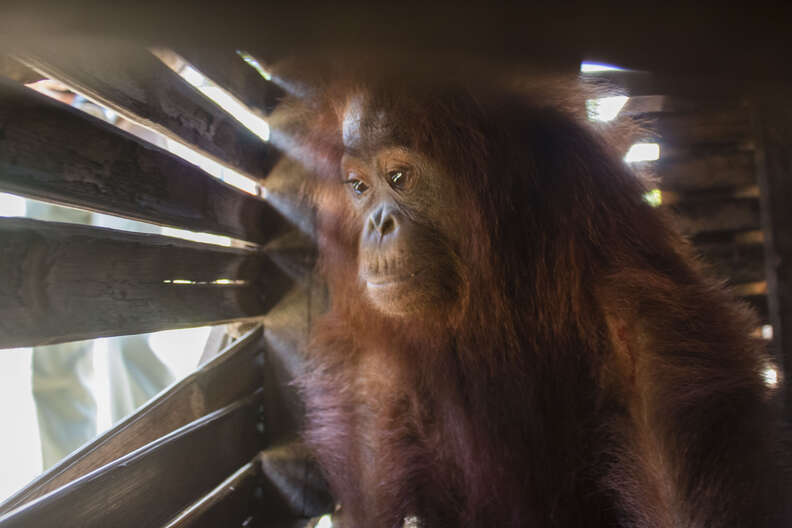 "People in remote villages who have never encountered an orangutan before would naturally be afraid and liable to panic when coming face-to-face with such a large wild animal, particularly if she had strayed onto their farmland and was damaging their crops," Key said. "There have been countless instances in the past where people have reacted violently towards wild orangutans — that is why it is so important for our team to educate people and teach them alternative ways of dealing with them."
It's also likely that Isin witnessed her mother's death.
"The poor creature must have been terrified," Key said. "The experience of being captured and then boarded up inside the crate must have been traumatic, particularly for a young wild animal that has lost its mother and been placed in a completely alien environment, full of sights and sounds that are completely strange and frightening to her."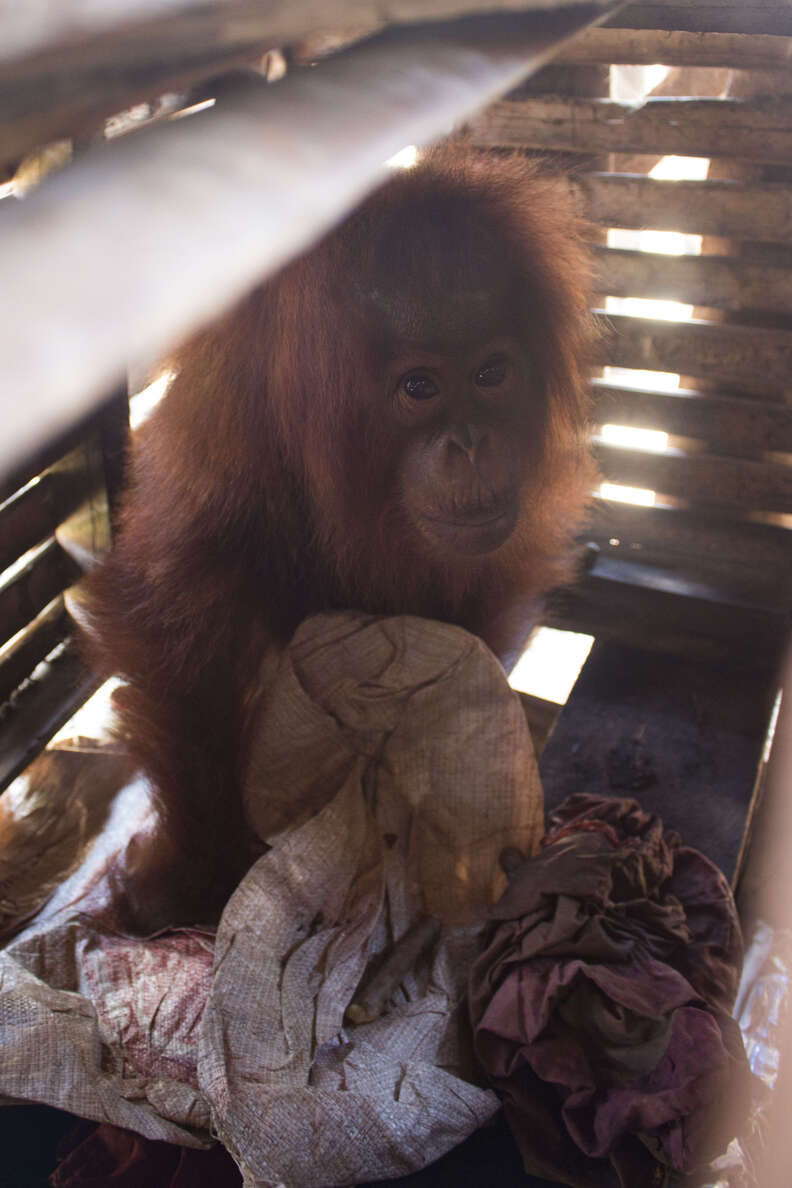 While keeping Isin inside the crate wasn't a great idea, the man did the right thing by calling the authorities two weeks later.
When a rescue team from IAR arrived, they wrenched off the planks of wood — one by one — to free Isin. Local villagers gathered to watch.
"No one could fail to be moved by the sight of little Isin looking so bewildered and frightened as the planks of wood were levered off the crate in which she was imprisoned," Key said. "It is always bittersweet to see an animal having to be rescued that should be growing up in the care and protection of its mother in the forest."
Isin was terrified and a bit aggressive, so the team sedated her to help minimize stress. Then they moved her to a comfortable bed of leaves inside a transport crate. Before leaving, the team reminded the villagers that it's illegal to keep orangutans as pets in Indonesia, and that they should immediately contact IAR if they come across a wild orangutan in the future.
"Wild orangutans stay with their mothers until they are 6 or 7 years old, so Isin is too young to survive on her own," Key said. "Our team will take time to ensure she is healthy during her period in quarantine and then she will enter the rehabilitation program at our center. At that stage she will be observed and assessed to see how well-equipped she is to fend for herself and establish what skills and behavior she still needs to learn."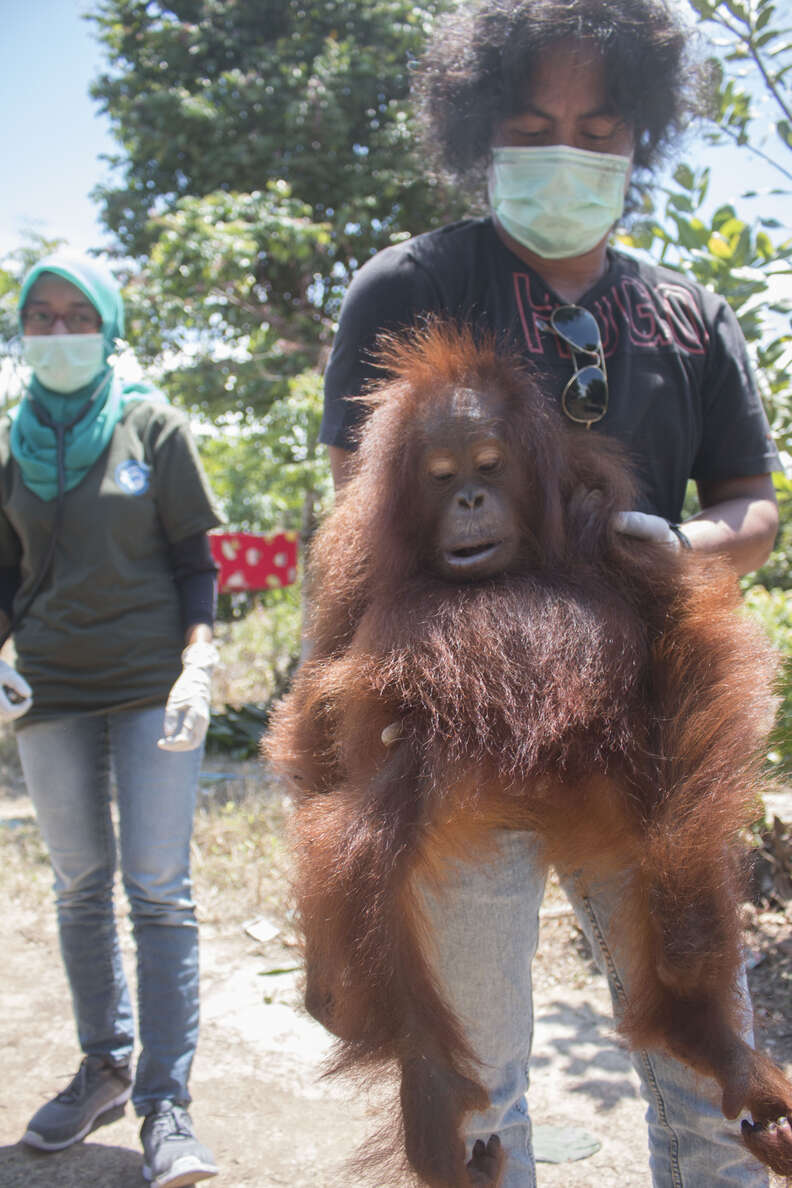 After that, the team drove Isin back to IAR's rehabilitation center, where she'd join more than 100 other orangutans currently in the organization's care. Even though Isin had only been in the crate for a short time, the rescue team couldn't just release her.
While IAR has the ability to help Isin get back to the wild, the organization is currently overwhelmed with the number of animals in its care.

"Having such a large number of orangutans undergoing rehabilitation, with more having to be rescued all the time, makes it increasingly difficult to find safe places where we can release them," Karmele Llano Sanchez, program director for IAR Indonesia, said in a statement. "It is absolutely vital that the root cause of the problem is addressed — the relentless destruction of the rainforest — if we are ever to halt the decline of orangutan populations in the wild."