Someone Illegally Shot And Killed This Rare Wolf
There's a $5,000 reward for information leading to an arrest.
The U.S. government is offering a $5,000 reward for information leading to the arrest of the person responsible for the death of an endangered gray wolf who was found shot and killed earlier this year.
The 4-year-old wolf was known as OR-33, and lived in the area where the Imnaha wolf pack once lived. By the time OR-33 was found dead, it was unclear whether he was part of any pack at all. It is a crime to kill any animal protected by the Endangered Species Act.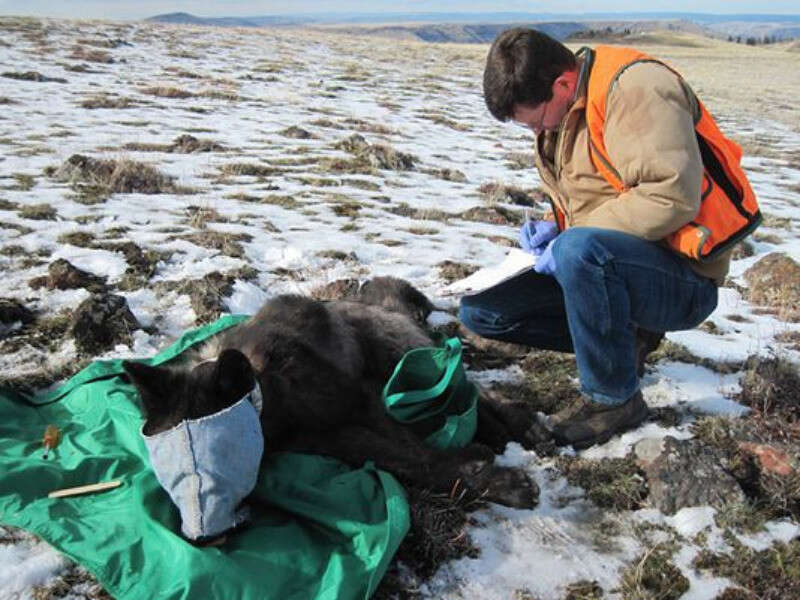 Last year, the Oregon Department of Fish & Wildlife (ODFW) killed four members of the Imnaha Pack because they were eating livestock grazing near their habitat. Because of this, some doubt the government's devotion to conserving wolves in the region when it comes to conflicts with human industry.

"This latest news coming from Oregon brings to mind the recent study that examines a widely held theory that government-sanctioned killing of wolves helps to prevent poaching by making wolves more socially acceptable to people like frustrated ranchers," Maggie Howell, executive director of the Wolf Conservation Center (WCC), told The Dodo. "The paper ... shows that the opposite is true. State-sanctioned killing is more likely to increase poaching than reduce it."
Howell pointed out that since August, the ODFW has authorized killing 10 wolves in the interest of cattle ranchers, and last week it gave permission to ranchers to kill up to four wolves of the Harl Butte pack if they came onto the land occupied by livestock. "Any wolves of the pack — including pups," Howell said.
The state allows culling in certain instances, then punishes people for killing wolves in others. This can cause confusion about priorities when it comes to conserving animals that were nearly hunted to extinction not so long ago and needed protections to bring them back.
"Many of us are concerned these killings will become more frequent," Brooks Fahy, executive director of Predator Defense, told The Dodo. "Very few people are going to turn in someone for just a $5,000 reward. The U.S. Fish and Wildlife Service is going through the motions just to make it look like they're doing something. If they really wanted to get the perpetrator they'd put up a much larger reward."
If you have information about this wolf's death, you can contact the U.S. Fish and Wildlife Service at (503) 682-6131. To help protect wolves, you can donate to
Predator Defense
or the
Wolf Conservation Center
.