Wild Octopus Spotted Making His New Home Out Of Strangest Thing
He seemed to think it was a shell.
"I almost drowned laughing when I saw this the first time," Julian Finn, senior curator from Museums Victoria in Australia, told the BBC. "I could tell it was going to do something, but I didn't expect this — I didn't expect it would pick up the shell and run away with it."
This month, another photographer captured some similar images, but with one sad difference.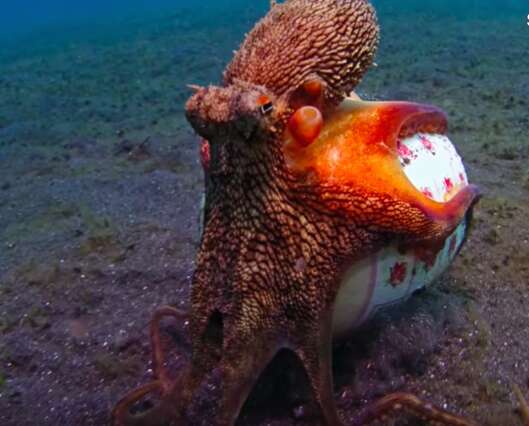 This time, a wild octopus was seen also using a tool on the ocean floor, but this time what the octopus found wasn't the shell of a coconut but a piece of trash.
Photos show the wild octopus gripping a plastic soap dish adorned with a floral design.
This particular octopus seemed to make the best of finding this soap dish by curling up into it and making it home. (Not all sea creatures fare so well — it is common for dolphins, whales, sea turtles and other animals to die from getting tangled up in plastic or ingesting it.)
Whether or not he was conscious of the artificial feeling of his new home, human beings should have consciousness enough to try to cut down on plastic, especially since scientists are still researching how so much plastic waste will impact everyone's health in the long-term.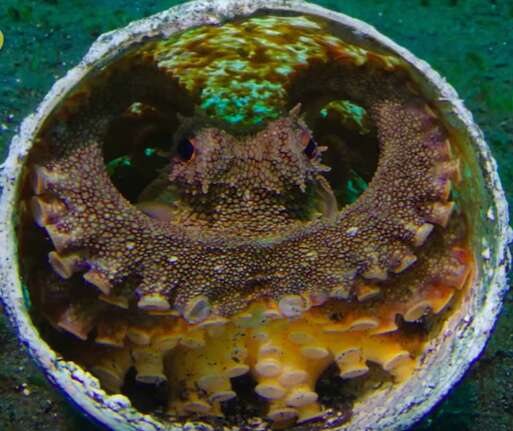 "We don't even know the long-term effects of microplastic getting into marine fish," Colby Loucks, senior director of the Wildlife Conservation Program at the World Wildlife Fund (WWF), previously told The Dodo. "Microplastic gets into larger and larger fish as it is absorbed into smaller sea life. That's an issue that certainly needs more research. How that might impact larger fish and how it could get to us and affect us is an unknown."