Bear Can't Believe She's Touching Grass For First Time In 10 Years
She lost her front paws and had been shut up in a dark, tiny crate — but her life just changed so much ❤️
For the first time in their lives, three rescued moon bears are getting to see the world outside a tiny metal cage.
Rescued in November by Four Paws, the bears had spent the past 10 years locked up in rusty cages inside a warehouse in the backyard of a steel production company in Vietnam. They were never let out of the cages, and were used for bile farming, where people drain bile out of open wounds in bears' sides for use in traditional Asian medicine.
The bears have been in quarantine for the past few weeks at Four Paws' new bear sanctuary in Vietnam, but the time finally came last week for them to be released into their new permanent forest enclosures — and experience nature for what may be the first time since they were infants.
The bears were timid at first, but quickly showed their rescuers they still knew how to be bears. The bears instantly began exploring their new environment, and soon found some tasty snacks and comfortable hay to build a nest for their midday naps.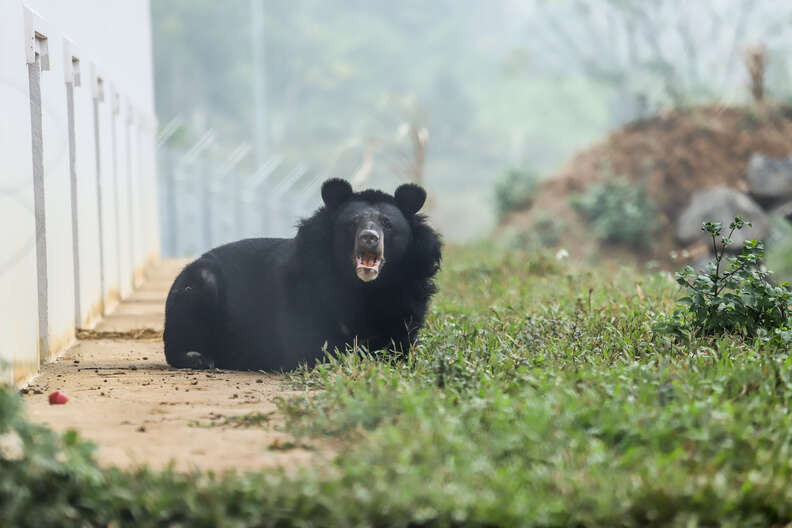 It was a particularly touching sight for rescuers to watch Hai Chan, a bear who had both of her front paws amputated by her former owners to make "bear paw wine," walk out on her own.
In her former cage, Hai Chan couldn't even stand, as she had no way of gripping onto the metal floor bars — but in her new home, she has plenty of grass to lie in, trees to explore and food to forage. For now, Hai Chan is living separately until her caretakers think she's ready to meet the other two, who already bonded at the farm since their cages were near each other.
"We have always been confident that she would walk and cope with her disability," Four Paws veterinarian Szilvia Kalogeropoulu said in a press release. "However, it is almost a miracle that she built up the strength to do so that fast."
Hai Chan and the two others, Thai Van and Thai Giang, were just three of the thousands of bears kept on bile farms across Asia — an estimated 10,000 live in China alone.
Like all bile bears, these three had faced a life of mistreatment, and were suffering from severe malnutrition by the time they were saved. Rescuers believe they had never eaten fruit before until now, despite it being a staple in many moon bears' diets.
"They were all very hesitant, untrusting and shy when we first brought them here," Robert Ware, U.S. executive director of Four Paws, told The Dodo last month. "After being with us for just a day, they started showing just how outgoing, curious and interested in people they are. Coming from a lifetime of torture, it was amazing to see them brighten up so quickly."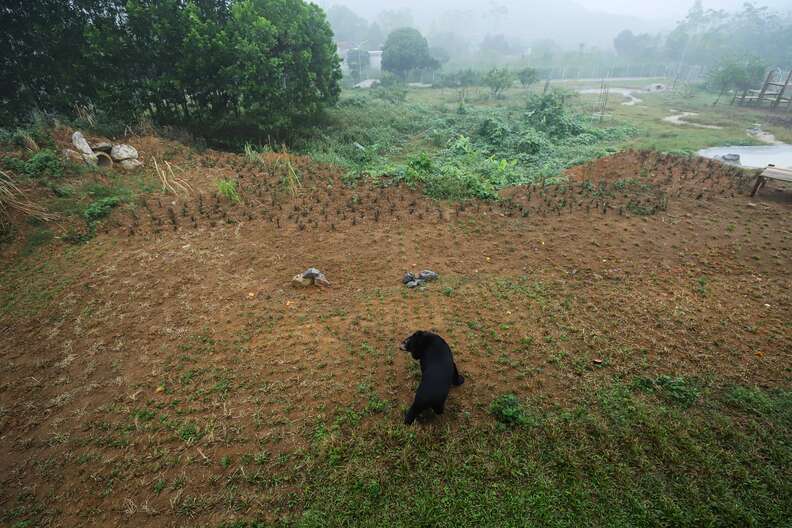 While Vietnam outlawed bear bile farming in 1992, a loophole in the law combined with high demand from followers of traditional Asian medicine created an aggressive black market. Four Paws estimates that nearly 1,300 bears are still held captive across 400 farms in Vietnam, though the government is currently taking steps to close them.
But for these three bears, all that is behind them. In addition to their new outdoor enclosures, the bears are also loving their new indoor hammocks.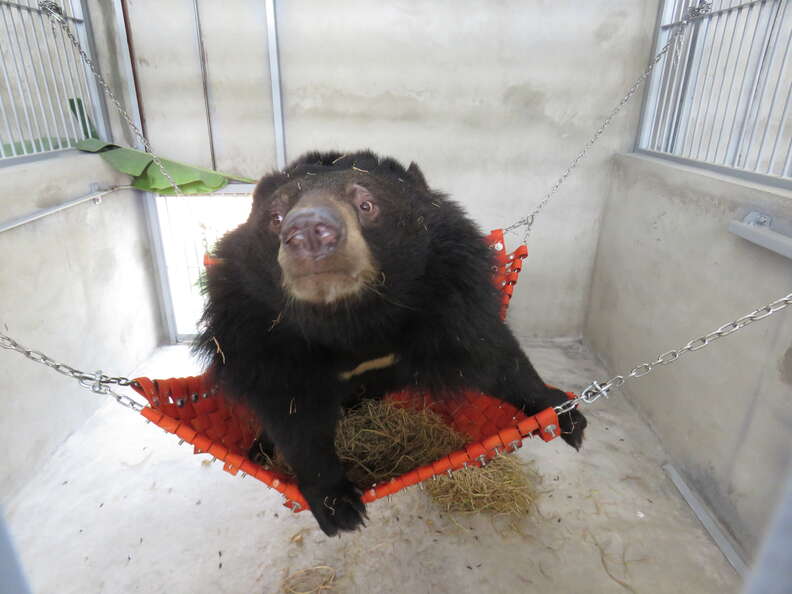 "The moment the doors to the enclosure opened and Hai Chan stuck her nose out of the bear house was very touching for our entire team," Kalogeropoulu added. "For the first time ever in her life, the bear walked on grass ... She is very relaxed and happy."
Watch a video of Hai Chan in her new home below:
To support the ongoing care of the bears and help Four Paws rescue more bile farm survivors, you can
make a donation
.