Rescuers Arrive For The Animal Who Has Lived In This Box For 17 Years
She has spent her life in total isolation 💔
Over 6,000 days — that's how long a very isolated individual spent in a small metal box before rescuers arrived this week to free her.
People from the animal welfare organization Animals Asia came to a particular kind of farm in Vietnam on Tuesday to cut the locks off of a small metal box.
Animals Asia
This box is the only home a lonely moon bear has ever known. She has been living there for roughly 17 years.
The old bear had been used for bile extractions. Bile farm bears are kept in cramped cages so that people can extract bear bile, a digestive fluid, through open wounds in their sides. Most bears eventually perish from infections associated with the process or from malnutrition and terrible health.
Animals Asia
Although extracting bear bile has been illegal in Vietnam since 1992, the ban has been hard to enforce. But in 2017, the Vietnamese government resolved to crack down once and for all on the remaining bear bile farms, and free the roughly 800 bears languishing in Vietnam bile farms by 2022.
This particular bear had no reason to believe that her life spent between metal walls in almost total darkness would ever be different. But her rescuers were determined to right a wrong before it was too late.
Animals Asia
They loaded the bear into a truck and drove her back to Animal Asia's sanctuary for bears like her. She was the 200th bear to join the group of other bears saved from bile farms throughout the country.
She got some of her first tastes of kindness along the way; when offered a fresh banana, she happily accepted it.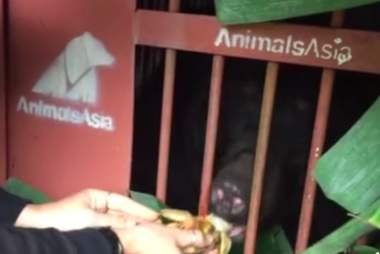 Animals Asia
Soon, the nameless moon bear will be given a name. And while she needs time to recover and to receive urgent medical care, her rescuers hope that soon enough she'll have the opportunity to enjoy one of life's main pleasures for a bear like her: the feeling of fresh grass under her feet.
Animals Asia
"We're delighted that this long-suffering bear is finally safe and we can begin to make her well again," Heidi Quine, Animals Asia's Vietnam bear and vet team director, said. "Overcoming such extreme cruelty and isolation is never easy, but each bear reacts differently. So far, she seems calm but there have also been signs of psychological trauma that will take time to overcome."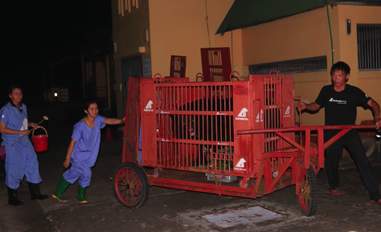 Animals Asia
"Once we have a chance to assess her health properly and observe her behavior further, we'll have a better idea of how long she may need before she is ready to step out onto grass," Quine added.
To help Animals Asia give more bears the freedom they deserve, you can
make a donation
.