Monkeys Who Spent 6 Months In Birdcage Never Stopped Comforting Each Other
"They are a beautiful couple. Always hugging and kissing."
Two monkeys were being kept as pets in Syria when war struck the region, sending the whole country into crisis.
The owner of the pet monkeys couldn't afford to feed them anymore, and so he kept them in a tiny birdcage for six months.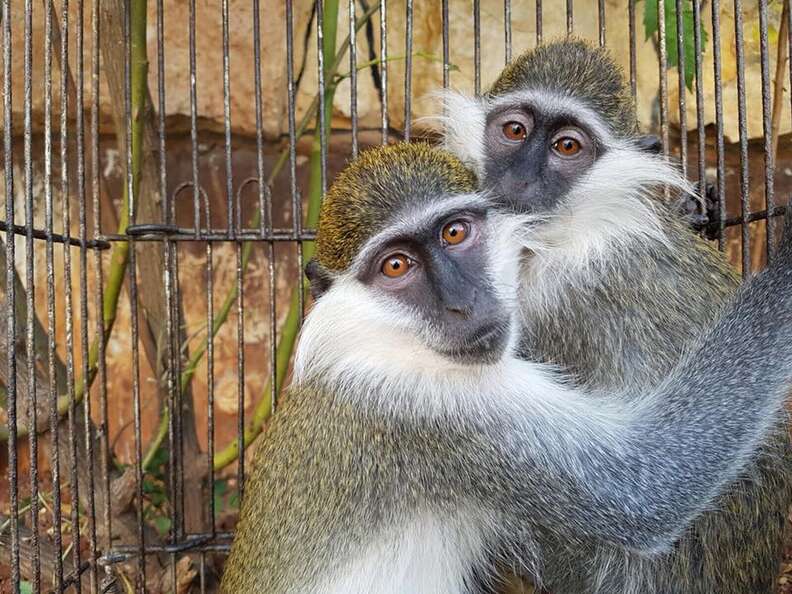 It's conceivable that the monkeys would have gone crazy living in such cramped conditions, but when rescuers found them, it was clear they had actually been a comfort to each other during that dark time.
"They are a beautiful couple," Alessandra Abidin, who helps raise awareness for the animal rescuing efforts of her friend, Mohammad Alaa Aljaleel, also known as the Cat Man of Aleppo, told The Dodo. "Always hugging and kissing."
When Alaa saw the two sweet monkeys in the cage, he convinced their owner to let him give them a better home.
Alaa, an ambulance driver, made headlines for the cat sanctuary he was running in Aleppo in the midst of the war. Many local children found joy there, even with bombs going off almost daily in different parts of the city. Last year, the cat sanctuary was hit by a bomb and Alaa had to evacuate to Turkey. When he returned to Syria, he built a whole new cat sanctuary, with the help of donations from people who see him as a hero for people and animals.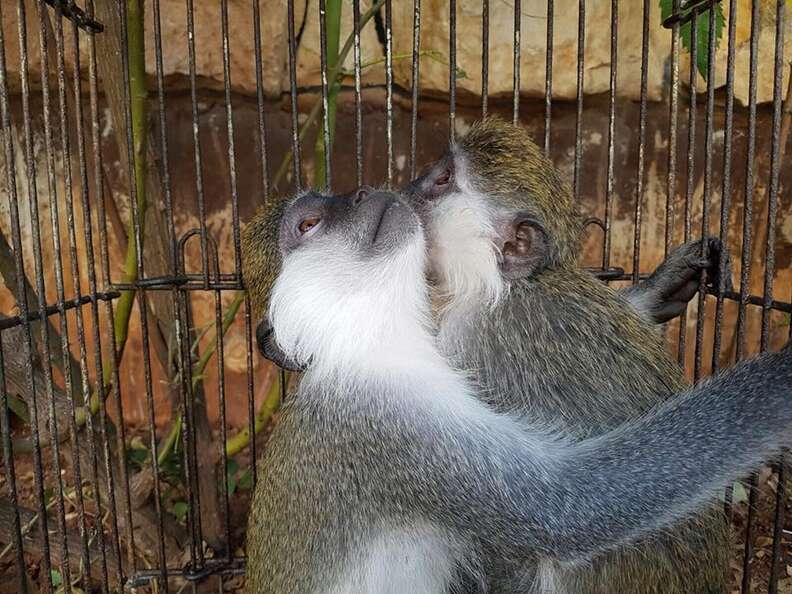 Now the cat sanctuary has a large monkey enclosure for the pair of monkeys. "We built for them a little reserve with a house, swings, trees and a lot of fruits and vegetables," Abidin said. Because the monkeys aren't native wildlife and have been kept as pets for so long, they won't be able to be released.
And this isn't the first time the Cat Man has saved exotic animals. He saved two other monkeys who are already in residence at the sanctuary from a similar situation. And before this, he helped feed and care for the big cats and bears left behind in a zoo in the war-torn city before they could be evacuated.
Even when allowed out of the birdcage to explore their new home, the monkeys didn't want to be apart and they stuck close together, munching on the abundant fruit.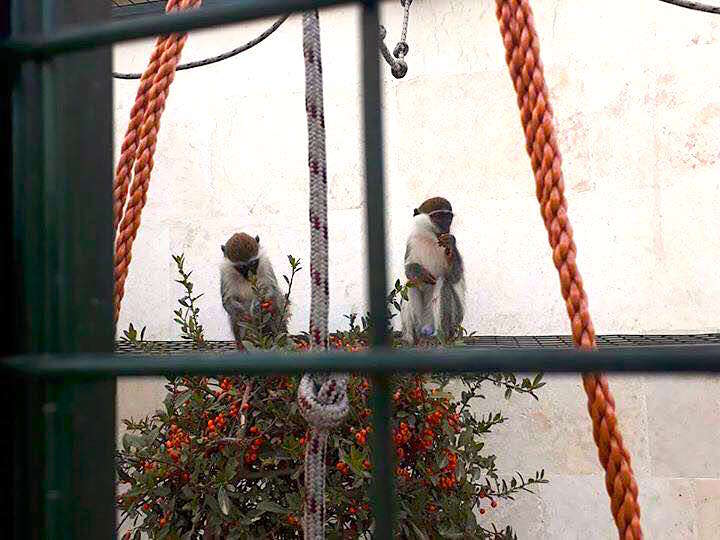 Even though peace in Syria is a distant memory these days, goodness still lives on in these little acts of kindness that make a world of difference for the recipients.