Lonely, Injured Gorilla Has Spent 28 Years Living In The Same Cage
A former keeper just released startling photos of the controversial zoo — and says one orangutan spends her days "picking the paint off the walls to keep herself from going crazy."
Gaping wounds. Rotting food in enclosures. Barren concrete walls stained with excrement.
These are just a few of the conditions shown in photos leaked last week by a former employee of Monkey Jungle, an 84-year-old roadside zoo in Miami-Dade County, Florida, that is now under fire for alleged abuse to its animals, including two of its longtime primate residents: a gorilla and an orangutan.
In the photos, the orangutan, named Mei, is shown standing against bars in her enclosure with her back to the camera, fully wet with what is believed to be urine. In other photos, King, the zoo's only gorilla, is shown with multiple wounds on his stomach, and stuck inside a small concrete enclosure, clutching at metal bars. More photos show birds inside tiny, dirty cages stacked on top of one another, stuck inside a small room with no ventilation.
Melanie Lustig, the former ape caregiver who originally posted the photos online, had worked at the zoo for about seven months before quitting on September 15 — a few days after Hurricane Irma ravaged the state. While the zoo denies the abuse allegations and says the photos show the animals after being secured in buildings for several days during the hurricane, Lustig told The Dodo she witnessed multiple instances where management neglected the animals.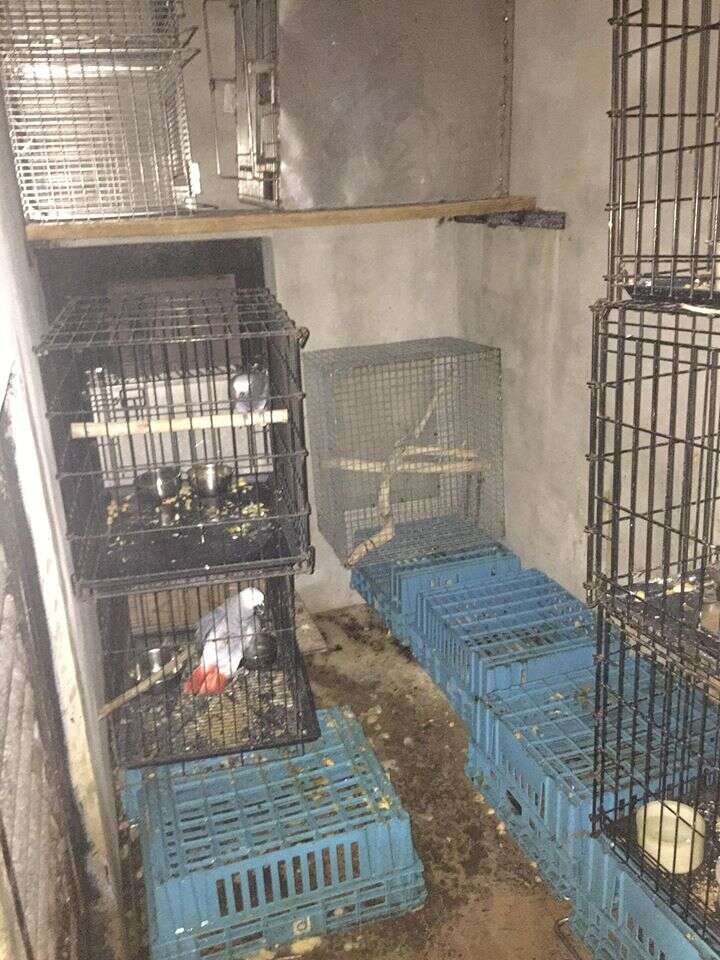 Other examples, she said, included spraying stubborn animals with hoses to force them into different enclosures, denying them food when they wouldn't perform in shows and improperly dosing out medication, resulting in the death of at least one animal.
"Every day I found one more thing that made me want to stop working there," Lustig said, noting that her suspicions of abuse started very soon after her hiring. "I would have to hold back tears seeing how the animals were treated by management and how they told us to care for them. When I realized I needed to get out of there, my coworkers started urging me to take pictures of everything I could, because they felt uncomfortable too."
King, the 48-year-old gorilla, came to Monkey Jungle in 1979 when he was about 10 years old. He had previously been forced to perform in circus acts and is still regularly used for shows at the zoo, Lustig said.
For the past 28 years, the social ape has lived alone. His three-part enclosure includes a concrete play room, a night house where he regularly sleeps, and an outdoor enclosure. Lustig said King often seemed anxious, and would excessively pick the open wounds on his stomach. When Lustig suggested trying different treatments to heal King's open sores, management ignored her and continued using a spray ointment that he easily rubbed off, she alleges.
Mei, the 32-year-old orangutan, currently doesn't have access to the outdoor portion of her enclosure, according to Lustig, and doesn't usually like to perform in shows for guests, so she rarely goes outside.
"Being alone for the past 10 years has really been hard on her," Lustig noted. "Sometimes she would get so bored she'd lay on her back on the concrete for hours. Other times she'd start picking the paint off the walls to keep herself from going crazy."
The release of the photos prompted the Animal Rights Foundation of Florida (ARFF) to call on the USDA to investigate the facility. Now, after three other former employees have spoken out, nearby Zoo Miami, which is unaffiliated with Monkey Jungle, is also encouraging an investigation of the allegations.
This isn't the first time the zoo has been in the spotlight for cruelty allegations.
In 1997, ARFF spearheaded a campaign to convince Monkey Jungle to surrender King to Zoo Atlanta, where they believed he could live in a more species-specific environment with others of his kind. These efforts attracted major attention from famed primatologist Jane Goodall, who also advocated for King to be brought to a facility where he could live alongside other gorillas.
"That campaign lasted around two years, but unfortunately Monkey Jungle never budged," Nick Atwood, campaigns manager for ARFF, told The Dodo. "I'm sure they realized how he was a moneymaker for them, so they resisted all of our efforts to get him transferred. However, they did create an outdoor enclosure for him after that — for the first 20 years he was there, he'd been kept inside a concrete building."
Atwood said his main concern for both King and Mei is their mental health from lack of stimulation. Many wild primates, especially gorillas, depend on their communities for daily socialization and bonding. They also require a huge amount of physical and mental stimulation — orangutans constantly travel and climb trees throughout the day in the wild, while gorillas spend most of their day foraging for food.
Monkey Jungle denied the allegations in a statement Sunday night.
"These photos and others, as well as certain false allegations and rumors, have been circulated to news media and on social media with a complete disregard for context," the statement said. "The media is focused on pushing out stories, and in this case has ended up publishing sensationalized input (sometimes staged) from individuals promoting a negative agenda."
ARFF will continue advocating on King and Mei's behalf in hopes that they can be transferred to a new facility where they can live among other primates and receive adequate veterinary care. Atwood believes Mei would thrive at a sanctuary like the Center for Great Apes, in Wauchula, Florida, while he suggests King may still be a good candidate for Zoo Atlanta.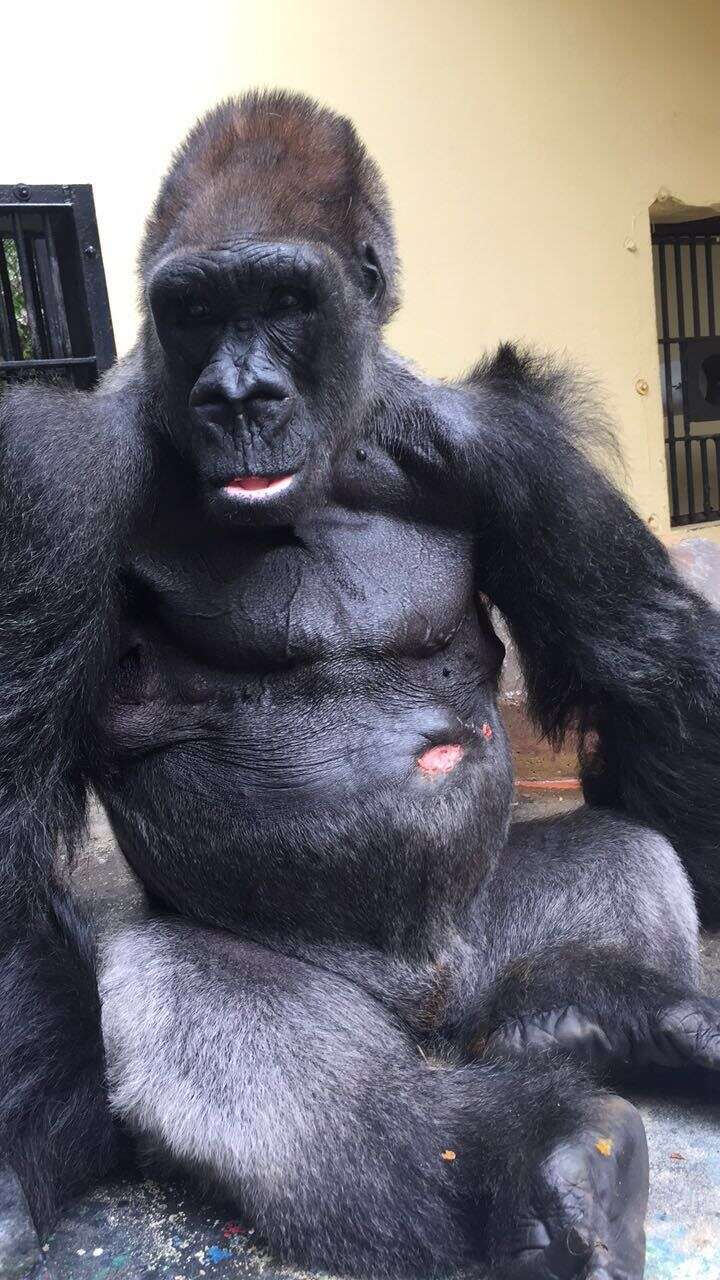 Though with King's age and the fact he's spent most of his life captive and alone, Atwood is unsure whether the gorilla could be easily integrated into a social group.
"I don't think the people in charge are qualified to help the park get better," Lustig added. "My goal is to get the animals the help they need, whether that means a brand-new management team coming in and overhauling it all, or to have them brought to a sanctuary. They're amazing animals and it would be great to be able to have them enjoy life again."

To help support further efforts by Animal Rights Foundation of Florida, you can
make a donation
.