Man Traps Extremely Rare Wolf And Kills Him With A Shovel
There are only 114 left in the wild — but he barely got punished.
A man in New Mexico admitted that he knew exactly what he was doing when he set a trap in the Gila National Forest, on the allotment of public land where he grazed his cattle.
When he found a wolf caught in his trap, he knew that the tracking collar the wolf was wearing meant that he was a very rare Mexican gray wolf.
He then killed the wolf with a shovel.
Shutterstock
Mexican gray wolves are protected under the Endangered Species Act — there are just 114 members of this wolf subspecies left in the wild.
The wolf who was killed was just 10 months old and was part of the Willow Springs Pack — a family of wolves that now no longer exists. Advocates say that this is partially due to the killing of this young male wolf, who was trapped in 2015 and could have grown to have a family of his own.
The rancher just pled guilty to a federal misdemeanor for killing the wolf. He was ordered to pay $2,300 to the Mexican Wolf Recovery Program and was given one year of probation.
But some say that the sentence the rancher received isn't enough. Dozens of wolf advocates have signed a letter to the supervisor of the Gila National Forest and the chief of the U.S. Forest Service asking that the permit that allows the rancher to graze his cattle in the forest be taken away.
Shutterstock
"Illegal killings of wolves are the largest causes of loss to the population ... thwarting progress toward recovery and imperiling the Mexican wolf with extinction," the letter states.
One of the signatories is Jaryn Allen, now in sixth grade, who won a wolf pup naming contest back in 2015 and named the now-deceased wolf Mia Tuk. "This young male pup was important not just to his family, the Willow Springs Pack; important not just to the Mexican wolf population ... ; not just to an American public rooting for his charismatic and long-persecuted subspecies, the Mexican wolf; but the wolf was also important to the boy who bestowed the animal a name upon birth," the letter states. "Now [he] has joined this letter in demanding further justice for the wolf he named."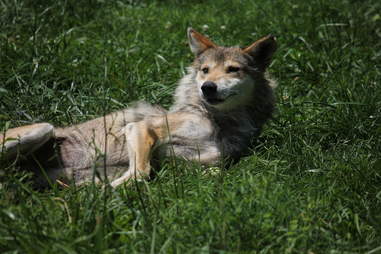 Shutterstock
Brooks Fahy, executive director of Predator Defense, added that this death highlights the inherent problems with allowing cattle to graze on public lands where endangered species are trying to recover. "This is just one more example of why public lands ranching must be ended," Fahy told The Dodo. "It's appalling to visualize a man hitting a wolf in a trap with a shovel. No fine can bring that wolf back."