'Rescued' Dolphin Has Spent The Past 10 Years In A Swimming Pool
"It was as if [they were] keeping Martinha as a private pet."
In 2007, a 6-month-old common dolphin named Martinha got stranded on the Portuguese coast. Local rescuers rushed to her aid, taking the distressed dolphin to a local rehab center run by Centro de Recuperação de Animais Marinhos de Quiaios (CRAM-Q) so she could regain her strength.
But instead of returning Martinha to the ocean where she belonged, the CRAM-Q team did something unexpected — they kept Martinha in captivity, and in very poor conditions. In fact, animal welfare advocates believe Martinha has been stuck in the same tiny pool for about 10 years.
Martinha.org
After a short rehabilitation period, Martinha was moved to a tiny tank in the outside yard of CRAM-Q, according to Martinha's Rescue Coalition, a group of organizations advocating for Martinha's release. The pool is only about 23 feet wide, 42 feet long and 6 feet deep, which doesn't give Martinha any space to dive, let alone swim in a straight line.
"She was held in conditions that were arguably amongst the worst in the world," Liz Sandeman, programs manager at Marine Connection, a marine animal protection group that's part of the coalition, told The Dodo.
Martinha.org
Five years later, Martinha was still languishing in the same tiny tank — and no one really knows why she remains in captivity. For a while, a second common dolphin, Barra, joined Martinha in her tank after being rescued from some tangled nets. While Martinha may have enjoyed the company, the pool was too small for both dolphins, and Martinha and Barra had to swim in their own waste, according to Martinha's Rescue Coalition.
In 2014, several cetacean experts and animal welfare advocates were allowed to visit the CRAM-Q facility and photograph the living conditions of the two dolphins.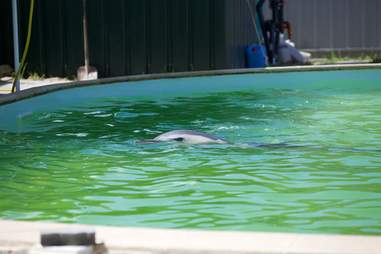 Martinha.org
"When experts ... visited the rehabilitation centre, they were horrified at the small size and 'swimming pool'-like nature of the tank," Sandeman said. "It was as if CRAM-Q was keeping Martinha as a private pet."
The experts also noticed the poor water quality in the tank — the water was a sickly green color from an abundance of algae, and water pumps attached to the pool didn't seem to be doing much to clean it.
Martinha.org
After this visit, CRAM-Q became very secretive and refused to provide any more information about Martinha and Barra, according to Sandeman. The team at Martinha's Rescue Coalition believes that Barra died at some point between 2014 and 2017, and they also feared that Martinha had passed away, too. However, the team recently received confirmation that Martinha is still alive, and that she may have been moved to a different tank — although this news hasn't subdued their concerns.
"We have no way of knowing what her current tank conditions are because we have been provided no information about where she is or her current environment, let alone her mental and physical well-being," Sandeman said.
Martinha.org
"Common dolphins are highly emotional, social, wide-ranging animals and usually don't adapt well to captivity," Sandeman added. "It's why common dolphins aren't so common in captivity — they didn't survive well historically so the industry just stopped trying to maintain them. Keeping her as a solitary animal is just particularly inhumane."
While it's not clear if Martinha is still able to be released back into the wild, the team at Martinha's Rescue Coalition want to be able to see Martinha and assess her current condition. If she can't be released, moving her to a sanctuary could be a good alternative.
''Martinha is becoming the poster child for dolphins who desperately need sanctuary," Ric O'Barry, founder of Dolphin Project, told The Dodo. "She stranded and was shuffled off to a concrete tank. Many like her cannot be released back into the wild and need a decent habitat to live out the rest of their life with quality and dignity.''