Men Pull Drowning Kangaroo From Ocean And Give Him CPR
"You could see he was trying to hop while in the water but obviously struggling."
Last weekend, Dillan Elliott and his friends were returning from a fishing trip in Australia when they suddenly spotted something strange thrashing around in the water about half a mile from shore. After watching for a second, they were shocked to realize the creature was actually a kangaroo, who had somehow ended up in the middle of the ocean.
"You could see he was trying to hop while in the water but obviously struggling," Elliott told The Dodo.
Determined to help him, the group of friends grabbed some rope they had on the boat and tried to pull him aboard, but the poor kangaroo was too panicked and kept ducking out of the rope. Finally, exhausted and overwhelmed by all of the water, the kangaroo went unconscious, and the friends quickly swam over to him and pulled him onto their boat.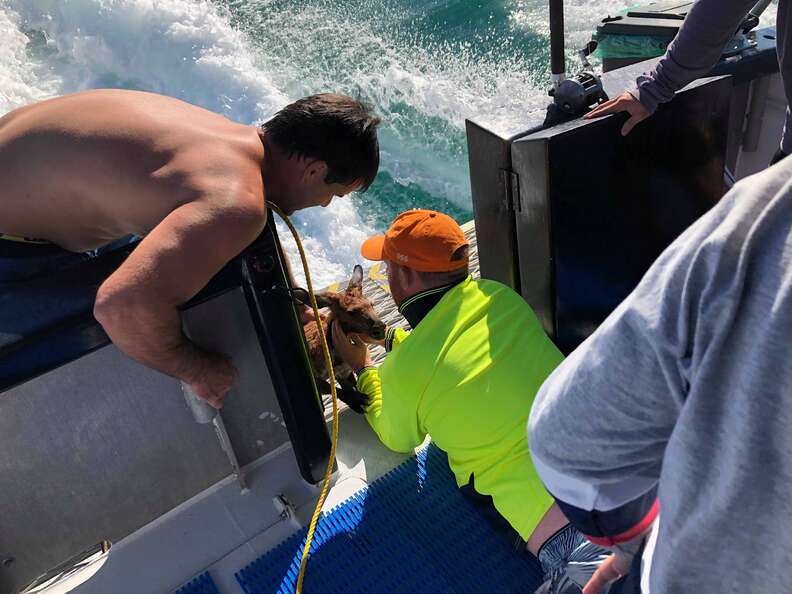 Everyone was dismayed and heartbroken to discover that the kangaroo wasn't moving, and that after all of that, they may have been too late — yet they still refused to give up on him.
"We dragged him onto the platform on the back of the boat and he was pretty much gone," Elliott said. "After a suggestion from the skipper I started to pump his chest and stomach and started seeing water pumping out of his mouth and nostrils."
Elliott was hesitant about performing CPR on a kangaroo, but he knew he had to try. He kept pumping his chest and stomach until, finally, the waterlogged kangaroo started to wake up — and he was immediately so grateful to the kind people who had saved his life.
"He lifted his head and then eventually he touched his nose on my nose which was pretty special," Elliott said. "He also grabbed me with his claws like he was holding, too. He then opened his mouth and I thought he was probably dry and I grabbed some fresh water and poured it over his mouth and he started to drink it."
Everyone on the boat was astounded and overjoyed that the little fighter had somehow pulled through. They quickly got him to shore and contacted a local ranger to come and look him over and make sure he was doing OK. They loosely tied him up on the dock while they waited, as they knew he was probably very confused and didn't want him to panic or run away.
Once the rangers arrived and were filled in on the whole story, they were surprised to determine that even after his ocean ordeal, the kangaroo was in good health and was going to be just fine. They drove him out to a safe location to release him …
… and the kangaroo seemed so relieved to finally be safe, dry and as far away from the ocean as possible. He eventually hopped away safe and sound, but will likely never forget his ocean adventure and all of the wonderful people who saved his life.