Guy Does The Kindest Thing For Giant Thirsty Snake
So sweet 👏
Several weeks ago, a huge bushfire tore its way along the Sunshine Coast in Australia. People had to evacuate, homes were destroyed — and the wildlife who call that area home were left struggling.
"The fire occurred in the bushland near Peregian Beach and Peregian Breeze," Stuart McKenzie, of Sunshine Coast Snake Catchers 24/7, told The Dodo. "It was a huge fire and one of the worst fires seen on the Sunshine Coast in a long time."
Wanting to help, McKenzie and other volunteers and rescue groups went out in the aftermath of the fire, looking for injured animals who may have needed their help. McKenzie has always had a soft spot for snakes, so he was keeping a special eye out for them, hoping to help any who had survived the blaze. 
Sunshine Coast Snake Catchers 24/7
As they trekked through the destruction, McKenzie spotted a carpet python hiding under some tree roots and immediately knelt down to offer him a much-needed drink of water.
"He is so lucky to survive," McKenzie wrote on Facebook. "I think he appreciated the drink too!"
After spending some time with the sweet snake, offering him water and comfort, McKenzie took him to a local vet, just to make sure he was OK after everything he'd been through. Luckily, the vet didn't find any signs that he was sick or injured — he was probably just a little shaken up.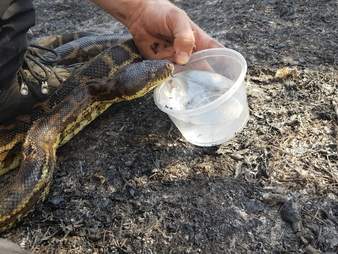 Sunshine Coast Snake Catchers 24/7
"He got the all clear so I released him into a patch of bush nearby that wasn't affected by the fires," McKenzie said.
McKenzie and the volunteers were able to help other snakes and various animals during their searches, too. The fires were certainly devastating for the area, but hopefully with the help of kind people like McKenzie, the wildlife in the area will recover and bounce back stronger than ever.
"If you live near bush, especially in the bushfire-affected areas, it might be worth putting some water out in a dish for the local wildlife," McKenzie wrote.