Lonely Rescued Bears Meet For The First Time — And Instantly Fall In Love
They even started "kissing."
The life of a bear named Tomi totally transformed when people came together to help him in 2016.
Tomi had been confined to a tiny concrete cage in Albania as an attraction for a restaurant. His owner fed him beer and bread, and it's believed he'd been caged up ever since he was a small cub.
Even though rescuers from Four Paws negotiated with Tomi's owner and managed to bring him to a sanctuary, no one was sure whether he'd ever recover from what he'd been through.
"We assume that Tomi was caught in the wild as a cub and had been living in the squalid conditions for roughly two years before we rescued him," Claire LaFrance, communications director for Four Paws, told The Dodo.
But since arriving at Bear Sanctuary Prishtina in Kosovo, Tomi has truly blossomed. The change almost seemed to happen the moment he took his first steps on fresh grass.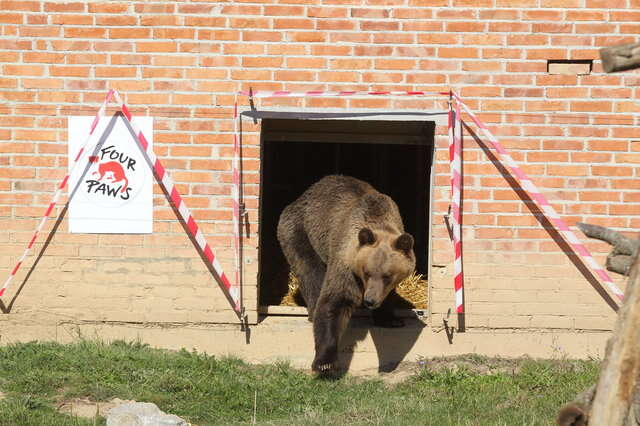 Tomi has learned how to relax and enjoy life. He's learned there is so much more than the concrete cage he was used to — he even discovered how much he loved playing in the snow.
Tomi is just one of the bears Four Paws has helped over the past several years, working with governments all across eastern Europe to help transfer bears stolen from the wild and exploited for people's entertainment to sanctuaries.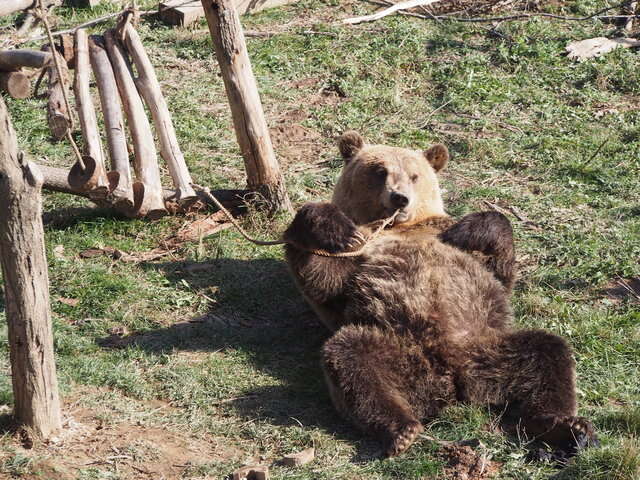 Hope is another one of these bears. In Kosovo, Hope was also kept in a small cage next to a restaurant until Four Paws helped coordinate her release to the bear sanctuary where Tomi lives.
And while Tomi already learned just how much there is to life, he had no idea how much better things were about to get.
Recently Tomi and Hope, who had only known lonely lives, were introduced to each other under the watchful eyes of their rescuers — and it couldn't have gone better.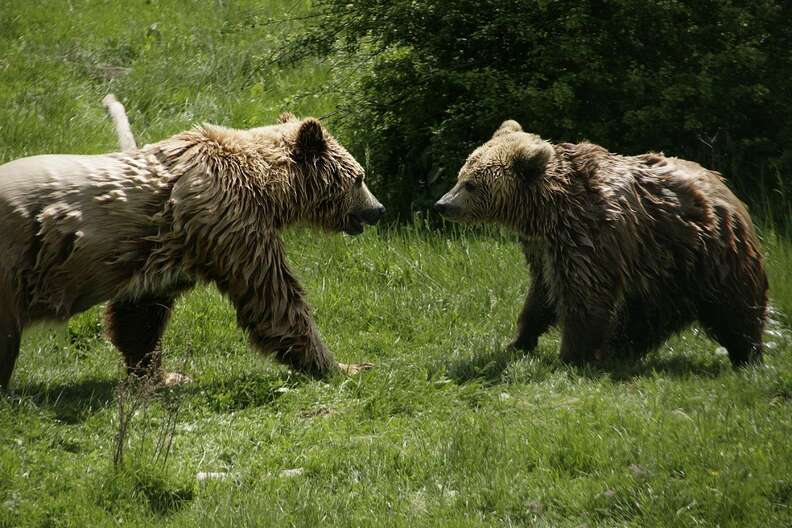 "Tomi and Hope's socialization started," Four Paws shared this week, "and it was clear that they liked each other from the very first moment."
Hope was a little shy, so Tomi gently approached her and started sniffing her fur. Soon, Hope was sniffing back.
"They started out by sniffing each other and then progressed on to what we might call 'kissing!'" Four Paws wrote. "Since then, we can happily report that they are inseparable."
Soon, the two bears were even taking a bath in the little pool together, playing as if they were old friends.
After seeing just how loving they are, it's hard to imagine how Tomi and Hope were ever caged up and alone. Luckily, their sad past is becoming a dim memory.
"Tomi and Hope are not alone anymore," Four Paws added.