Video Shows Why Animals Don't Belong In Circuses
This scared lion jumped into a crowd — and there was a little girl there 💔
It only took a second for a stressed-out circus lion to pounce through a safety net and into the crowd.
The arena erupted in screams as the trainer struggled to pull the leashed lion off a 4-year-old girl — and then the footage went dark.
This was the terrifying scene recently caught on camera at a circus in Krasnodar, Russia, which features animals doing tricks just feet away from the crowd.
The young girl reportedly approached the flimsy fence while waving a small banner in the air, which prompted a predatory response from the lion. The lion pulled the girl into the ring before trainers were able to separate them.
Thankfully the little girl is safe and in stable condition, but unfortunately it's quite common for big cats or other animals used in circuses to attack other animals in the ring, maul trainers or even go after audience members. A lion's instincts coupled with the stress of performing can easily become a tragedy, Jan Creamer, president of Animal Defenders international (ADI), told The Dodo.
"Such incidents are a regular occurrence in circuses worldwide, and there have been hundreds of reported attacks and escapes to date," Creamer said. "Given their compromised and often abusive lives, animals in circuses can go out of control at any moment."
Warning: Footage of the incident is not graphic but may be upsetting to some.
The stress of life in a circus doesn't end when the lights go down. Before animals are forced into the ring, they often face abuse and neglect at the hands of their trainers, Creamer said. They're also typically kept in small living quarters, like barren metal crates, that provide little to no stimulation.
"ADI has time and again filmed circus trainers and workers routinely using metal bars, whips, electric prods and other objects to control animals and force them to perform," she said. "They comply because they are frightened and know they will be punished should they disobey."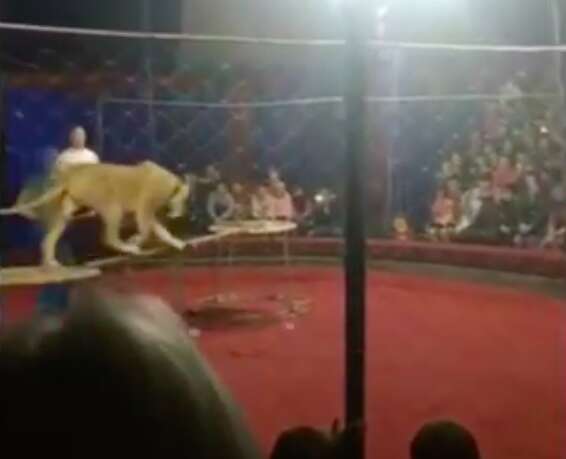 While it's unclear what happened to the lion after this specific incident, it's important to note that the only way attacks can be prevented is to put an end to animal circuses.
"To protect animals and the public, these acts need to stop," Creamer said. "The public can help by encouraging friends and colleagues to vote with their feet and avoid circuses with animals, and [by] asking their representatives to ban wild animal acts."