Man Hears Roars Coming From Well — And Can't Believe What He Sees
"Rescues like this hold a very special places in our hearts" ❤
Early on Monday morning, a man was startled by a loud, persistent roaring. When he searched the area for the source of the sound, he found a female leopard struggling to stay afloat at the bottom of a 50-foot well.
The man called the local forestry department in Maharashtra, India, which got in touch with Wildlife SOS, an organization that saves wildlife from situations exactly like this.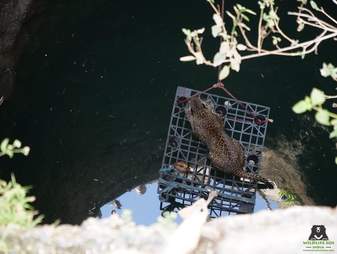 Wildlife SOS
But time was of the essence. The water inside the well was waist-deep for a person, so the 7-year-old leopard had to tread water to keep her head above the surface — and she was struggling.
"Clutching onto a water pump and pipe inside the well, the leopard was barely managing to keep her head above the water," Suvidha Bhatnagar, communications and fundraising officer for Wildlife SOS, told The Dodo.
It would take the Wildlife SOS team an hour and a half to reach the village, so they advised the forestry officials to lower a platform into the well so the leopard had something to stand on. And when the Wildlife SOS team arrived, they lowered a trap cage into the well. The leopard immediately leapt into the cage, seemingly grateful for the dry place to sit upon.
Wildlife SOS
Remarkably, the leopard wasn't injured from the fall and she was able to be released back into the forest that same day.
"This is ... because the well was not dry and contained enough water for the leopard to not hit the rocky bottom," Bhatnagar said.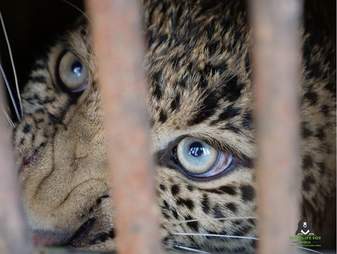 Wildlife SOS
This rescue is not an isolated incident — wild animals like leopards, sloth bears, jackals, jungle cats, sambars and hyenas regularly fall into uncovered wells and water tanks across India. In fact, this has happened to over 1,500 animals in the past decade, according to Wildlife SOS.
Wildlife SOS
"Rescues like this hold a very special place in our hearts as it is immensely rewarding for us to know that this leopard will live freely again in the wild, like it was supposed to," Bhatnagar said. "To be able to save an animal's life when it was almost going to be killed and then releasing it to safety is what keeps us going."