Rescuers Cut The Locks Off This Cage Just In Time
"A lack of sun and fresh air for over 13 years have clearly left their marks."
The last two bears at a cruel kind of farm had no idea that people had been fighting for their freedom for months.
Four Paws
May and Binh Yen have been languishing in their dark, cramped cages for years because of a demand for something inside their bodies.
Four Paws
Bear bile is a substance that comes from a bear's gallbladder and is used in Asian household products and traditional Eastern medicine — and it's ruined the lives of so many of these animals. 
Four Paws
The digestive fluid gets painfully extracted from bears like May and Binh Yen through an open wound in their sides. Bile bears usually suffer from all kinds of infections, tumors and diseases because of the extraction process until they eventually die from it.
Four Paws
When bile bears aren't undergoing this torturous process, they spend every hour of every day in cages so small they can barely turn around. Even though bile farming has been illegal in Vietnam since 1992, the ban has been very difficult to enforce, especially since demand for bear bile in the Far East remains high. 
And that's just where rescuers found May and Binh Yen when they arrived in November to save their friend Hai Chan, whose paws had been amputated for bear paw wine, another product in demand in Asia. 
While people from Four Paws managed to bring Hai Chan to their Vietnam sanctuary, the owner refused to let May and Binh Yen go — until now.
"As you may remember, Hai Chan lived a terrible existence," Four Paws wrote recently. "Hai Chan is now thriving at our bear sanctuary in Vietnam."
The rescuers were determined to give the same chance to May and Binh Yen — before it was too late. And so they rushed to cut the locks off their cages and bring them to the sanctuary where they could get the urgent medical care they needed.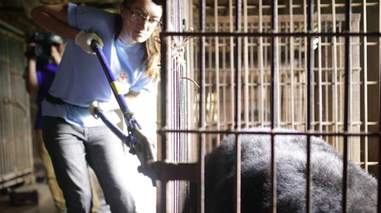 Four Paws
"May and Binh Yen's cages are finally empty!" Four Paws wrote last week. "The bears are now on their way to a new life."
The inspiring success of the rescue was slightly mitigated by the very real health problems both bears suffer — but people strove to stay positive.
"The bears suffered years of physical and emotional trauma and the vet check showed that May and Binh Yen have a long road to recovery," Four Paws wrote. "A lack of sun and fresh air for over 13 years have clearly left their marks."
May has an inflamed gallbladder and Binh Yen's health is considered to be in critical condition. Rescuers are giving both bears time to rest and a lot of fresh food to help them gain their strength.
"Once their health has improved and they have had adequate time to adjust, May and Binh Yen will be released to the outdoor enclosure where they can finally roam free and experience grass beneath their paws," Four Paws wrote.
Four Paws
When they're ready to explore, the other rescued bears at the sanctuary will be there to welcome them.
After all they've been through, it will be such a relief to see some fresh forests and friendly faces.
Four Paws
For now, everyone is wishing May and Binh Yen a speedy recovery — they have some happy times ahead.
To help Four Paws care for all the bears they've saved, you can
make a donation
.