Landlady Discovers Strange 'Pet' In One Of Her Apartments
He was not a normal kitten.
It's hard for anyone to feel out of place — but for one little kitten who was so far from his real home, this feeling must have been truly scary.
His name is Tikam. And Tikam is not a normal kitten.
Four Paws
But the little cat was being kept as if he were just any other kind of pet.
Tikam was living in an apartment in Germany with his owner until one day the landlady of the building realized Tikam was a bit strange.
Four Paws
Tikam was discovered to be a puma kitten — and he should have been living out in the forest.
"The landlady noticed the exotic pet and notified the authorities," Jeta Lepaja, spokesperson for Four Paws International, told The Dodo.
So how did a little puma wind up in an apartment building in Lahr, Germany? It's actually a sign of a problem much larger than Tikam.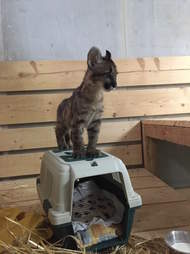 Four Paws
The illegal wildlife trade is estimated to be the fourth-largest black market trade on the planet, worth about $19 billion per year. Many of these animals are sold as exotic pets, who can grow up to be too large or too wild to handle — and then end up abandoned.
So many animals like Tikam end up getting caught up in moneymaking schemes that care little about what's actually good for the animals being sold.
Four Paws
Tikam, for instance, never even got to see his home in the wild. He was bred by a breeder in the Czech Republic and swiftly taken away from his mom, sold to someone who then brought him across the border into Germany. He was just 2 months old.
But as soon as the landlady spoke up for him, Tikam was able to get the care he needed.
Four Paws
After being confiscated by the authorities, Tikam was brought to Tierart, a sanctuary in Germany run by Four Paws for cats just like him.
"Keeping a puma in a small apartment is not only absolute animal cruelty, but also dangerous for the owners and neighbors," Florian Eiserlo, site manager of Tierart, said in a release. "What looks small and cute now will later develop into a predator weighing up to 100 kilos [220 pounds]."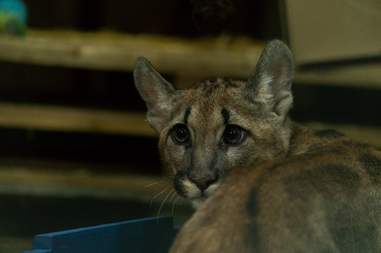 Four Paws
Because Tikam has only been around human beings his whole life, he won't be able to be released into the wild — but people are doing everything they can to try to right the wrongs done to the puma kitten.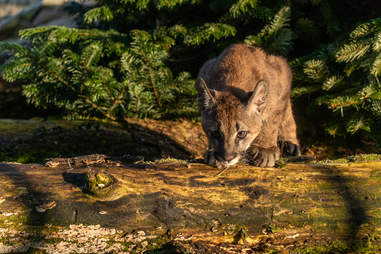 Four Paws
Tikam was recently seen exploring his beautiful habitat at Tierart, where he could feel the sun on his fur and the grass beneath his feet.
By the looks of it, Tikam seems to finally be feeling at home.
Four Paws
People are also, meanwhile, working on fighting the exotic pet trade so that what happened to Tikam won't keep happening to other kittens in the future.
Four Paws
"More and more wild animals are being found in questionable environments," Kieran Harkin, head of Wild Animal Campaigns at Four Paws, said. "Nobody really knows how many big cats are kept in living rooms or backyards. The current legal situation is beyond deficient and leads to the fact that countless numbers of animals are kept in absolutely inappropriate circumstances."