Koala Crashes Open House, Real Estate Agent Gets A Bunch Of Offers
"Good turn-out at my Belair open today — including this legend."
Help doesn't often drop down from above for people toiling away at their jobs, but a real estate agent in Adelaide, Australia, was lucky enough to get some freelance assistance recently — from a koala.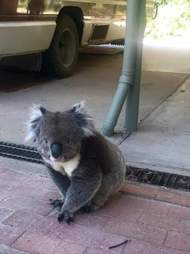 Stuart Costello
Stuart Costello, an agent with Magain Real Estate, was showing a house in Belair on Saturday when the little guy showed up. 
"It was towards the end and he was standing on the back balcony," Costello told The Advertiser. "He wandered up through the backyard, through the carport, to the front yard where he stopped for a bit and then headed up a tree."
The appearance helped underscore an advantage of living in the area — charismatic, fluffy wildlife. "It was spot-on timing," Costello said. "It is what you go to Belair for — the nature, and it was a nice way to see what you get firsthand."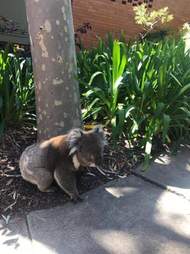 Stuart Costello
No one wants koalas to disappear — and the recent sighting is a good reminder of how much joy the little animal can bring people. 
"Did he make an offer?" one commenter joked on Facebook.
"He couldn't," Costello replied. "He wasn't Koalified to make one."