Kim Kardashian Posts Photo Of Herself Riding An Elephant In Bali
She has no idea what happens behind the scenes 💔
It's a star-studded photo op that has animal advocates around the world fuming.
In photos shared this week from her family vacation to Bali, reality star Kim Kardashian poses in a bikini while riding on an elephant's back. In another shot, her sister, Kourtney, is shown straddling another elephant in the background while in a pool.
The animals in the photos don't necessarily look stressed — but it's what happens to them behind the scenes that has people blasting Kardashian on social media.
Warning: Graphic images below
"Such ignorance and such a lack of care," Peter Egan, actor and animal advocate, said on Twitter. "Doesn't she understand the cruelty inflicted on these poor elephants in order for her inane photo shoot?"
The cruelty Egan refers to is known as "crushing" or "breaking," which is the process of beating young elephants into submission until they obey their trainers. In preparation of giving rides to people and performing in shows, the handlers often tie elephants up and hit them with sharp metal rods. For most elephants, this abuse begins as babies after they're torn away from their mothers.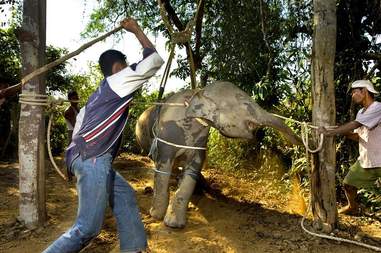 An unidentified elephant being "crushed" by two trainers

| Wild Animal Awareness
The sad effects of these "trainings" is something rescuers with Wildlife SOS, an India-based animal rescue and sanctuary, see far too often.
"The elephant spends the rest of its life in constant fear and has to be beaten frequently to keep the fear reinforced on a daily basis," Arinita Sandilya, press officer for Wildlife SOS, told The Dodo. "While it is heartbreaking, it is important for everyone to know that every single elephant you see begging on the streets, in temples, at wedding functions, at circuses or on joyrides have all been broken the same way."
An elephant who has been tied up and beaten as a method of "taming"

| Lek Chailert/Elephant Nature Park
In response to Egan and thousands of other comments on social media, Kardashian defended her choice to ride the elephant shown in the photos, claiming that the animal is from a rescue.
"We visited an elephant sanctuary that has rescued these elephants from Sumatra where they would have otherwise gone extinct," Kardashian said on Twitter. "It is an organization that is working to save these beautiful animals. We did full research before going."
While Kardashian didn't mention the venue's name, it is highly unlikely that the attraction is actually a sanctuary. Reputable elephant rescues do not allow visitors to ride or climb on their animal residents for safety and ethical reasons.
Instead, some tourist attractions will pose as a sanctuary in order to attract customers. Elephants at these fake sanctuaries are often kept in chains and harshly trained in order to keep the animals "tame" enough for encounters with guests.
A young captive elephant tied up in a stall in India

| Wildlife SOS
"It might be your dream to ride elephants, but this is an elephant's worst nightmare," Kartick Satyanarayan, cofounder and CEO of Wildlife SOS, said in a statement. "The never-ending demand from tourists for animal sports and entertainment is keeping this grotesque industry alive. As long as there are huge profits to be made by exploiting these animals, the abuse and exploitation … will persist."