Katy Perry Cuddles Baby Lions At Mexican 'Sanctuary' — And People Aren't Happy
This is the worst place.
Instagram/Katy Perry
BJWT claims to be a sanctuary that rescues big cats from circuses, illegal breeding facilities and the pet trade. But animal welfare advocates dispute that, calling it a fake sanctuary that exploits the animals for selfies and celeb photo ops — and that's what's upsetting Perry's fans and big cat lovers.
Instagram/Katy Perry
"Fake wildlife venues such as Black Jaguar White Tiger prop up this sordid entertainment industry," Cassandra Koenen, of World Animal Protection, said in a statement to The Dodo. "Don't be duped by pseudo sanctuaries."
Instagram/Katy Perry
Perry's interactions with the cubs may seem sweet — and it's possible she didn't realize the sanctuary wasn't legit — but generally, if a baby animal is available for a selfie opportunity, there's often abuse involved. Babies are often bred for selfie opportunities and visitor interactions, and taken away from their mothers prematurely. When they get too big to pose, they could be shoved into tiny cages and used to breed new babies — or they could be euthanized. Genuine sanctuaries, on the other hand, do not allow any contact between visitors and exotic animals.
Instagram/Katy Perry
Fortunately, Instagram has recognized that selfies with wild animals cause more harm than good, and the platform now gives a warning to users who post photos with hashtags like #tigerselfie or even #blackjaguarwhitetiger. "Animal abuse and the sale of endangered animals or their parts are not allowed on Instagram," the message reads.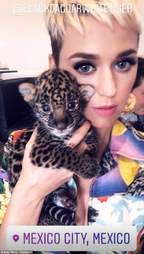 Instagram/Katy Perry
Yet other social media platforms like Facebook and Twitter still allow users to post wild animal selfies.
"Our love for selfies has changed the lives of wild animals forever — the explosive trend on social media is driving the suffering and exploitation of some of the world's most iconic animals," Koenen said. "So it's heartbreaking to see yet another celebrity posing with a wild animal and further fueling this suffering."