SeaWorld Orca Is Still Suffering From Horrific Fin Injury
And another orca was just spotted with a skin infection.
In April, disturbing photographs emerged of an injured orca at SeaWorld Orlando named Katina — Katina's dorsal fin had been cut open and bore a long, deep gash. Two months later, Katina's dorsal fin looks like it's still in bad shape.
"We went to check in on Katina today," Heather Murphy, founder of Ocean Advocate News, wrote in a Facebook post on Saturday. "Although she seems to be improving, her dorsal fin definitely has permanent damage."
A photo taken on Saturday shows that Katina's dorsal fin is still severely injured.

| Ocean Advocate News
When Katina's injury first appeared, SeaWorld claimed that it didn't know how she got injured, although the park mentioned in a blog post that she'd been "interacting" with other orcas, including a 12-year-old male named Trua. The park also waited two weeks before publicly announcing that Katina was injured.
Yet Naomi Rose, a marine mammal scientist at the Animal Welfare Institute (AWI), expressed disbelief at the time that the park wouldn't have further information about Katina's injury.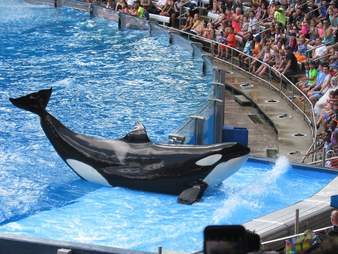 Katina being forced to perform in a show last Saturday

| Ocean Advocate News
"The fact that they claim they don't know is pretty mind-boggling," Rose told The Dodo in April. "They're supposedly the ones who know everything about these animals daily, and they spend more time with them than they do with their own children. And there's cameras everywhere, so how is it that they don't know what happens to them here?"
SeaWorld also claimed in the blog post that Katina's injury was a "common occurrence" in wild orcas, and that aggression amongst these animals is "natural behavior." Yet Rose, who studies wild orcas, disagreed.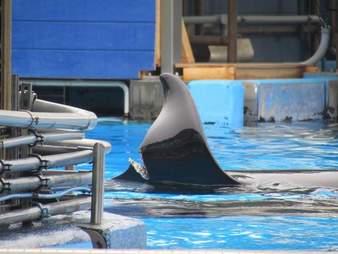 Katina's dorsal fin injury back in April

| Ocean Advocate News
"SeaWorld's insistence that it's a natural behavior is false because I've never seen anything like this," Rose said in April. "You can look through photos or the catalogues of populations all over the world … and you will not see an injury like that. There are other kinds of injuries that they inflict upon each other, but I've never seen the trailing edge of the dorsal fin at the base sliced like that, as if a machete hacked at it. It looks like a sharp edge."
While it's still not clear what caused Katina's injury, it's possible that Katina was attacked by another orca, or even injured by a gate or a protrusion in the tank.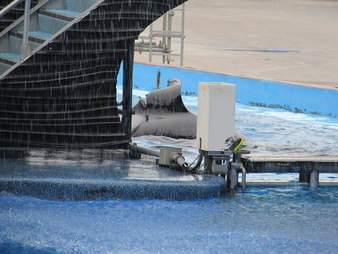 Katina's dorsal fin injury back in April

| Ocean Advocate News
Katina isn't the only animal at SeaWorld who's suffering. Another orca, Malia, was photographed recently with discoloration on her body due to a skin disorder. Murphy told The Dodo that Malia has been suffering from this condition for the last six months.
"Malia … is still suffering from some type of skin disorder," Murphy wrote on Facebook. "She has had these markings since January."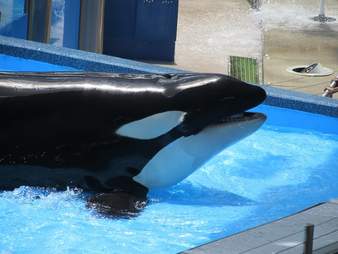 A recent photo of Malia, who is suffering from a skin condition (the discoloration all across her lower jaw)

| Ocean Advocate News
These are just the latest in a long string of welfare issues that have popped up at SeaWorld parks — orcas have been spotted ripping skin off each other, biting each other and demonstrating signs of psychological stress. Both Katina and Malia continue to perform in daily shows at SeaWorld, according to Murphy.
Malia being forced to perform in a recent show

| Ocean Advocate News
SeaWorld has refused to retire its orcas, but people like Murphy hope that continued public pressure will force SeaWorld to retire Katina, Malia and the other orcas to an ocean sanctuary. A group of former SeaWorld trainers and biologists — including Rose — have even come together to form The Whale Sanctuary Project, which is working to build a sanctuary where captive cetaceans like SeaWorld's orcas could one day retire and live out their days more naturally.
"These animals deserve better," Murphy said. "SeaWorld should be partnering with The Whale Sanctuary Project to help retire their remaining orcas."
UPDATE (6/12/2018): SeaWorld has responded to this article by saying that Katina's dorsal fin has "continued to heal as expected."
"As reported in March of this year, her behavior returned to normal almost immediately following the injury," a spokesperson for SeaWorld told The Dodo. "Since then, she is not showing any signs of discomfort and has been engaging with guests and the other orcas in her pod, as well as the care and veterinary staff as they continue to treat her."
The spokesperson also said that Malia's skin condition was "nothing concerning."
"Simply put, the superficial layers of her skin are shedding more slowly, resulting in the color change," the SeaWorld spokesperson said. "Her team of animal care and veterinary teams are monitoring the color change as it is an opportunity to learn more about the progression of skin changes in managed and free-ranging killer whales."