Starving Orangutan Was Hiding The Saddest Secret Inside Her Body
She has a long way to go, but she's in the best hands.
An orangutan named Rose was skinny, injured and weak — but she was finally getting the help she needed.
Earlier this month, authorities working for Gunung Leuser National Park (GLNP) in North Sumatra, Indonesia, alerted wildlife rescuers about an emaciated orangutan wandering around some farmland. When locals approached the orangutan, she didn't move away from them. She might have been too weak, or perhaps she'd lost her fear of people.
Rose after she was captured by the rescue team

| Orangutan Information Centre
Panut Hadisiswoyo, founding director of the Orangutan Information Center (OIC), organized a rescue team to get Rose off the farmland as quickly as possible. In North Sumatra, farmers often shoot orangutans to stop them from eating their crops, and these kinds of conflicts have been known to end many orangutans' lives.
The rescue team also worried about Rose's health. When they arrived at the site and spotted her up in a tree, they saw that she wasn't just skinny — she was injured, too.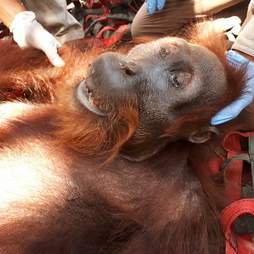 Rose being examined by the OIC rescue team

| Orangutan Information Centre
"We noticed that her fingers had been damaged and almost broken," Hadisiswoyo told The Dodo. "We observed that the orangutan was malnourished, and indeed looked very weak. Our team was aware that her condition cannot be fixed in the field, so our vet recommended to bring her to quarantine for further intensive treatment."
They darted Rose with a sedative. When she fell from the tree, the rescuers were ready on the ground to catch her with a net.
"This is always the critical moment in every rescue situation," Hadisiswoyo said. "I'm glad we managed the net very well, and that she felt right into the net."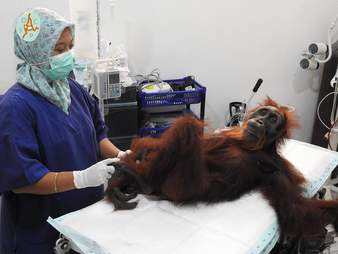 Rose receiving medical treatment at the SOCP quarantine center

| SOCP
Now the team was able to take a closer look at Rose. Besides having a bad injury on her hand, they found two air rifle bullet holes in Rose's torso. Seeing this, Hadisiswoyo knew they had to get Rose help immediately, so they rushed her to the quarantine center run by the Sumatran Orangutan Conservation Programme (SOCP).
One of the first things the SOCP team did was take an X-ray of Rose's body, and this revealed something shocking — Rose didn't have just two bullets inside of her, she had five.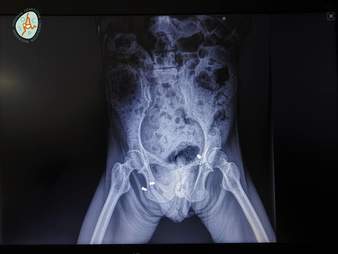 An X-ray showing a few of the bullets in Rose's body

| SOCP
Sadly, Rose's situation is far from unique. As more and more forests in Indonesia are cut down to create palm oil plantations and other types of farms, orangutans are forced to look for food in other places — and they often venture onto those very farms where their homes used to be. To try and protect their crops, farmers will often shoot the orangutans or otherwise hurt them.
Several years ago, rescuers from the Orangutan Foundation helped an orangutan named Aan after she'd been shot 100 times after she'd wandered onto a plantation. While they managed to save her life, the bullets had blinded Aan, and she won't be able to return to the wild.
Rose receiving medical treatment

| SOCP
But Rose was one of the lucky ones — the bullets hadn't hit any organs, and the medical team believes that she'll make a full recovery. The team will also treat her teeth, which were covered in tartar, and help her gain weight. When she first arrived at the quarantine center, she only weighed 37 pounds. Healthy adult orangutans should actually weigh between 73 and 180 pounds.
Rose inside her quarantine enclosure after getting medical treatment

| SOCP
While the rescuers would love for Rose to return to the wild, they fear she might continue seeking out crops.
"It seems that Rose was not feeding on natural food from the forest," Yenny Saraswati, a senior veterinarian with the SOCP, told The Dodo. "It seems like she had been feeding on human food for quite a long time."
SOCP
But the SOCP team will do everything they can to try and get Rose back to the forest where she belongs. If they do release her, they'll make sure she's in a protected area away from farmland.
"We are optimistic that every orangutan [we treat] has a chance to get back to the wild," Saraswati said.
To help Rose make a full recovery, and to help rescue more orangutans like her, you can make donations to
OIC
and
the SOCP
.