Woman Spots Injured Owl On The Road And Knows She Has To Stop
"He just looked so thankful."
Marcia Wilson was riding along a highway in Oklahoma with her family when she spotted some commotion on the side of the road.
"I had a feeling something was wrong so I told my husband to turn the truck around," Marcia told The Dodo.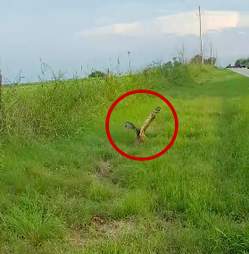 Marcia Wilson
The Wilsons pulled over and saw a bird — a great horned owl — fluttering his wings a lot, but he couldn't seem to get more than a few inches off the ground. Marcia was right — something was definitely wrong with the owl.
Marcia thinks he was out there struggling all night. He seemed utterly exhausted and disoriented.
"I love all animals," Marcia said. "And I don't want to see any suffer."
Marcia Wilson
But it wasn't easy to help him — at least not at first.
"I started to walk towards the owl, slowly talking to him," Marcia said. She spoke to him in a sweet, calming voice, as cars and trucks rushed by, obviously disorienting the creature. "He tried flying away but couldn't."
Then something terrifying happened — he went into the road.
"I had to stop traffic," she said.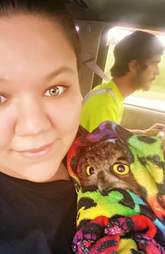 Marcia Wilson
"My husband got out and distracted the owl and I threw the blanket over him and picked him up," Marcia said.
After wrapping the little owl up in the blanket — "luckily, my daughter had brought her favorite blanket with her," Marcia added — the family drove the bird straight to a wildlife rehabilitation center, Wild Heart Ranch, in Claremore, Oklahoma.
The owl, whom Marcia named Mr. Al, is currently recovering at the rescue center, which informed Marcia that he had a head injury, but he is expected to pull through.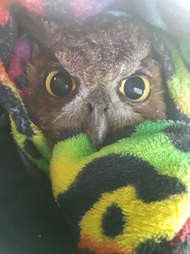 Marcia Wilson
"The whole way there I held him swaddled in the blanket and he looked at me and blinked," she added. "He never tried getting away; he just looked so thankful."
If you find a wild animal in need, it's always a good idea to call your local wildlife rehabilitation center for help. If you'd like to help Mr. Al recover, you can
make a donation to Wild Heart Ranch
.