Police Get A Call To Investigate 'Alligator-Like Creature'
"Not something that the typical New Jersey officer deals with on a regular basis."
It was a normal day at the Neptune Township Police Department in New Jersey on Monday when an incredibly strange call came in. A person was calling to report an "alligator-like animal" roaming the streets of a residential neighborhood, and had no idea exactly what kind of animal it was. The department dispatched a few officers to the scene, and no one was sure exactly what — or who — they were going to find when they arrived.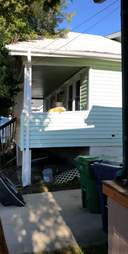 Kyle Bascom
When the officers got to the neighborhood, they spotted the "creature" sunbathing on a neighbor's porch — and were surprised to discover that he was an iguana, who had somehow escaped from his home about a half a block away from where he was found.
"He's kept on the second floor of a home and made his way out of the second floor, onto the roof, then onto the ground and was found sitting on a porch chair a few houses away," Kyle Bascom, an officer with the Neptune Township Police Department, told The Dodo.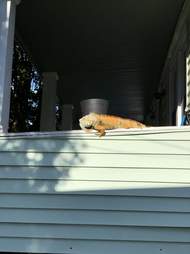 Kyle Bascom
Once the iguana had been identified as such, they were able to go around the neighborhood, knocking on doors and asking if anyone was missing a not-so-furry friend. In the meantime, some of the officers stayed to keep an eye on the iguana, who eventually got bored of hanging out on his neighbor's porch, and decided to take to exploring the streets instead.
Kyle Bascom
Not wanting him to get hurt, the officers thought the iguana might enjoy hanging out in the back of a police car …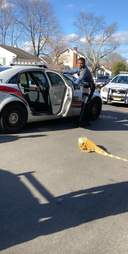 Kyle Bascom
… but he wasn't quite ready to end his neighborhood adventure at that point.
"The road was temporarily closed off while we waited for the owner to arrive," Bascom said. "During the wait, officers tried to get him to climb into the back seat, but nobody was jumping at the chance to pick him up by hand. Not something that the typical New Jersey officer deals with on a regular basis."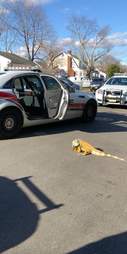 Kyle Bascom
Finally, the iguana's worried dad arrived and scooped him up into his arms, so happy to have his friend back with him safe and sound. He thanked the officers and all of the neighbors who had gathered to keep the iguana safe, and then took his little escapee home — and likely gave him a stern talking-to about not running away from home ever again.