People Rush To Save Baby Deer Caught In Hurricane
"I gently started petting her to gain her trust."
Even though their houses were half-underwater after Hurricane Irma thrashed the whole state of Florida, some Orange Park residents managed to come together to save a very special little life. 
Lexi Mars
Local resident Erica Simmons was surveying the damage to her neighborhood this week when she saw a neighbor, Lexi Mars, sitting on the ground with an animal she thought was a dog under a blanket.
Lexi had been at her grandfather's house in Orange Park, trying to save his belongings from severe flooding. "My parents and I hurried over to his house to get as much off the ground as possible," Lexi told The Dodo. "While my parents were walking back to the car a neighbor called out to them about a baby deer in his yard."
Lexi noticed the animal seemed scared as she approached. "I gently started petting her to gain her trust," she said. "Once the deer seemed to be OK with me being next to her, I cuddled up to her to keep her warm."
Lexi Mars
Even though the little deer was wrapped in a blanket, she was still shaking. It's no wonder, considering what the young deer had been through. Lexi was told that another neighbor, a young man named Austin, had seen exactly what had happened to the deer during the storm.
"He saw the deer hitting her head on the fence while trying to follow after her mom," Lexi said. "He went into the deep water and carried her out to dry land."
Lexi Mars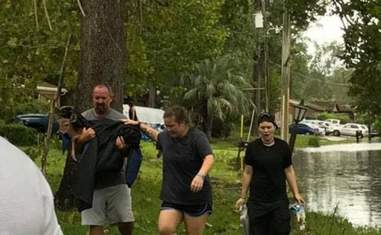 Lexi Mars
When Erica Simmons arrived and saw the deer, she knew she had to help. But all her calls ended up being dead ends. "We spoke to a deputy and were told that all non-essential offices were closed and all available resources were being routed to save human life," Simmons told The Dodo. "The flooding was very extensive. Even Florida Fish and Game was closed."
"Due to the storm, the bridges were closed and trees and flooding were blocking our way," Lexi said. "I had carried the deer half a mile to my car to bring to a rescue but nothing turned up. I put the deer in my car and brought it back to the neighbor's house. He has the deer safely in his fenced-in yard."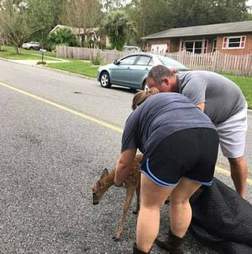 Lexi Mars
So Simmons and Lexi's parents went on Facebook requesting help. "Finally, a Facebook friend of mine, Gail Mathes, who is involved with wildlife rescue, saw the post and messaged me," Simmons said. "I gave her directions to the deer."
But getting the deer to the Wildlife Rescue Coalition of Northeast Florida in St. Augustine would be difficult. Mathes finally had to use a canoe to reach the part of the neighborhood where the deer was being held.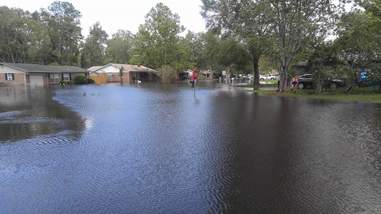 Erica Simmons
Erica Simmons
"Gail took the deer to a wildlife rehab near St. Augustine where she will be cared for and wilded when she is ready," Simmons said, adding that she received some pictures of the deer recovering at the rescue center.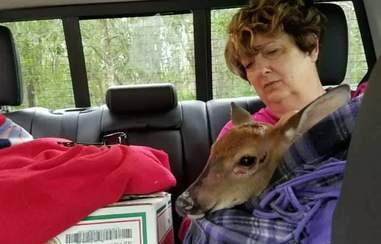 Erica Simmons
Erica Simmons
The little deer isn't the only one who fell on hard times during the storm. At the rescue center, she's meeting others who need some love and care before they can get back to the wild.
Erica Simmons
"We have all been working together to keep the deer safe and care for it in this unfortunate time," Lexi said. "The place the deer once called home is underwater and will never be the same."
To help the Wildlife Rescue Coalition of Northeast Florida, you can
make a donation
. To learn how you can help animals of all kinds impacted by Hurricane Irma,
click here
.