Baby Monkey Can't Believe He's Getting A Real Meal After Life As A 'Pet'
He's so excited to be a monkey again.
No one knows exactly how a tiny baby monkey ended up at a botanical garden in Thailand — there is no known population of long-tailed macaques in the area — but he certainly couldn't be left all on his own.
So someone scooped him up and took him home.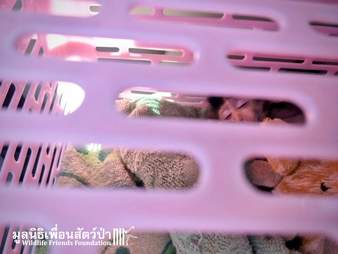 WFFT
Three weeks later, the phone rang at Wildlife Friends Foundation Thailand (WFFT), a rescue center for all kinds of misplaced wild animals in need of help.
The family who had been trying to keep the little guy as a pet had realized that they were totally in over their heads.
WFFT
"They kept him for three weeks before realizing that he needs specialist care and is not a suitable pet," WFFT wrote. "He was fed on only bananas, [and] for a macaque who is only 2 to 3 months old this is not a suitable diet."
WFFT
Arriving at the rescue center, Jao Khun was obviously stressed out. He was sucking his thumb constantly to help him calm down. The rescue center gave him several stuffed animals to hug so that he could feel like he was close to someone of his own kind.
WFFT
"He clings onto a small giraffe teddy for comfort," WFFT wrote. "At this age he would be attached to his mother for literally every hour of the day."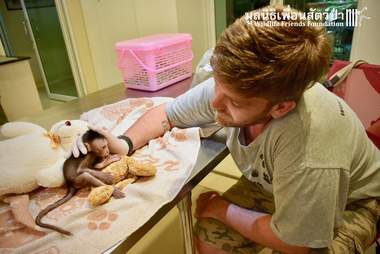 WFFT
Even while being weighed, Jao Khun refused to let go of his stuffed giraffe.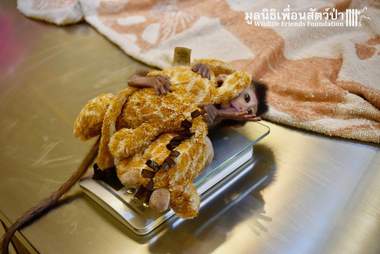 WFFT
Thankfully, the people at WFFT know exactly how to care for Jao Khun physically and emotionally at the center, where he'll start to try to get better. And this means that rescuers will be trying to help him remember his own nature as a monkey, since he's probably been disoriented for quite a while.
WFFT
Rescuers believe that he ended up in the botanical garden after escaping from someplace where he was being held captive or being dumped as someone else's pet.
"Luckily he was found and ultimately saved," WFFT said.
WFFT
People started gently coaxing Jao Khun into eating a meal more suited to what he needs as a young and growing monkey.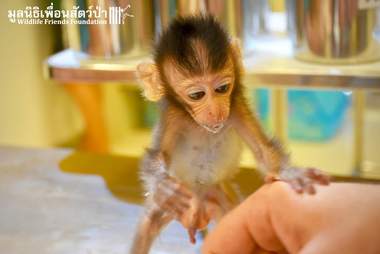 WFFT
As they fed him with a little silver spoon from a bowl, he seemed to get more and more excited, as though already starting to remember what being a little long-tailed macaque is supposed to feel like.
WFFT
He was obviously starved for that kind of reminder.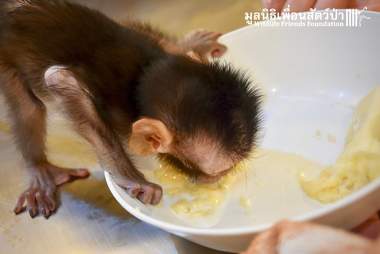 WFFT
Soon, perhaps, he'll relax enough to let go of his thumb, too.
WFFT
"Luckily for him, he is now in safe hands," WFFT wrote. "We plan to introduce him to some other infant orphans once he has gone through a quarantine period and settled in."
The people at Wildlife Friends Foundation Thailand are there for so many animals who have no place else to go — you can help them keep doing what they do by
making a donation
.