Rescuers Show Up To Help Injured Kangaroo And Realize He's HUGE
"Good God look at [the] size of him."
A huge kangaroo was observed from the home of Brent Harvey, who used to play in the North Melbourne Football Club, also known as The Kangaroos. And this actual kangaroo needed some real help.
"A large open wound could be seen on his arm," Manfred Zabinskas, cofounder of Five Freedoms Animal Rescue (FFAR), wrote. "Brent's partner, Shayne, was concerned about her 'other' Roo and called her family friend, Krysti (an experienced wildlife rescuer) for help."
Zabinskas came to the scene after Krysti contacted him for help tranquilizing the enormous fellow — no one would be able to get close to him otherwise.
"There was no other way to safely capture such a big animal in such an open location," Zabinskas wrote.
Tranquilizing the big guy — who has come to be called Hugh Hefner after the testosterone-driven Playboy magnate — proved to be quite a process.
The large open area required that Zabinskas shoot the tranquilizer dart very precisely.
"Fortunately, he was in an ideal position for me to sneak up and dart him from behind cover of bushes at the front of the house," Zabinskas wrote. "He was huge, and I prepared a big dart. He sensed something was going on and stood and I fired. It was a perfect hit."
The kangaroo ran, crossing the front lawn before turning back to glare at Zabinskas. "[He] paused to give me a dirty look," Zabinskas said. "He knew I had something to do with the sharp pain in his bum and he wasn't happy. He continued to hop off and stopped further down the yard as the drugs started to take effect."
Finally, the kangaroo toppled over with his legs up in the air.
"He appeared to be well sedated and I approached," Zabinskas said. But things were not what they seemed.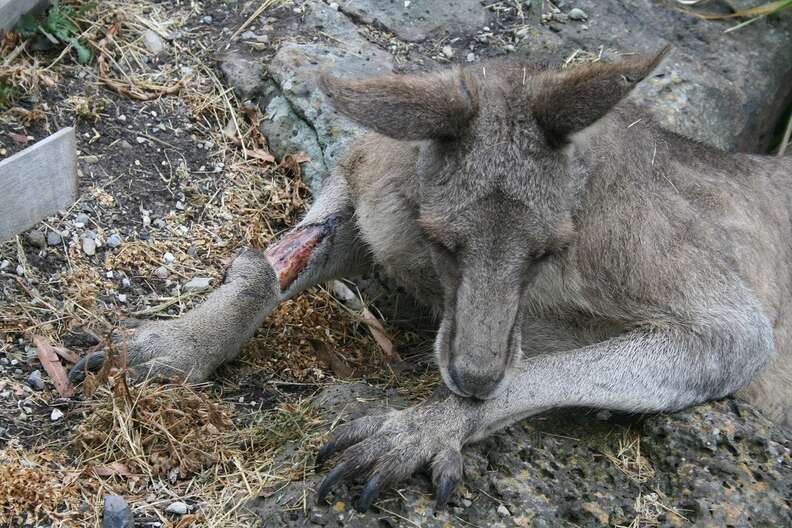 "Hugh was only pretending, and he leapt up and was mobile again," Zabinskas said.
Only a second dart finally brought huge Hugh Hefner to the ground. Then Zabinskas managed to get close and wrap vulnerable Hugh Hefner in a blanket.
Hugh Hefner weighed nearly 200 pounds, and so heaving his limp, sedated body into the car was quite a feat. Once ready, Zabinskas escorted Hugh to the veterinarian.
"I was lucky to get a parking bay directly in front of the vet clinic," Zabinskas wrote. "Even so, we needed to use a trolley to get him inside ... The trolley also had a hydraulic lift which was brilliant to get him up to the height of the X-ray table."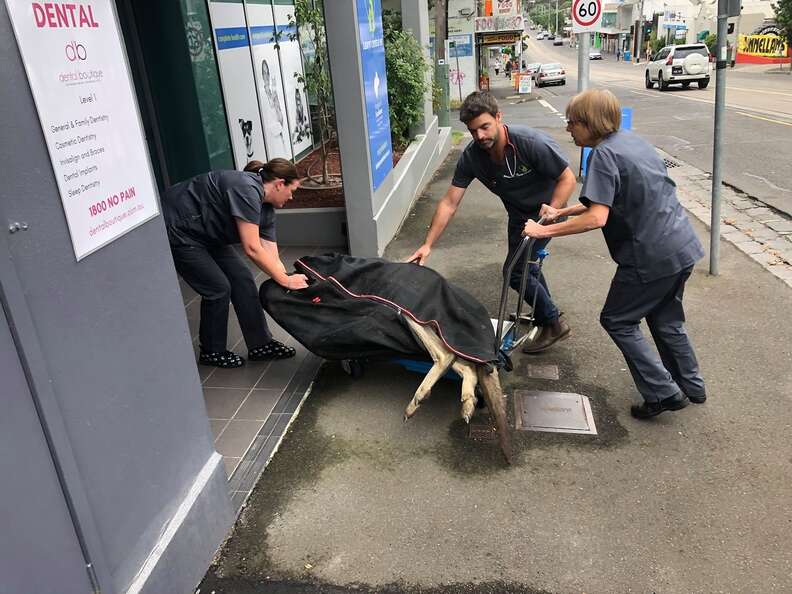 A team of veterinarians at Melbourne's Balwyn Central Vet led by Dr. James Taylor worked for nearly two hours cleaning up Hugh Hefner.
The team gave Hugh surgery to fix his wounded leg.
When Hugh Hefner woke up he was back in a comfy enclosure, resting in some soft hay.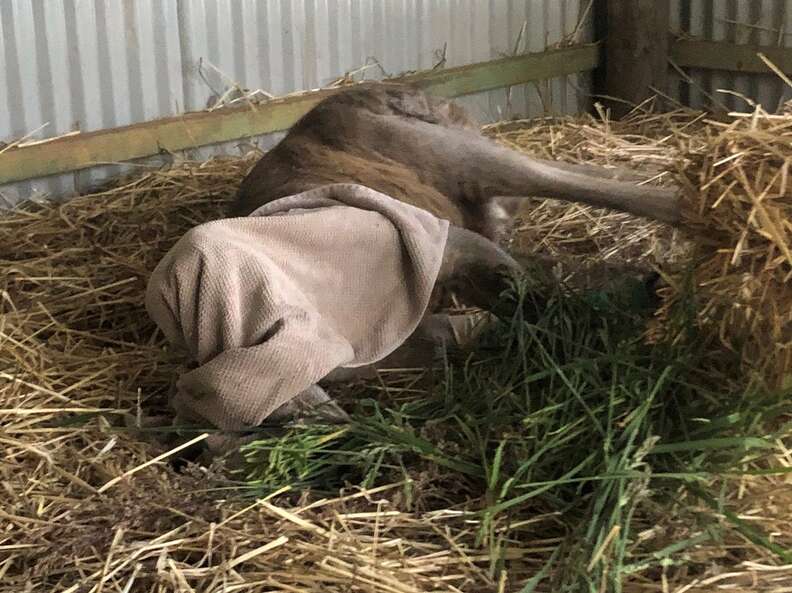 Hugh stood up in FFAR's rescue center and started to look around.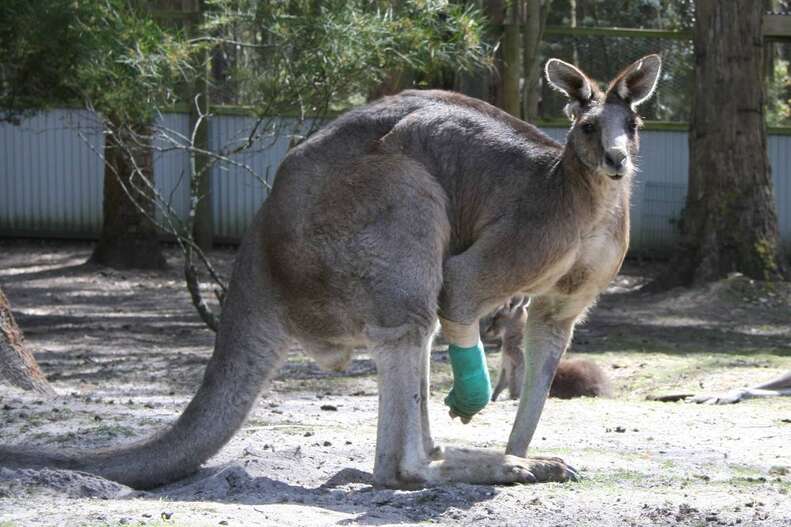 He was surrounded by a bunch of younger kangaroos, who are also using FFAR as a place to recover from injuries, and who seemed dwarfed by Hugh's massive figure.
"Hugh is doing really well and is getting on with all of our other kangaroos in the enclosure," Zabinskas told The Dodo. "His wound is healing extremely well."
Rather than being on a power trip over his impressive size, Hugh Hefner has turned out to be a "gentle giant," and his new, smaller friends have accepted him in their group.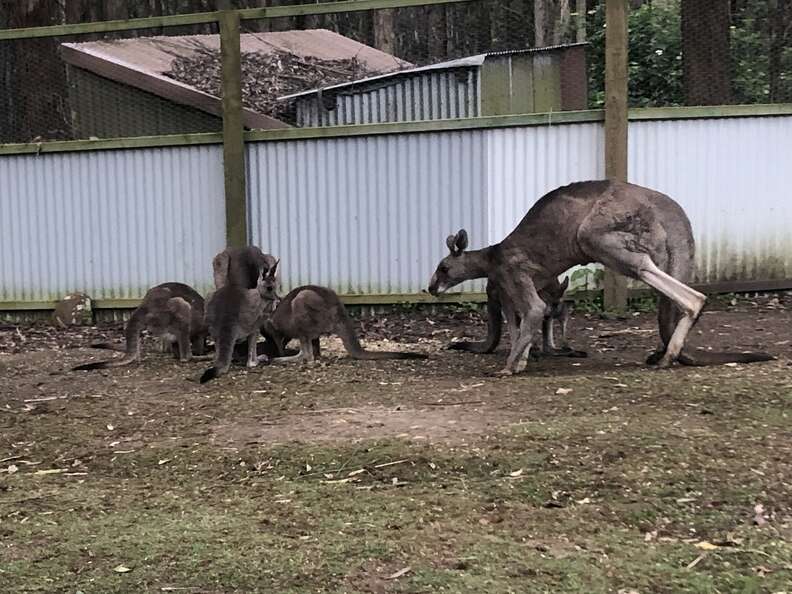 "Our joeys have also accepted their large new friend and kind of like having someone big and strong to hang with," Zabinskas wrote.
"We are optimistic for his full recovery and return home one day," Zabinskas said, "but that will still be some weeks away."
For now, Hugh Hefner seems content to relax, getting pampered by his rescuers (complete with expert care to continue the costly treatment of his wound) and garnering a lot of attention.
"Good God look at [the] size of him," one commenter rightly observed.
You can help Hugh Hefner feel better by
making a donation
toward his treatment at FFAR.