In a recent episode of "Westworld," the popular HBO show, two elephants carry characters Grace and Nicholas to a base camp to hunt a Bengal tiger. But to perform this way, the elephants would have gone through a rigorous training program — and animal welfare advocates are certain they were mistreated and abused in the process.
The elephants who appeared in "Westworld" are owned by Have Trunk Will Travel (HTWT), a California-based business that trains elephants and rents them out to perform in movies, TV shows and other kinds of performances. Besides "Westworld," HTWT's elephants have appeared in popular films like "The Zookeeper" and "Water for Elephants," and they've also performed in the music video for Britney Spears' song "Circus" and commercials for companies like Visa, Cadillac and Oreo.
In 2005, an undercover investigator for Animal Defenders International (ADI) obtained damning footage of elephants being brutally trained by HTWT workers — the workers beat and prodded the elephants with bullhooks, and shocked them with stun guns, to get them to perform tricks. In one section of the footage, one of the older female elephants, Tai (who also performed in the recent episode of "Westworld"), cries out when she's zapped with the stun gun on her sensitive skin.
The footage also shows HTWT workers grabbing onto a baby elephant's trunk and holding it while training the animal to perform in a certain way. The baby elephant appears to struggle against each trainer's grip, looking nervous and uncomfortable.
"Have Trunk Will Travel has exhibited some of the most vicious and sadistic treatment of elephants, including babies, that I have seen on film in my over 30 years as a wildlife behavioral biologist," Toni Frohoff, an elephant biologist with In Defense of Animals (IDA), told The Dodo. "There is no excuse or justification for abusing elephants like this, nor for mishandling a helpless baby's sensitive trunk, as is shown."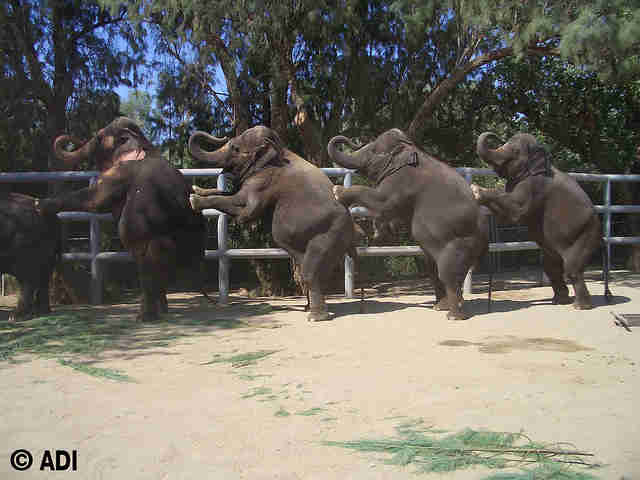 However, when The Dodo approached HBO for comment, a spokesperson noted that "none of this video was shot during the production" and claimed the ADI footage "does not in any way reflect practices on our sets."
"All of the animals featured on HBO series are treated with the utmost care and respect for their health, safety and well-being," the HBO spokesperson told The Dodo. "A certified animal safety representative from American Humane was present at all times during any animal action on the set of 'Westworld.' The AHA has confirmed that the animals were well-treated, and the production received the designation of 'No Animals Were Harmed.'"
Yet, what happens on set is often different to what happens behind the scenes — and AHA has previously given its seal of approval to productions that used animals trained with abusive methods. For instance, AHA has certified many productions that used animals trained by Sidney Yost, who repeatedly abused animals since he began working as a Hollywood trainer in 2001.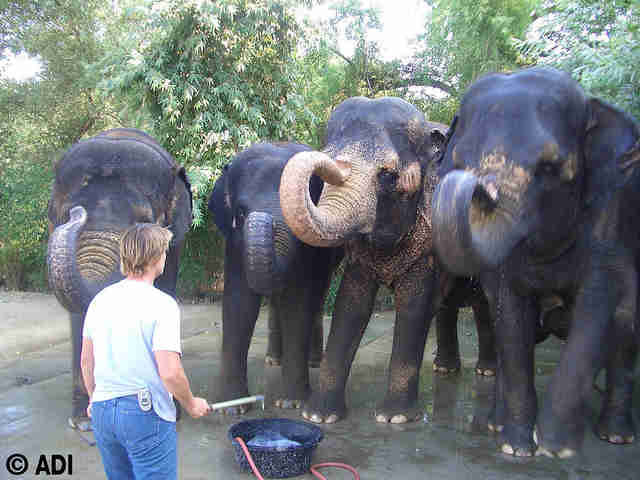 ADI is calling upon HBO and other studios to stop using live animals in their productions.
"With no way to guarantee the welfare of the animals off set, we urge HBO and other studios to end their use of live animals," Jan Creamer, president of ADI, said in a statement. "There is no excuse for using the real thing when technology provides a realistic, humane alternative."
The best way to help performing animals is not to support productions that use them, according to Lesley McCave, communications director for ADI, told The Dodo. "They can 'vote with their wallets' by not visiting circuses and other forms of entertainment that use wild or exotic animals," she said.