People Find Creepy Warehouse Full Of Bags — And Can't Believe What's Inside
There were nearly 7,000 of them 💔
Four years ago, when officials in Vietnam entered a warehouse they suspected was being used by a wildlife tracker, they had a general idea of what they might find. But nothing could have prepared them for the sobering discovery they were about to make.
As the investigators canvassed the space, they found pile upon pile of tightly-closed bags sitting on the floors, seemingly ready for shipment. They weren't moving, and the rooms smelled of death and chemicals.
Inside the bags were with the bodies of countless dead sea turtles — caught one by one from the wild to be sold in China.
"To see so many marine turtles, well, it was shocking," Mr. K, an anonymous investigator on the case, previously told National Geographic about the raid. "It was crazy."
Other rooms were packed to the ceilings with taxidermied bodies, their once-stunning shells covered in dust and their little faces dried and shriveled. They were stacked as if they were furniture.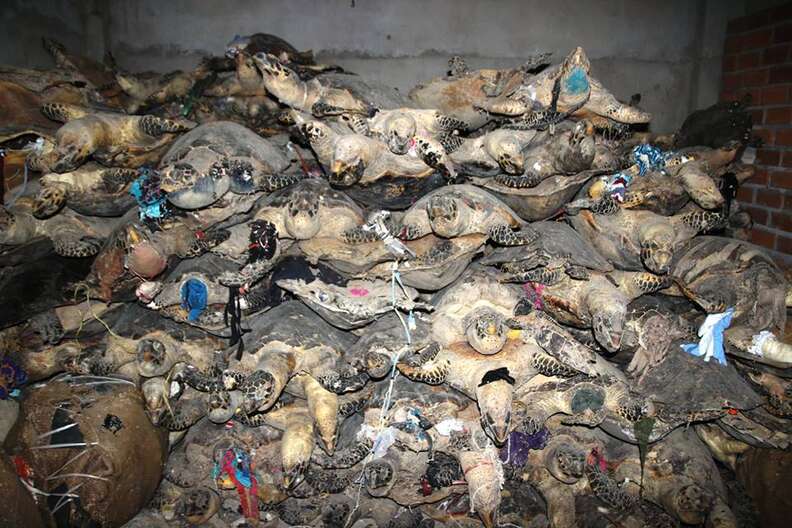 Investigators were able to use the discovery to track down five other secret warehouses, where they found the same disturbing "stock." In all, they recovered nearly 7,000 turtle bodies — weighing in at over 22,000 pounds.
The animals were mostly hawksbill turtles, a critically endangered species native to the coral triangle region of the Asian pacific. There are as few as 8,000 laying females left in the wild today.
These turtles are fundamental in keeping seagrass beds and reefs healthy — but their beautiful brown and yellow shells are heavily sought after to be turned into jewelry and other ornaments.
"The hawksbill shell remains one of the most prolifically traded endangered species products out there," David Godfrey, executive director of the Sea Turtle Conservancy, told The Dodo in an earlier interview. "It is the reason that they're critically endangered."
Because of this demand, nearly 7,000 animals had been killed by one poaching organization — and conservation groups like Education for Nature Vietnam (ENV) set out to make sure the discovery wasn't in vain.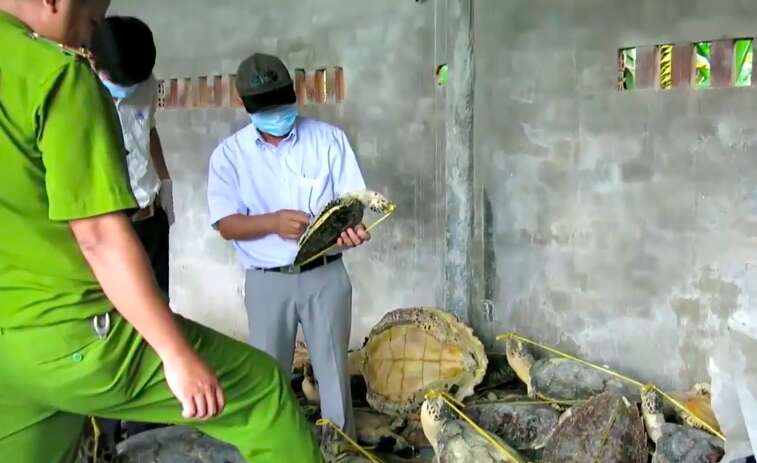 ENV petitioned authorities to press criminal charges and, earlier this month, one of the main traffickers responsible was finally hit with a prison sentence of four years and six months for the crime.
For many of the investigators involved in the case, the sentence will never be enough. But in a country where wildlife crime investigations are not often conclusive — and poachers often go unpunished — the results are groundbreaking.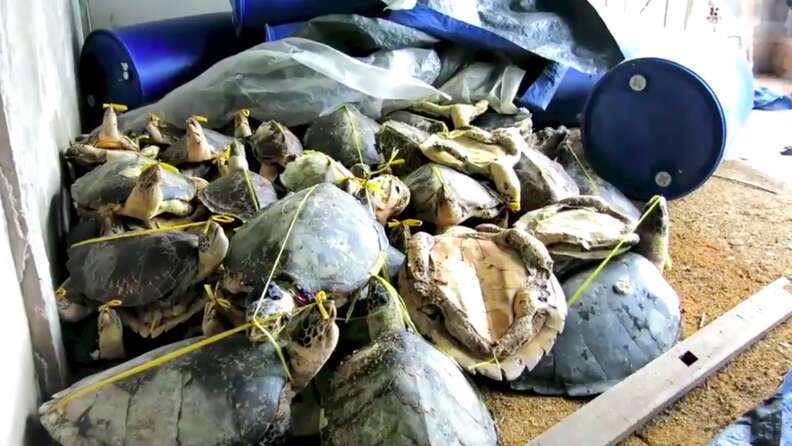 "We are delighted with the outcome of the trial," Bui Thi Ha, Deputy Director of ENV, said in a statement. "Seizing illegal products is not enough in itself. Our objective should be to strike at the heart of criminal enterprises that traffic wildlife, with the goal of destroying their network and businesses permanently. We need to bring the ringleaders behind wildlife trade networks to light."