Hawk Can't Understand Why This Little 'Bunny' Isn't Scared Of Him
No one will ever believe him 😂
This fearsome bird of prey has clearly never met a bunny nearly as brave as this one.
And he found their whole encounter really confusing.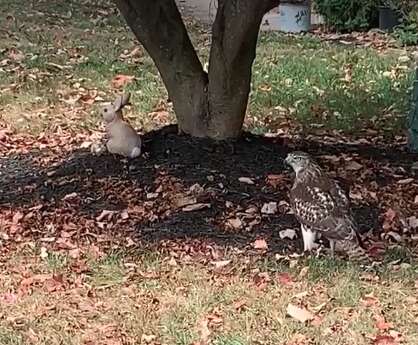 Recently, the hungry hawk caught glimpse of what he thought was an easy meal. There, sitting in the shade of a small tree, appeared to be a plump, bushy rabbit who was totally oblivious to any approaching predators.
But then things took a weird turn.
Rather than scampering away, the bold bun remained totally unfazed. What the hawk didn't know, of course, was that the "bunny" was actually just a lawn ornament.
Here's footage of that fascinating (and funny) moment:
After a couple of mind-boggling minutes for the hawk, the unusual little standoff came to an end. Totally confused about this strange new breed of bunny, he eventually flew away empty-handed. Like, did that really just happen?
It did. And fortunately homeowner Steve Grimme caught the whole scene on video.
"I couldn't believe when he poked the bunny a couple times. I was laughing," Grimme told The Dodo. "And at the end, when he turned away from the bunny, my only thought was he was saying to himself, 'Geez, I hope none of my other hawk friends saw me do that!?"