Naked Opossum Isn't Afraid To Let It All Hang Out
"Dobby is living large here at the refuge."
Sure, this sweet girl named Dobby may look a little different from your average opossum — but that's what makes her so special.
And Dobby's certainly not ashamed of the fact that she's basically naked.
Dobby is a resident of the Emerald Coast Wildlife Refuge, a conservation and rehabilitation facility in northwest Florida where she arrived two years ago. A Good Samaritan had found young Dobby and her sibling in a backyard, and was rightfully concerned about their well-being. Both opossums were totally hairless.
They were diagnosed with alopecia, a rare condition that affects hair growth — making them uninsulated from the elements, and more susceptible to predators.
Here's how Dobby looked when she first arrived. She's gotten wrinklier with age.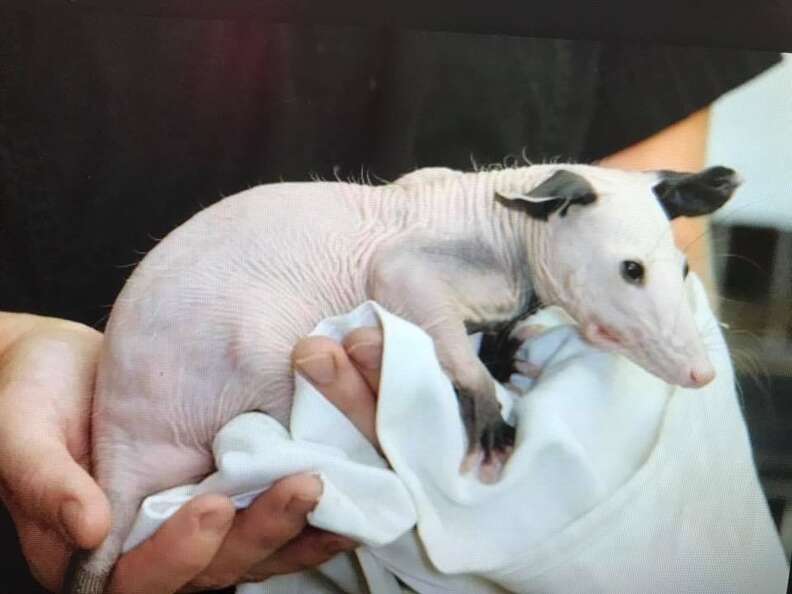 "At that point refuge staff decided that they would be good ambassadors for wild animals suffering with alopecia," Shelby Proie, a refuge spokesperson, told The Dodo.
Sadly, the sibling died shortly after being rescued, but Dobby in all her bald glory is still going strong.
"Dobby is living large here at the refuge," Proie said. "She has indoor and outdoor enclosures and helps educate others about her condition."
When Dobby's not spreading awareness about alopecia in wildlife, and advocating on behalf of her mild-mannered species in general, she's just like any other opossum (albeit a bit more bare).
"She lives as normal of a life that we can provide," Proie said. "Her favorite activities are eating fish and finding peanut butter in toys that we hide around her enclosure. She spends most days napping in her cube kitty bed on her cat tree."
Being hairless does require some extra considerations on the part of her caretakers. Dobby's skin doesn't produce oils normally, so the refuge applies a special cream to keep it from drying out too much or cracking.
And of course, on chilly days, she needs to stay indoors to keep cozy. But Dobby doesn't seem to mind that too much.