Guy Finds Sick Lizard Who Can't Open Her Eyes And Nurses Her Back To Health
She looks so different now ❤
Cade Chesnut had just gotten home and was heading inside this past December when he noticed a lizard lying on the ground, very still and clearly injured. It was cold outside and he knew that in her condition, the little lizard likely wouldn't last through the night. Chesnut was already familiar with caring for reptiles, and immediately decided that he had to help her. 
"I thought she was dead at first but I picked her up and she moved a little bit, so I took her inside and set her up in an enclosure with a spare 10-gallon tank I had," Chesnut told The Dodo. "She was very cold because it was around December, so I put a heating lamp right above her."
Cade Chesnut
Once the lizard, later named Stevie, had gotten a chance to warm herself up a bit, Chesnut took her out of her enclosure to determine the extent of her injuries. She had a handful of minor injuries all over her body, but Chesnut's main concern was her eyes. Stevie's eyes were sealed shut and she was unable to open them at all, leaving her completely blind. Chesnut had no idea if her eyes would stay that way permanently, but knew that regardless, he would be there to help her through. 
Cade Chesnut
Since Stevie was completely blind, Chesnut was worried that she would struggle to eat, as she couldn't see any food being offered to her, and she was already stressed out from being injured and in a new environment. In order to make sure she was getting the food she needed, Chesnut started hand-feeding Stevie every day. At first, she didn't understand what was happening, but as soon as she realized that Chesnut was trying to help her she became much more relaxed and easygoing, and started recognizing the signs from her new dad that meant it was time to eat.
Cade Chesnut
Stevie is a green anole lizard, who typically don't love being handled by humans. Due to her blindness, though, Stevie quickly learned to trust Chesnut, and with his help slowly began to adjust to being blind and navigating the world around her.
"When she was in her cage she would be running around in random directions and when I had her out to hold her she would randomly jump without warning in random directions," Chesnut said.
Cade Chesnut
Two months after Chesnut rescued Stevie, something unexpected and incredible happened. Stevie's eyes finally opened.
"I honestly thought they never would, but I was so happy when they finally did," Chesnut said.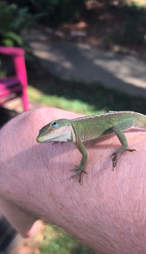 Cade Chesnut
As soon as Stevie got her sight back, she became so much more confident and active — and even more bonded to her rescuer and new best friend. Now, Stevie loves climbing all over Chesnut, spending as much time with him as possible. Chesnut often takes Stevie outside to bask in the sun, but she never runs away from him, and instead stays close by his side. Without Chesnut, Stevie probably wouldn't have made it, but now she's living her second chance and loving every moment of it.