Guy Decides To Make Special Popsicles For His Local Turtles
Why not? 😂
As the July 4th holiday was approaching, a guy who loves the outdoors and lives near Houston, Texas, wanted to figure out a way to give his wild friends a special treat — so he came up with popsicles.
Kyle Naegeli
In the neighborhood Kyle Naegeli calls home, there's a pond where a bunch of turtles live. Naegeli often visits them.
"I was brainstorming about how to include the turtles in celebrating the Fourth of July," Naegeli told The Dodo. "I wanted to give them red, white and blue popsicles, but keep their natural diet in consideration."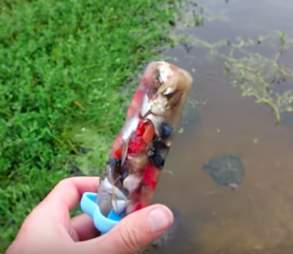 Kyle Naegeli
Naegeli decided to mix up juicy red strawberries, shad (a white-silver colored fish) and blueberries — he topped it off with pond water and put it in the freezer.
After a few hours, he was ready to test the results.
Kyle Naegeli
Filming the moment the popsicles were offered to the turtles with one hand and holding the popsicle with the other, Naegeli watched as one turtle came out of the water and stared at the patriotic snack for a moment.
Then he dove right in, taking a huge bite out of it.
Kyle Naegeli
Other turtles realized that something special was going on and began to gather. Soon, they all had to take turns taking huge hunks out of the special delicacy made just for them.
Sure, for turtles living in a pond, it doesn't much matter whether it's the Fourth of July or any other day. But Naegeli managed to spread some festivity their way in any case — and he was pretty happy with the way he and his turtle friends celebrated.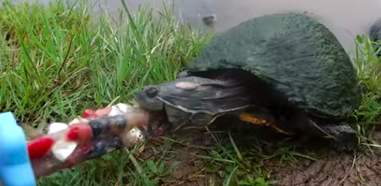 Kyle Naegeli
"They absolutely loved them!" he wrote on his YouTube channel. And so, apparently, did everyone else — over 5 million people watched the video since it was posted on Independence Day.