This State Is About To Kill 23 Grizzlies For 'Trophies'
There are only 700 left in the area — but they want to kill even more.
The lives of 23 grizzly bears are now in grave danger, despite thousands of animal lovers who tried to help them. If nothing more is done, they'll soon be killed so their body parts can be used as trophies.
The Wyoming Game and Fish Commission proposed this trophy hunt earlier this year, which would allow hunters to kill bears around Yellowstone National Park and Grand Teton National Park. The proposal was met with huge resistance — over 200,000 people signed a petition to stop the hunt, and the commission received over 185,000 official complaints.
But none of this seemed to help. On Wednesday, the Wyoming Game and Fish Commission announced that it had officially approved the hunt, sealing the fate for 23 grizzly bears.
"The goal of trophy hunters is to slay the world's rarest and most iconic animals for nothing more than a macabre display of body parts and for bragging rights," Nicole Paquette, vice president of wildlife for the Humane Society of the United States (HSUS), said in a statement. "It's shameful that the commission has chosen to subject Wyoming's grizzly bears to such a fate. This decision is reckless and ignores the best available science, which shows that grizzly bears need greater, not fewer, protections if they are to survive."
Right now, it's estimated that fewer than 1,200 grizzly bears are living in the United States. Yellowstone and Grand Teton's grizzly bears have been classified as an endangered species since 1975, but last year, the U.S. government stripped grizzly bears living in the Greater Yellowstone Ecosystem of their endangered species status, which eventually allowed people to start hunting them again.
"Per the regulation passed yesterday, grizzly bears will not be able to be killed inside the two parks — Yellowstone and Grand Teton — but once they step outside the parks, they are fair game," Paquette told The Dodo. "Radio collar studies show that nearly half of all grizzly bears in the parks move in and out of park boundaries, meaning they will be exposed to trophy hunting, since Wyoming did not provide a 'buffer zone' around the parks."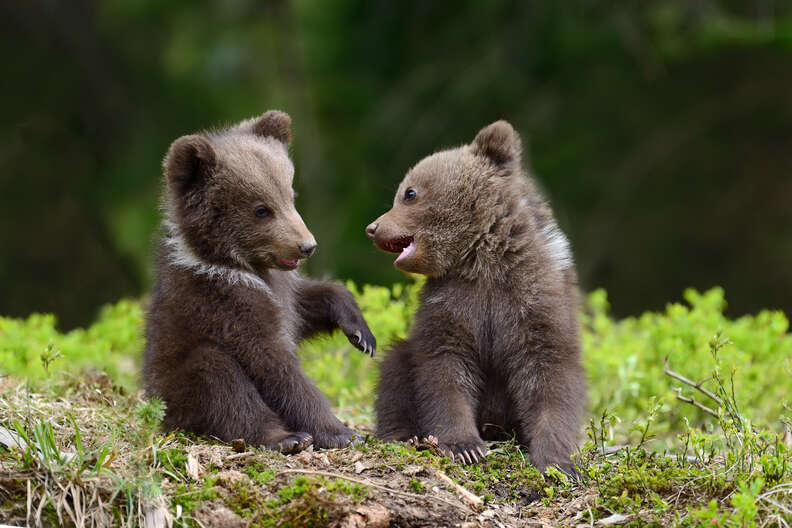 Even without hunting, grizzly bears are under threat — they're often hit by cars and illegally shot by poachers. They're also struggling to find food in Yellowstone National Park, where there's been a severe shortage of trout.
"Humans are already the largest cause of grizzly bear deaths in the Greater Yellowstone Ecosystem," Paquette said. "With the addition of trophy hunting at the level approved by Wyoming yesterday, we are concerned that the population will sustain irreparable damage that may not be detected by monitoring protocols until it is too late."
There are currently about 700 grizzly bears living in the Greater Yellowstone Ecosystem, but there's a high mortality rate each year — 61 died in 2015, 58 died in 2016, and 56 died in 2017, according to Paquette. While some bears died of natural causes, others died because of human interference.
This trophy hunt is set to begin on September 1, which is when grizzly bears are trying to fatten up before they hibernate for winter.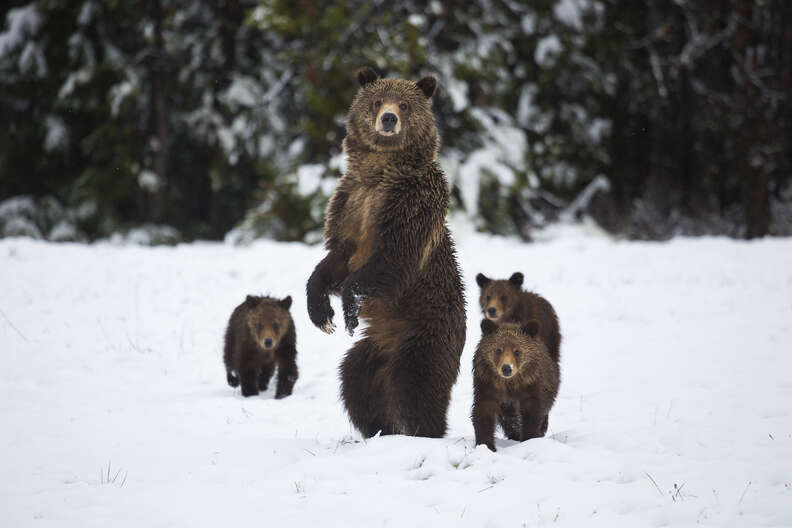 "Hunting bears during the fall when they are eating heavily to gain weight for hibernation costs them precious energy," Paquette told The Dodo. "For female bears, the cost of fleeing hunters may negatively affect her ability to successfully reproduce over her entire lifetime."
As it stands right now, the hunt is moving ahead — yet Paquette and the team at HSUS will continue to put pressure on the state of Wyoming to reverse this decision. They're also trying to stop similar hunts from happening in Idaho and Montana.
"We're encouraging people to contact Wyoming Governor Matt Mead and Idaho Governor Butch Otter and urge them to step in and shut down the trophy hunt in their respective states," Paquette said. "We are grateful that Montana wisely elected not to hold a hunting season this year."