Good Samaritan Saves Goose Overdosing On Drugs In Public Park
He was rescued just in time.
Last week, while out for a stroll in Carr Park in Huntington Beach, California, a kindhearted passerby spotted something alarming. There, laying on his back with his feet pointed upward, was a Canada goose clearly in need of help.
Though the cause of the bird's distress may not have been obvious at first, soon came another alarming find.
Wetlands & Wildlife Care Center
On the ground not far away, someone had strewn hundreds of prescription pills — drugs suspected to be "heart medications, antidepressants, antianxiety and insomnia meds," rescuers later wrote.
Believing that the goose had eaten some of the pills, the Good Samaritan called authorities for help.
And it's a good thing he did.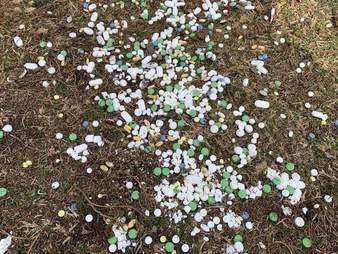 Wetlands & Wildlife Care Center
Rescuers from the Wetlands & Wildlife Care Center were soon on the scene to collect the goose, and another bird exhibiting signs of having eaten the pills, for treatment.
"It's hard to say whether they would have died without intervention, but that's likely the case," Lisa Peronne, wildlife manager for the rescue center, told the OC Register. "Their condition opened them up to secondary dangers, such as not being able to get away from predators."
Fortunately, both birds were found in time.
Wetlands & Wildlife Care Center
After receiving IV fluids to flush their systems of the medications they ingested, both birds were on the mend.
In fact, on Wednesday, the goose who had earlier been found teetering on death was deemed healthy enough to be released back into the wild.
Here's footage of the moment he and another goose were set free: