Hungry Lizard Gets A Bit Too Excited When She Sees A Nest Of 'Eggs'
They weren't eggs 😱
When a man in Australia opened up his chicken coop one day and found a goanna, also known as a monitor lizard, on a quest for eggs, he was going to just step back and let her make a hasty retreat — until he noticed that she had accidentally eaten more than just eggs. 
In order to help his chickens know where to lay their eggs, he'd placed six golf balls in the chicken coop, and when he noticed they were missing, he realized the hungry goanna must have eaten them.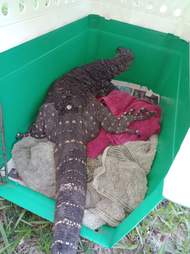 WIRES Northern Rivers
Concerned for her health, the man immediately contacted wildlife rescue WIRES Northern Rivers and kept the very confused lizard contained in the chicken coop until they arrived. She wasn't showing any signs of discomfort or distress at that point, but her rescuers knew that leaving the golf balls in her system could cause her long-term harm, and so they were eager to try and help her as soon as possible. 
"A lace monitor's first line of defense is camouflage, so initially she was very still, hoping we might not notice her," Martin Fitzgerald, reptile coordinator with WIRES Northern Rivers, told The Dodo. "Naturally as I approached she became defensive … So great care was taken to ensure the safety of the goanna and myself, the rescuer."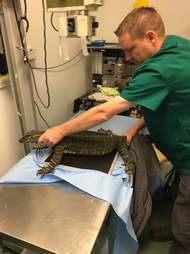 WIRES Northern Rivers
Her rescuers decided to name her Tiger, and quickly rushed her to Currumbin Wildlife Hospital for an X-ray. They needed to know whether or not she had in fact eaten the golf balls …
WIRES Northern Rivers
… and just a quick glance at the X-ray was proof enough that she most certainly had. Sitting next to the three eggs she'd eaten were the six golf balls, and her rescuers then had to decide exactly how they were going to go about getting them out of her.
"The question now was whether to operate or see if the balls would pass through the lizard of their own accord," WIRES Northern Rivers wrote on its Facebook page. "Also, whether the coating on the balls could withstand the strong digestive acids in the stomach."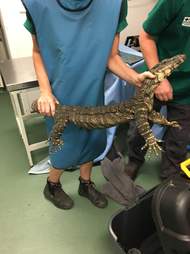 WIRES Northern Rivers
Tiger's rescuers knew that surgery would be invasive and would mean she wouldn't be able to return to the wild for several months while she recovered, but they also knew they might not have another choice. They decided to sleep on it and reconvene in the morning — and while they slept, Tiger decided to take matters into her own hands.
"[S]he managed to regurgitate all six balls and the eggs overnight, which was fortunate for all concerned as surgery would have required fostering and care for Tiger over the winter months," the rescue wrote. "It is thought that the regurgitation may well be a stress response and that left to [her] own devices, the outcome may not have been as favorable."
WIRES Northern Rivers
Everyone involved was so thankful when they discovered all six golf balls sitting next to Tiger the next day. Despite her ordeal, the lizard was in great overall health, and so that day her rescuers were able to release her back into the wild near where she was found …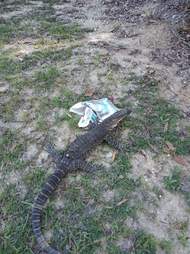 WIRES Northern Rivers
… and she was clearly very excited to be back in her home again and golf ball-free.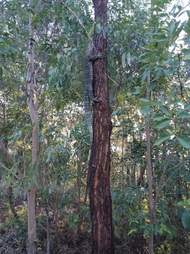 WIRES Northern Rivers
"She was very happy to be home and as expected ran to the nearest tree to get away," Fitzgerald said.